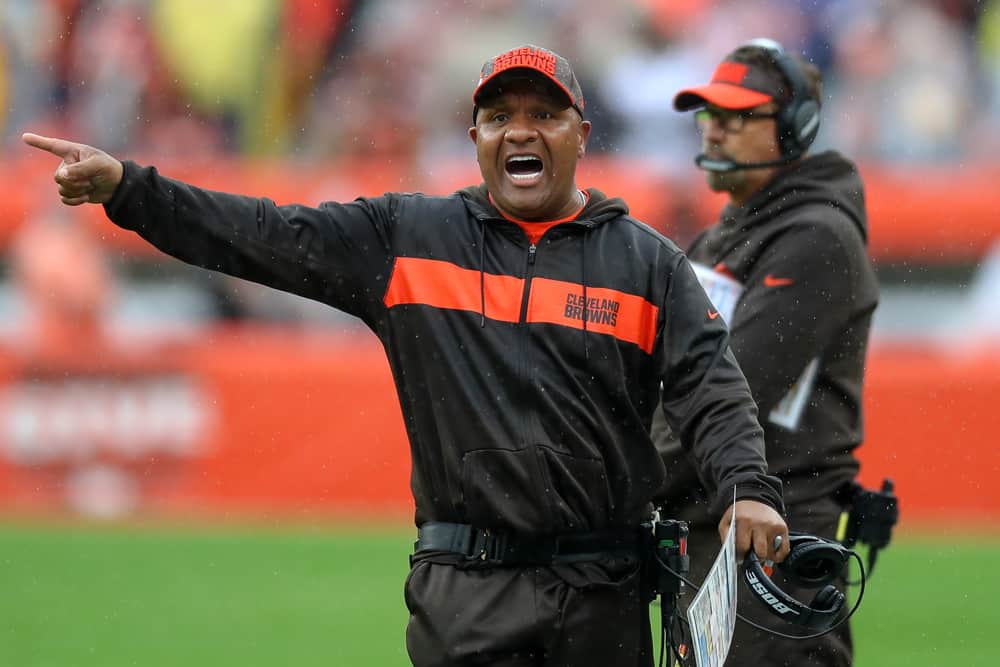 If anyone had "late-March Hue Jackson drama" on their Bingo card, congratulations.
The former Cleveland Browns head coach made a small splash on social media last week when he talked about how members of the Browns ownership group would be "held accountable" eventually.
This was sparked by memories of the Browns-Bengals trade mishap involving AJ McCarron a few years back.
This week, Hue is back for more.
Jackson appeared on a Cleveland sports radio station, ESPN 850, and claimed he was misled by the organization regarding the rebuilding process.
Hue Jackson- I got a contract extension at 1-23, midway through the season. I wanted to go public with it but the #Browns didn't.

— Matt Fontana (@MattFontana83) March 29, 2021
Liar, Liar
Perhaps the quote that sticks out the most from his radio appearance, per Cleveland.com, was his confidence in claiming the Browns did him wrong.
"There's no doubt I was lied to by ownership and leadership of the team. They were going to be football plus analytics, but it was football vs. analytics."
Before getting into that, it doesn't seem too long ago that "football vs. analytics" was a divisive topic among the fan base. It is amazing how things change.
This line from Hue refers to when him and Chief Strategy Officer Paul DePodesta were a poor match with their opposite-minded approach to how to construct an NFL roster.
Hue preferred an old-school, eye-test-only mentality that conflicted with DePodesta's analytics-first approach.
Hue didn't go any deeper into this during his radio appearance, but it still comes across as odd.
I don't find it hard to believe there were communication issues between ownership, the front office, and the coach.
That's a lot of egos, all of which thinking they are right, wanting to put their thumb print on the rebuild.
Even if Hue is right though, why say this now?
It seems that Hue is deflecting all responsibility for what went wrong during his stint as head coach, which most football fans know to be false.
Hue Jackson "I didn't spend a lot of time with Baker Mayfield. We had a QB coach and a coordinator."

Kevin Stefanski: pic.twitter.com/y6CZIvxms9

— Nick Karns (@karnsies817) March 29, 2021
Still, in another quote, Hue doubles down on his beliefs that the organization was unfair.
"I think I became the fall guy because that was the narrative… the truth needs to come out… for other minority coaches. They need to know the pitfalls out there."
Re-Visiting the Past
Of course, Hue wasn't leaving before mentioning some other things, one of those being the infamous botched trade.
Jackson claims he met with owner Jimmy Haslam, who said to get the trade done.
He follows by saying the paperwork required to complete the trade went from then-GM Sashi Brown to Football Administration VP Chris Cooper and didn't "get done".
This basically points the finger at Brown and Cooper and says "hey, this is your fault".
Jackson talked about some other items, such as drafting Cody Kessler and hiring Todd Haley as offensive coordinator.
For those listening to this segment live, it must have been a miserable 40-minute trip down memory lane.
Browns having a drama free off season.
Hue Jackson- pic.twitter.com/yhFCGEN9G8

— George McGuire (@GeorgeMcGuire15) March 29, 2021
Ultimately, none of what he says matters anymore.
What happened has happened.
No amount of social media fire is going to change anything.
Hue Jackson on 850 right now… pic.twitter.com/Y7PIIFKxrZ

— Brad Stainbrook (@BrownsByBrad) March 29, 2021
Jackson may have some validity to his statements about being misled.
Again, it wasn't too long ago the Browns were the poster child for bad communication and management.
With the team moving forward in the right direction now, it's time to leave Hue behind.
Pro Football Talk:

"There's little doubt that Haslam deserves a fair amount of the blame for the Browns' lack of success since he bought the team. But the reality is, a lot of coaches have come and gone since Haslam bought the Browns, and none has had as bad a record as Jackson"

— BrownsFreak51 (@BrownsFreak51) March 29, 2021