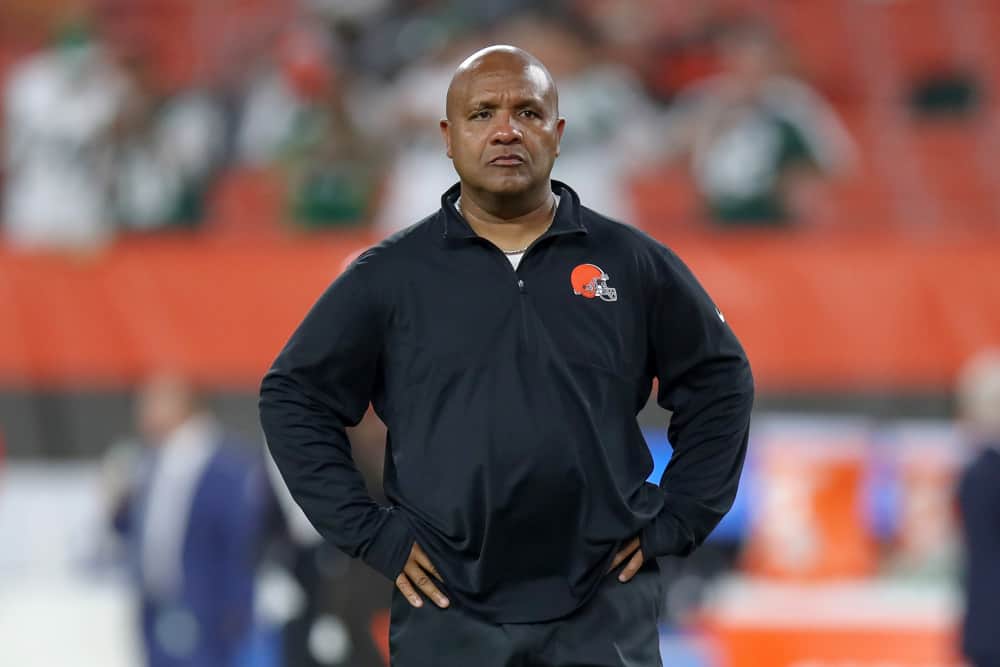 Dread it.
Run from it.
Destiny still arrives.
The words of Thanos in The Avengers: Infinity War have become iconic since gracing theaters around the world.
Who knew Thanos was talking about Cleveland Browns fans' "destiny" being former head coach Hue Jackson?
Just get tired of the BS sometimes. People have no clue. If they would use their brains maybe they would have a better idea of what really went on in Cleveland. Soon enough they will have to account for all of this. Wonder what excuses people will make for then.😂😂😂

— Hue Jackson (@huejack10) March 25, 2021
Okay "destiny" may be a bit dramatic, but Hue just doesn't seem to be able to avoid talking about Cleveland.
Perhaps he does play a role similar to one Thanos did in the Marvel Cinematic Universe.
Hue's been painted as a villain of sorts since leaving Cleveland, responsible for delaying the start of Baker Mayfield's career in the eyes of the Browns faithful.
Of course, 1-31 can never be forgotten.
So, why the commotion now?

Media Mayhem
Social media is to thank for so many hilarious, and sometimes annoying conversations we see online each day.
It's fitting that's how the latest mix-up between Cleveland and Hue started.
Cleveland sports radio host Ken Carman, on Twitter, mentioned one of the strangest mishandled trades in NFL history that took place (or I guess didn't take place) between the Bengals and Browns.
AJ McCarron would be shipped to Cleveland in exchange for a couple of draft picks.
An easy, done deal.
Only there was an issue.
Paperwork necessary to the trade was not filed in time.
It's not every day you hear of a trade getting denied because of a lack of paperwork.
Since that happened right as the trade deadline was expiring, the deal was bombed entirely.
Some reports claim that Browns coaches believe former General Manager Sashi Brown purposely sabotaged the trade.
If you read through enough Twitter threads, you'll find plenty of fans who agree.
So, Hue responds to that tweet (and yes, that is the real Hue Jackson Twitter account) by claiming there is a lot of unknown and false beliefs surrounding that trade.
He goes on to say that "soon they will have to account for all this".
If you go further down the thread, the "they" he mentions is the ownership group, Jimmy and Dee Haslam.
So now you have a former coach, largely disliked by Cleveland, claiming the owners will soon have to pay some sort of price for whatever shady stuff Hue believes they were involved in.
Jimmy has been linked to a scandal in the past involving his company Flying J, but there's never been dirt regarding football operations.

What to Believe?
Kudos to those who have become involved in this conversation with Hue on Twitter.
Seeing his name pop up time and time again is starting to get a bit stale.
It's turned into a very bitter relationship that would be better off just not existing at all.
Hue Jackson vs Browns fans pic.twitter.com/5xjdveefeT

— CleWest (@erjmanlasvegas) March 25, 2021
As for the Haslam's, maybe one day there will be more light that is shed on that mishandled trade (among other mishaps) in the Hue Jackson era.
For now, fans should be more concerned with the current head coach, Kevin Stefanski, and how he plans to get the Browns to their highest potential.
If Hue wants to spout off on social media, so be it. Cleveland has football games to win.