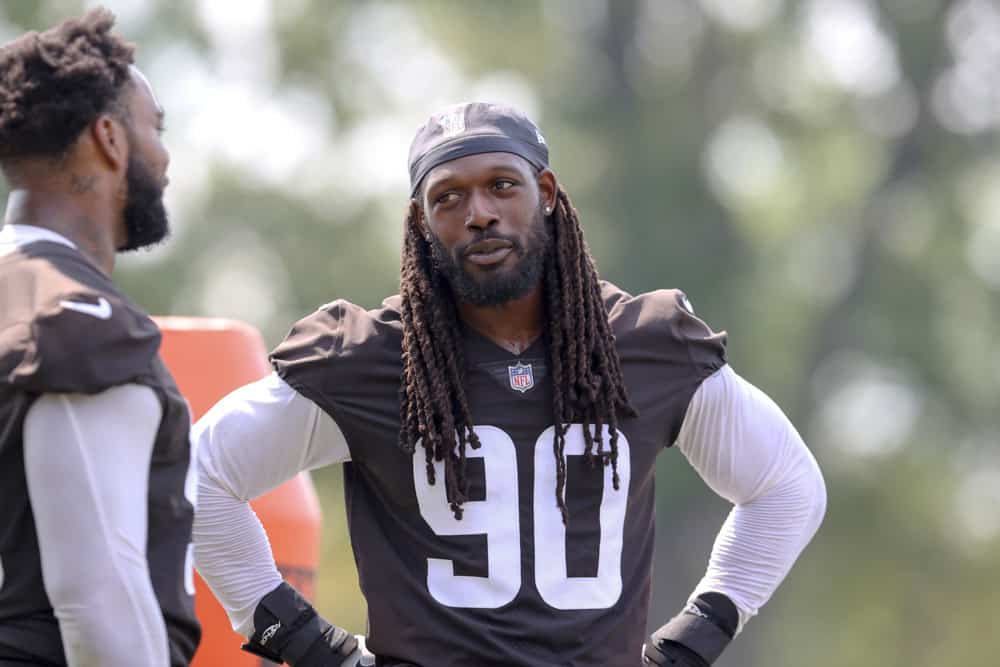 Last offseason, the Cleveland Browns took a chance on defensive end Jadeveon Clowney.
They gave the former first overall pick a one-year 'prove it' deal with the organization.
The 28-year-old has experienced plenty of success before including three Pro Bowl appearances.
However, injuries have hindered Clowney over the last few seasons heading into 2021.
Surprisingly, Clowney was relatively healthy and played fairly well for the Browns this season.
Now, the Browns front office must decide whether or not they want to keep Clowney around long term.
Bring Back Clowney?
The Browns need to be smart about which players they sign to long-term deals.
A few bad extensions can sink an organization real quick, so it's always important to be careful.
Thus far, Cleveland has done an excellent job extending their young talent to reasonable deals.
Now it's time to decide whether or not Clowney has done enough to warrant an extension from the Browns.
In 2021, Clowney recorded 37 tackles, nine sacks, and two forced fumbles in 14 games with Cleveland.
Jadeveon Clowney (@clownejd) beats the over set by the blocker with a well-timed counter swipe for the sack! #passrush #browns pic.twitter.com/wfFNHg7fqM

— DLineVids (@dlinevids1) January 4, 2022
Those nine sacks were the most by Clowney since his 2018 season with the Houston Texans.
He took the 'prove it' deal and showed that he can still play at a high level in this league.
That being said, Clowney is likely due for a multiple-year deal this offseason.
His performance was above expectations in 2021, but was it enough to warrant an extension?
Honestly, it's tough considering Clowney has experienced multiple knee injuries throughout his career.
It comes down to whether or not the Browns believe the injuries are behind him and Clowney can continue playing at this pace.
Worth The Money?
Another factor the Browns need to consider is how much money Clowney will demand in free agency.
He is not exactly the type of player that wants to take a team-friendly deal.
In fact, Clowney was reportedly seeking a multiple-year deal worth $20 million per year or more before signing with the Tennessee Titans in 2020.
DEVELOPING: The Titans and #Seattle Seahawks have made multiple offers to FA DE Jadeveon Clowney, but they have not made an offer he likes. Clowney was asking for around $20M per year but reports say he's come down a bit after showing less interest in Free Agency #Bodybuilding pic.twitter.com/hCSuf9om13

— Tanner Phifer (@TannerPhiferNFL) May 1, 2020
That offseason, Clowney ended up taking a one-year deal with Tennessee for $15 million after turning down the Browns' offer.
Luckily he did turn down the Browns because Clowney had a terrible 2020 campaign and only played in eight games.
That being said, it's tough to imagine the Browns being willing to dish out close to $20 per year for Clowney this offseason.
He was productive, but the risk outweighs the reward in this situation.
Cleveland should be able to find a cheaper option in free agency or possibly an impact defensive end during the NFL Draft.
After next season, the Browns have Baker Mayfield, Denzel Ward, and Kareem Hunt all set to hit free agency.
The front office wants to have extra cap space available in case of possible extensions with these players.
Clowney doesn't seem like someone worth extending unless he's willing to take a reasonable salary.
It all depends on how much Clowney is seeking in free agency and what the Browns are willing to offer.
Cleveland shouldn't overpay Clowney and keep their options open this offseason.