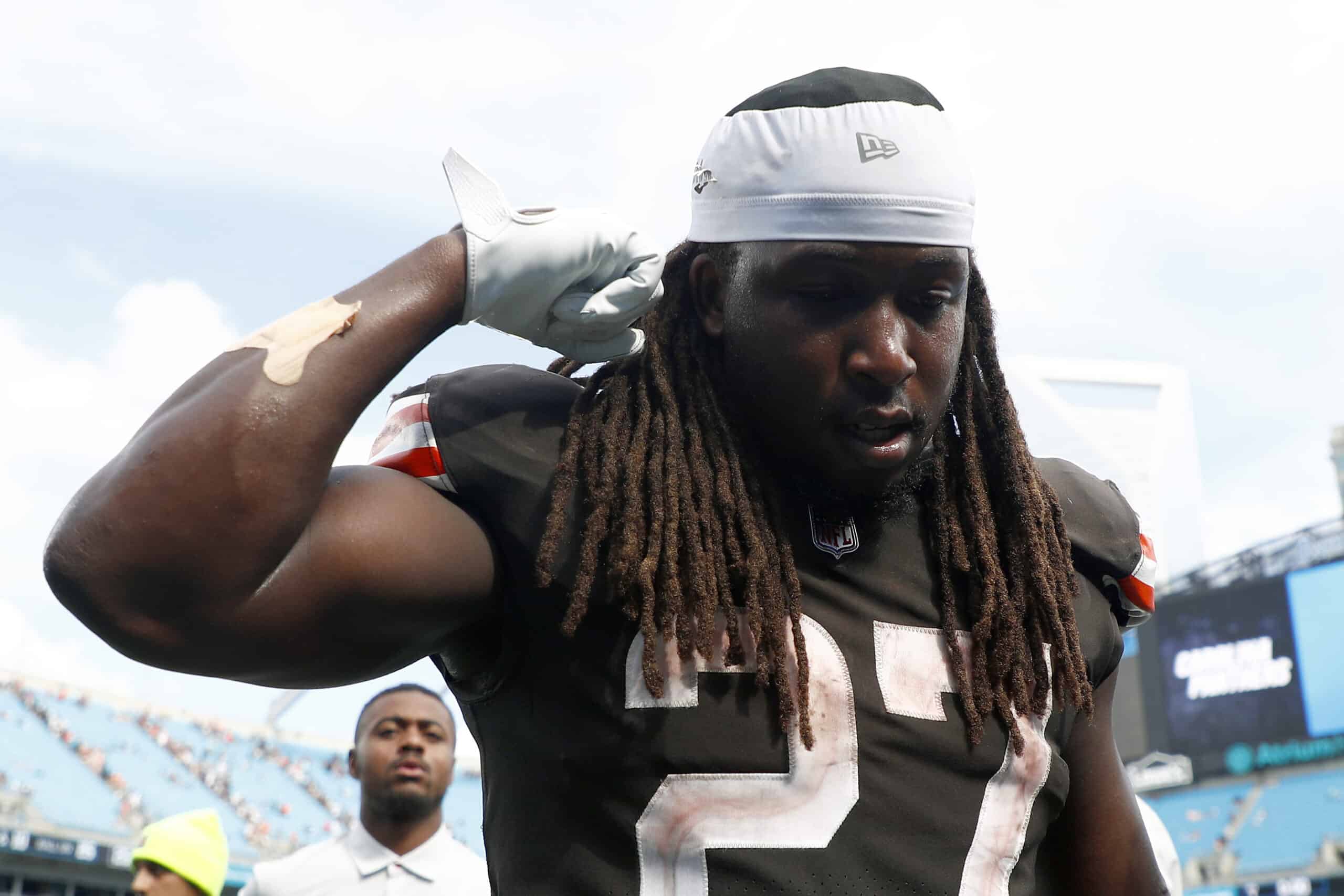 When folks talk about Kevin Stefanski and analytics, they're usually concerned about third-down tendencies and run/pass ratios.
But analytics is a little different to the Cleveland Browns general manager Andrew Berry.
Tweaking the Browns' roster is not just a matter of signing enough linebackers or making sure a kicker is available.
It also involves a Tetris-like puzzle of contracts, guarantees, and terms designed to shift needs and priorities each season.
Will Kareem Hunt be in Cleveland next season? #Browns pic.twitter.com/spD3RmOEgR

— Browns fan UK (@brownsfanuk) December 24, 2022
And right now, it looks like running back Kareem Hunt is an extra piece.
Hunt saw just 3 touches in the Browns' win over the Commanders Sunday.
Back in the preseason, he asked for a trade when the Browns declined to discuss an extension.
And as Deshaun Watson provides a preview of the next era of Browns football, it looks like Kareem Hunt won't be a part of it.
Why Not Re-Sign Hunt? 
Cleveland drafted Jerome Ford last season, and it is notable how many analysts compare him to Hunt.
But the obvious replacement theory is muted by the dearth of rushers on the roster for 2023.
Nick Chubb and Ford are the only two unless Cleveland designates Demetric Felton as a running back again.
Practice squad rusher John Kelly is available to compete, but it seems unlikely Berry is relying on him to make the team.
Have a day, Kareem Hunt!

TD x2! pic.twitter.com/Gqvn9GuyqB

— PFF CLE Browns (@PFF_Browns) September 11, 2022
Cleveland can always sign D'Ernest Johnson to a minimum-rate deal if he is willing to come back.
Johnson tested the restricted market to no avail last season, but he is unrestricted this year with a $2.5 million value per Spotrac.
There are a plethora of other quality rushers available in free agency, only one of whom made more than Hunt this season.
Many will be re-signed by their current teams, but Berry can find a serviceable veteran for a fraction of Hunt's contract.
Offensive Game Plan Changing? 
Deshaun Watson's official arrival won't come until next September's season opener.
He hasn't been worth watching much this season, save for the second half of Sunday's game.
But there are justifiable rumors that Kevin Stefanski will open things up for him in 2023.
Watson's 3 touchdown passes gave a glimpse of what the Browns and their fans hope to see each week.
.@deshaunwatson lit it up in the 2nd half 🥵 pic.twitter.com/akDN8MiL0o

— Cleveland Browns (@Browns) January 1, 2023
Nick Chubb would thrive in a pass-first offense, where 14 carries for 104 yards will seem like an off week.
But it doesn't leave much room for the second rusher, especially at the price Hunt should command.
Re-signing Johnson or adding a cheap veteran, along with drafting another young gun is the economical approach.
There are free agent running backs available all season, mitigating the need to sign a top-notch backup upfront.