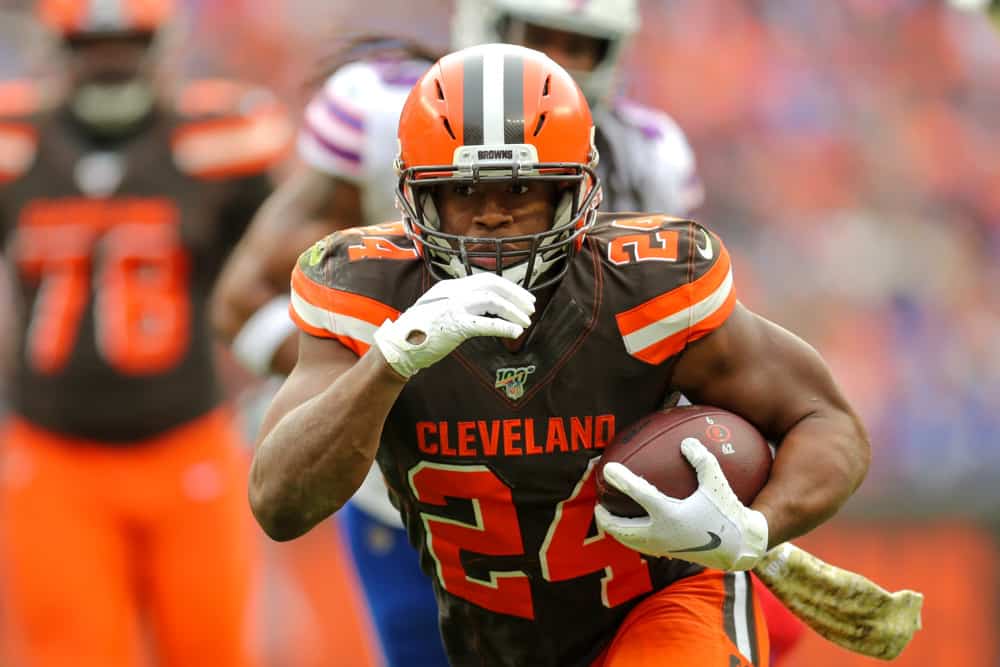 The Cleveland Browns are off to a 2-1 start largely because of Nick Chubb's performance.
Nick Chubb breaking all the tackles on this TD 🤯

(via @thecheckdown)pic.twitter.com/AueWllS94N

— Bleacher Report (@BleacherReport) September 27, 2020
With all of the attention on Chubb, it begs the question if he is the best Browns RB since Jim Brown?
The short answer is yes, he is.
But the caveat should be added, that he is the best since Brown so far.
And here's why.
Statistics
Comparing Jim Brown and Nick Chubb's rushing statistics for their first 2 years in the NFL leads to a stunning conclusion.
They are remarkably similar.
Nick Chubb has 16 rushing TDs and 2,490 yards.
Jim Brown had 26 rushing TDs and 2,469 yards.
Yes, Brown had more TDs, but let's not forget that Chubb is sharing the rushing duties with Kareem Hunt.
And in his rookie year, the Browns inexplicably didn't play him full time.
If you're bored, go to the Pro Football Reference site & get on the #BROWNS franchise page

Sort the RB rushing leaders & compare Nick Chubb with Jim Brown. It's scary.

And keep in mind, a dunce named Hue Jackson wouldn't play him the first 3 games

He's the best RB in the #NFL pic.twitter.com/cSDlTSG7xH

— Dino Hound ⚔️ (@DinoHound) September 22, 2020
Jim Brown Is Still The Best
His legendary numbers are nothing short of amazing.
In his 9 year career, he rushed for over 1,000 yards in 7 of those seasons.
And the other 2 years, he fell just short with 942 and 996 yards.
In 118 career games, he rushed for 106 TDs and 12,312 yards.
And he was part of the Cleveland Browns team who won the 1964 NFL Championship.
Where Does Chubb Compare To Other Browns Great RBs?
Leroy Kelly
"Old Days"HOFer Leroy Kelly was the perfect replacement for Jim Brown in the Cleveland Browns Backield in 1966.#NFL #Cleveland #Browns #1960s

— Tom's Old Days (@sigg20) July 16, 2020
Kelly was Jim Brown's backup for 2 seasons prior to Brown's retirement before the 1966 season so his playing time was extremely limited.
Following Brown's retirement, Leroy Kelly had 3 outstanding seasons, from 1966-1968, where he rushed for over 1,000 yards each season and scored 42 of his career 74 rushing TDs.
His final 5 seasons (1969-1973) were respectable but not near the performance from 1966-1968.
Depending on how Chubb finishes this season, he could already surpass Kelly's statistics.
Last week, he matched a record not achieved since Kelly's 1967 season.
After last week's performance, Chubb became the first Browns RB since Kelly to rush for over 100 yards and at least 2 TDs in back-to-back games.
Marion Motley
Prior to Jim Brown, Marion Motley was the Browns running back for 8 seasons from 1946 to 1953.
He rushed for 4,712 yards during his Browns career, having never achieved a 1,000-yard season.
But he came close in 1948 with 964 yards.
Nick Chubb's first 2 seasons already surpassed Motley's.
Motley had 1,490 yards and 13 rushing TDs.
Could Nick Chubb Eclipse Jim Brown?
It's too early to say.
A few factors will play a role in determining that.
Longevity
Brown had a 9-year career, solely with the Browns.
Injuries
He was not plagued with nagging injuries that limited his playing time.
Support
Brown had a great offensive line and coaching staff that made him even better.
Will Nick Chubb have longevity solely with the Browns in the age of free agency where players jump teams for big money contracts?
Can he stay injury-free?
Through his first 2 seasons with the Browns, he has been the star on very mediocre Browns teams.
But he has still managed to achieve great success.
It appears in 2020 he is finally getting the support he needs so the sky could be the limit for him and the Cleveland Browns.
Only time will tell how he ultimately stacks up against the Browns stalwart RB Jim Brown.