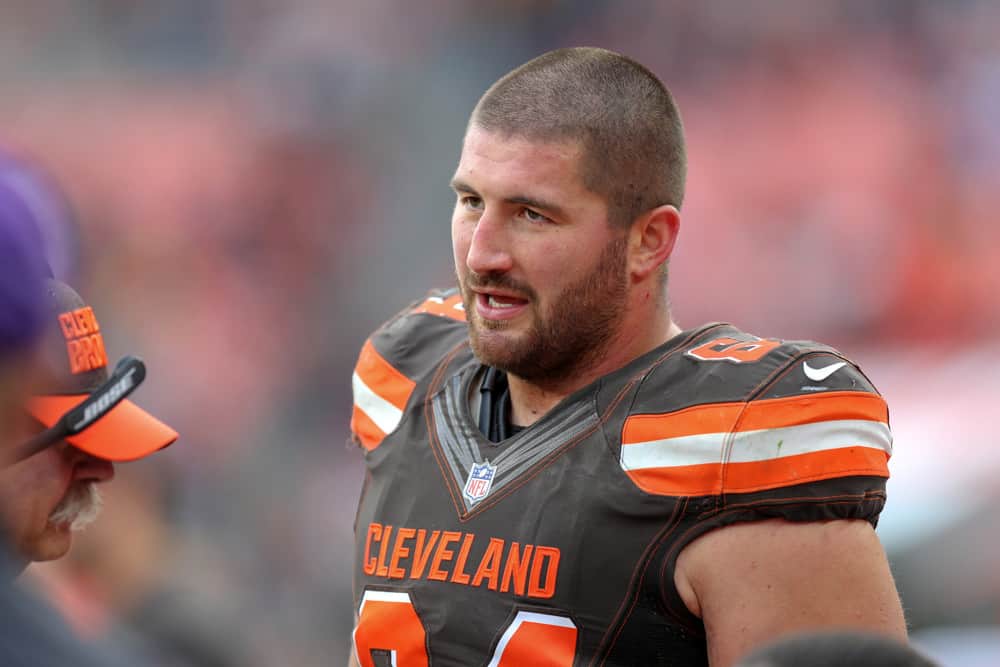 Cleveland Browns center J.C. Tretter took over as president of the NFL Players Association (NFLPA) in 2020 amid the COVID-19 pandemic and continues in that role for the 2021 season.
In this capacity, Tretter and the NFLPA held a 90 minute media call on Friday, April 9, to discuss several issues, most notably the upcoming offseason programs that can start as early as April 19.
The NFL has hinted that it intends for organized team activities (OTAs) and minicamps to resume in person in 2021, as they were pre-pandemic.
Tretter and the NFLPA are encouraging players to avoid these voluntary in person workouts for several reasons, and COVID-19 is only one of them.
NFLPA President JC Tretter told players on a call today the union is pushing for an all-virtual offseason — and would urge players to boycott if teams conduct in-person OTAs this spring, per sources.

Said Tretter: "We've been telling them, it's voluntary and we're not gonna go."

— Tom Pelissero (@TomPelissero) April 9, 2021
NFLPA's Position Is About Player Safety 
Given that the COVID-19 pandemic is still an ongoing reality, Tretter and the NFLPA believe the league should adopt its 2020 plan of holding all activities virtual.
In addition to protecting players from COVID-19 exposure, Tretter points to the 2020 virtual offseason as a key reason for fewer soft tissue injuries and concussions last year.
NFLPA Executive Director Maurice Smith said:
"The data overwhelmingly shows that perhaps the most dangerous place to be, if you're a veteran player, is in an offseason program."
"If we've identified strategies for reducing concussions by 30% and it doesn't involve modifying game rules, it would be reckless NOT to implement those changes."
The data shows that NFL players also had 23% fewer missed time injuries last season.
"Over the past five years, the average number of missed-time injuries annually for all NFL teams was 3,524. For the 2020 season, the number of missed time injuries decreased to 2,716."
Of course, the NFLPA has to be considering all of these statistics in light of the fact that the regular season will go from 16 to 17 games in 2021.
Though the number of games is set in stone, nothing else is, per Tretter.
"Everything has to be collectively bargained. Last year, [everything] had to be collectively bargained, and now we see what those changes brought us. There's really no denying it anymore. You can avoid soft tissue injuries. You can avoid concussions. You can avoid heat-related illness. You can avoid those things by following the science.''
Former player and current media personality Pat McAfee provides an interesting perspective on these voluntary workouts.
The NFL & NFLPA are negotiating on keeping virtual offseason programs #PatMcAfeeShowLIVE pic.twitter.com/14LNgi0JkF

— Pat McAfee (@PatMcAfeeShow) March 24, 2021
NFLPA On COVID-19 
Tretter chastised the NFL for its apparent haste to resume normal activity and mentions teammate Myles Garrett's bout with COVID-19 as part of his rationale.
"The NFL doesn't get to decide when the pandemic is over or when we get to stop caring about COVID.  COVID is still out there. Our players do not want to catch it still. There are plenty of guys who have talked about issues that they felt for a long time after catching COVID. Myles [Garrett] being one of them. He talked about it all year, about how he felt that it was still bothering him…Guys don't want to catch something and make themselves vulnerable in the middle of unnecessary practices in the spring time that could impact them during games in the fall. So the conversation about what should be going on post-COVID, I don't even think we should go there right now.''
The NFL is not mandating that players get vaccinated; however, the NFLPA will strongly encourage its players to do so.
These issues will be addressed in ongoing negotiations between the NFL and the NFLPA in the coming weeks.