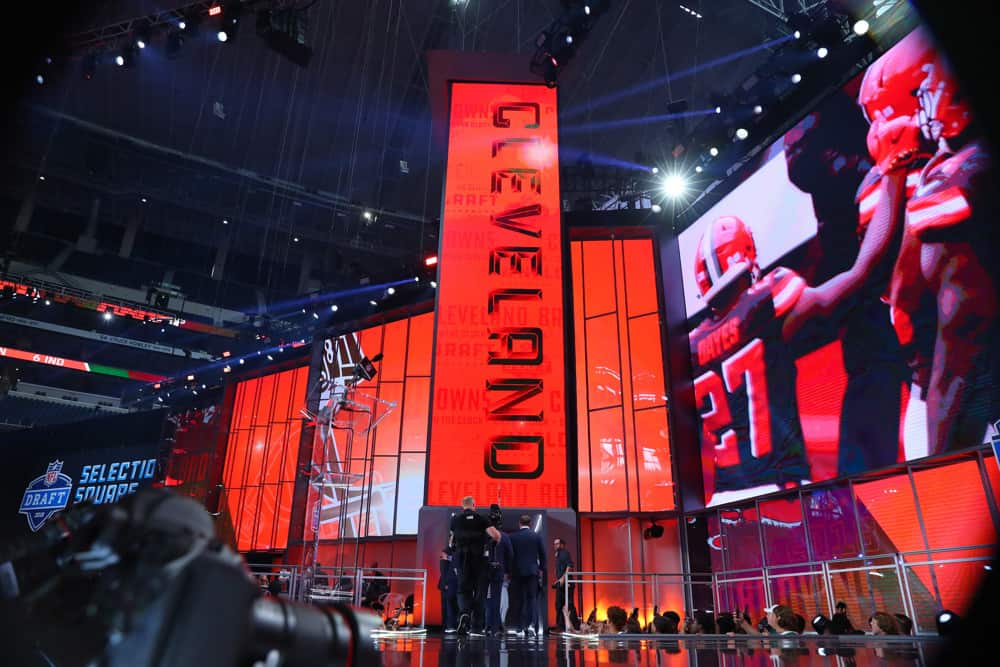 The 2021 NFL Draft is only a few weeks away, which is always exciting as a football fan.
It is even more exciting for Cleveland Browns fans since they have a boatload of draft selections.
They have arguably more picks than they need, which could mean the organization attempts to trade up on draft day.
The Browns currently sit at No. 26, but trading up and giving up some draft capital might not be the worst idea for Cleveland.
Time To Move Up?
On paper, the Browns are only a few players away from being legitimate Super Bowl contenders.
They have arguably the best offensive unit in football led by a new and improved version of quarterback Baker Mayfield.
The biggest concern for Cleveland is on the defensive side of the ball.
Cleveland's front office has addressed this issue during free agency, but there is still work to be done.
The departure of Larry Ogunjobi and Olivier Vernon has left the Browns with a big hole to fill on the d-line.
Although, the Browns have added Troy Hill, Anthony Walker, and John Johnson III through free agency.
#Browns S John Johnson III said he passed physical and officially signed contract

— Scott Petrak ct (@ScottPetrak) March 19, 2021
Those signings will help in the secondary and at linebacker, but there is still a need for another pass rusher.
Cleveland signed Takk McKinley who adds quality depth as a defensive end.
However, McKinley has only recorded 4.5 sacks over the last two seasons.
A former first-round pick who has seen his career head downhill due to multiple injuries.
McKinley is a nice depth signing, but isn't going to be the long term solution for the Browns.
This organization should strongly consider trading up in order to land an elite pass rusher on draft day.
What Will It Cost?
Many could be skeptical about Cleveland moving up in the first round.
It is never easy to give up potential assets and draft capital, but sometimes it needs to happen.
This draft class is highlighted by a bunch of quarterbacks and a handful of wide receivers.
A majority of the top 10 selections are likely going to be offensive players.
That being said, the top tier defensive players could drop into the teens, which is a great time for Cleveland to strike a deal.
The defensive studs like Micah Parsons, Zaven Collins, and Jayson Oweh are unlikely to fall into the late first round.
Jayson Oweh running a 4.38 at 250+😳

— PFF Draft (@PFF_College) March 12, 2021
That means, Cleveland is going to be forced to trade up, assuming they want a chance to draft one of the top pass rushers in the draft.
It will likely cost them their first-round selection, another early pick, and possibly a rotational player or late-round selection.
To be honest, trading a first-round pick, third-round, and another lesser asset is worth an elite pass rusher.
The Browns have more draft picks than they need for an organization that is ready to compete.
Many of these rookies are going to be used as backups right away since the Browns roster is just that stacked.
The front office secured this much draft capital for an opportunity like this on draft day.
Don't be afraid to trade away a few draft picks if it means landing a top tier defensive player on draft day.