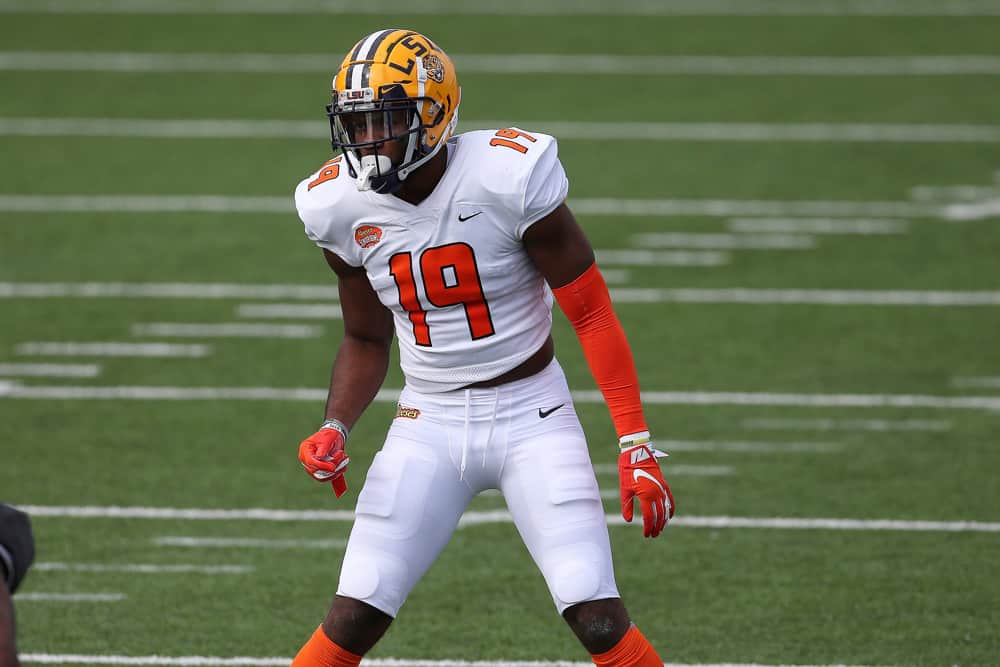 It's no secret that the linebacker spot needed upgrading this offseason.
The front office didn't completely ignore the issue this time around and brought in some help on defense.
They signed former Indianapolis Colts linebacker Anthony Walker to a one-year deal.
He is not exactly a superstar player, but should give this defense a lift in 2021.
The Cleveland Browns likely aren't done adding talent at the linebacker spot and are expected to target some on draft day.
One potential option could be LSU standout Jabril Cox who has certainly put himself on the map after last season.
Cox At LSU
In high school, Cox was a dual-threat player, but that likely cost him during the recruiting stage.
He wasn't as polished at linebacker as many other players and it hurt when it came time to pick a school.
Cox ended up spending his first three years of his college career at North Dakota State.
A school not really known for their football standouts outside of quarterback Carson Wentz.
Before his senior year, Cox decided to transfer to LSU in order to increase his draft stock.
"I wanted to compete against the top players in the nation"

Jabril Cox on his transfer from NDSU to LSU: pic.twitter.com/FhWlw6lxhp

— PFF Draft (@PFF_College) March 25, 2021
During his time at North Dakota, Cox recorded 258 tackles, 32 tackles for loss, 14 sacks, six interceptions, and 18 pass deflections in his three seasons.
However, a year at the FBS level would certainly help raise his draft position, which likely did happen.
In 2020, Cox finished with 58 tackles, 6.5 tackles for loss, one sack, and three interceptions through 10 games.
He is an explosive linebacker with quickness to help in coverage and the burst that enhances his pass-rushing ability.
There is certainly plenty to love about his game and his lone season at LSU should benefit him on draft day.
A Fit For Cleveland?
Cox put together tremendous numbers at North Dakota State, but that should be taken with a grain of salt.
He was not exactly facing NFL-caliber players in that conference, but moving to the FBS was a smart decision.
There is no doubting that he has the football IQ and instincts to contribute at the NFL level.
Cox has the size to shed blockers and finish tackles with authority.
Jabril Cox with really good play recognition and makes the TFL pic.twitter.com/eGxFozcGPE

— sports fanatic (@dribbler4life) March 26, 2021
The biggest flaw is the fact that Cox is a relatively raw NFL prospect.
He only spent one season in the FBS, so there will likely be a learning curve at the professional level.
The good news is, he transitioned well from FCS to FBS, so possibly the NFL won't be too big of an issue.
He has a well-rounded pallet of traits, which is going to intrigue plenty of organizations on draft day.
Cleveland could certainly use a hard-working and humble player like Cox on their roster.
There is a ton of upside here, but the Browns shouldn't spend their first-round selection on him.
Other linebackers such as Zaven Collins, Dylan Moses, and Micah Parsons are graded much higher than Cox.
The Browns should attempt to snag a top-tier linebacker with their first selection, but that isn't something likely to happen with a late first-round pick.
That being said, Cleveland should consider drafting Cox in maybe the late second or preferably the third round, assuming they still need linebacker help at that point.