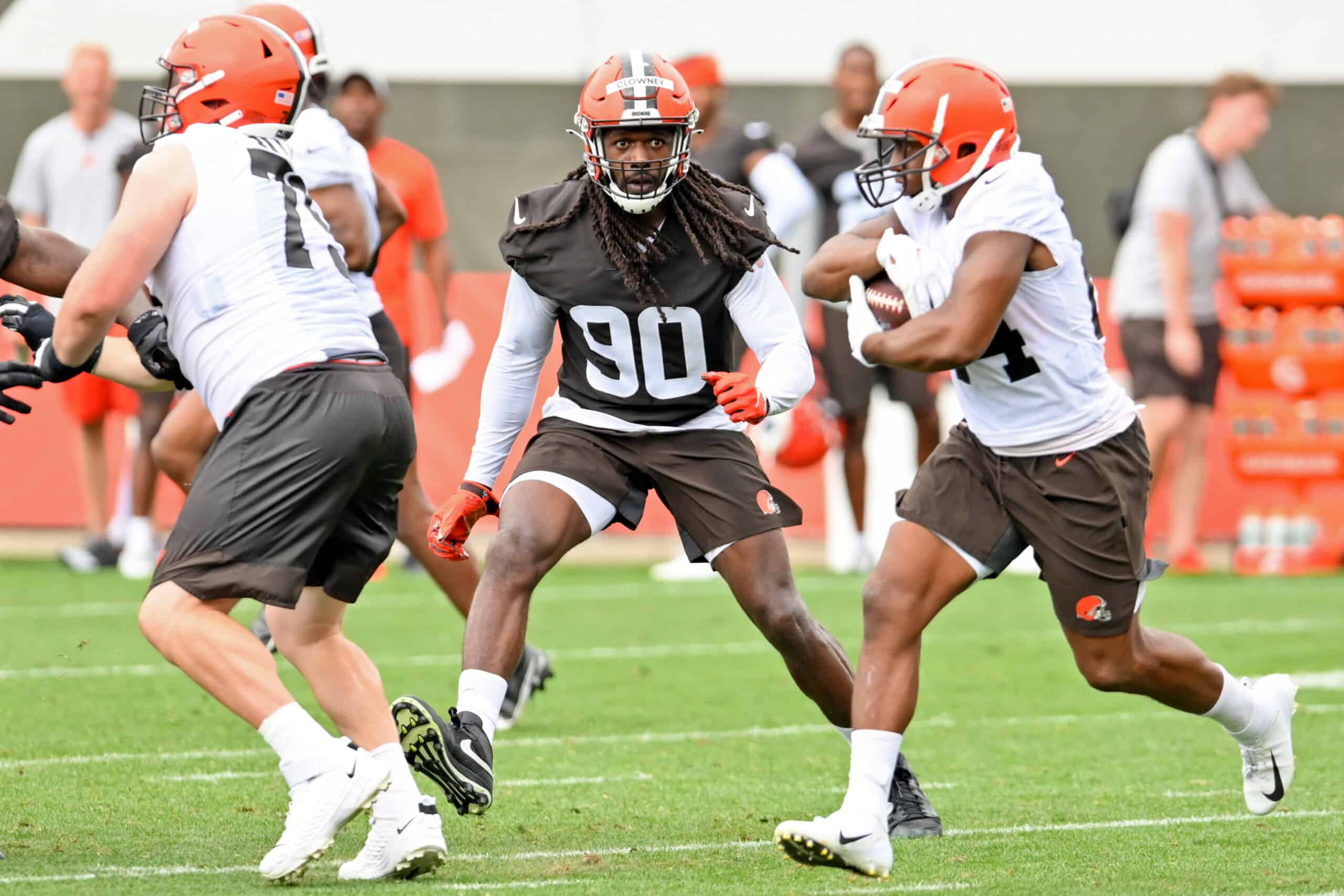 Baker Mayfield would do well to keep his red non-contact jersey on wherever he goes this month.
Because wherever he goes, Jadeveon Clowney seems to show up, ready to hit someone.
Clowney has made short work of the Cleveland Browns vaunted offensive line so far in training camp.
Jake Trotter: "If the defensive players were allowed to hit the Qb, Jadeveon Clowney might have had 20 sacks today. He was in the backfield on like every play. pic.twitter.com/yocFnCliP9

— Nick Karns (@karnsies817) August 3, 2021
And he has been close enough to shake Mayfield's hand on more than a few plays in each session.
Mayfield realizes he's been spared several big hits, substituted by winks and nods from Clowney.
To say Clowney has impressed observers is an understatement.
Browns social media is full of comments and videos about Clowney's speed and effort so far.
Michael Dunn vs. Jadeveon Clowney. Winner = the former No. 1 pick pic.twitter.com/ragyR1EsD7

— Ellis L. Williams (@BookofEllis) August 3, 2021
Even as Myles Garrett looks as strong and as fit as ever, Clowney stands out.
He looks unstoppable early in camp, which leads us to the obvious question.
Can Jadeveon Clowney stay healthy enough to look this good over 17 games?
Clowney Uses Multiple Moves and Techniques 
Nobody stays 100-percent healthy over an NFL season.
But the great players cover any deficits by adjusting their techniques or tendencies.
Clowney is showing training camp observers he has plenty of options to choose from.
Linemen can't be sure if he will power through them or skip around them on any play.
Jadeveon Clowney don't give a rip about your fancy for pre-snap motion pic.twitter.com/eQudcV48hA

— Ellis L. Williams (@BookofEllis) August 3, 2021
Garrett's bookend comes as advertised when it comes to his complete game.
That is, he is as effective against the run as he is in the passing game.
When the Browns signed Clowney, they hoped he would take some pressure off of Garrett.
Pass-rush win rate since 2018 | among edge defenders:

T-2. Myles Garrett – 20.2%
22. Jadeveon Clowney – 15.3%

Where does this duo rank in the NFL?🤔 pic.twitter.com/ULVBigdfLg

— PFF (@PFF) April 14, 2021
From what we've seen so far, each end warrants extra attention from offensive coordinators.
Which should have the Browns' interior linemen and linebackers salivating a bit.
It also has us wondering if Clowney could siphon off some Defensive Player of the Year votes away from Garrett.
Defensive End Is a 2-Man Show So Far 
Takk McKinley looked fast and strong earlier in camp.
But he left the field on Monday and has not returned to join the padded fray.
So far, none of the other Browns' defensive ends has stood out.
Porter Gustin seems ready to hold onto his role as the primary backup.
His play has been as solid, yet as unremarkable, as last season.
Jadeveon Clowney says he's having fun this training camp: "When you're healthy you have a lot of fun…" pic.twitter.com/ykiF7xChyR

— Jake Trotter (@Jake_Trotter) August 4, 2021
Curtis Weaver has not looked bad but might need to do something special to make the roster.
Of course, it is difficult to look great next to Clowney and Garrett.
But without McKinley in the mix, the Browns look solidly average when the starters sit out.
Fortunately, there are 3 preseason games coming up for players to make an impression.
And solid practices with a spectacular play or two come game time will win some roster spots.