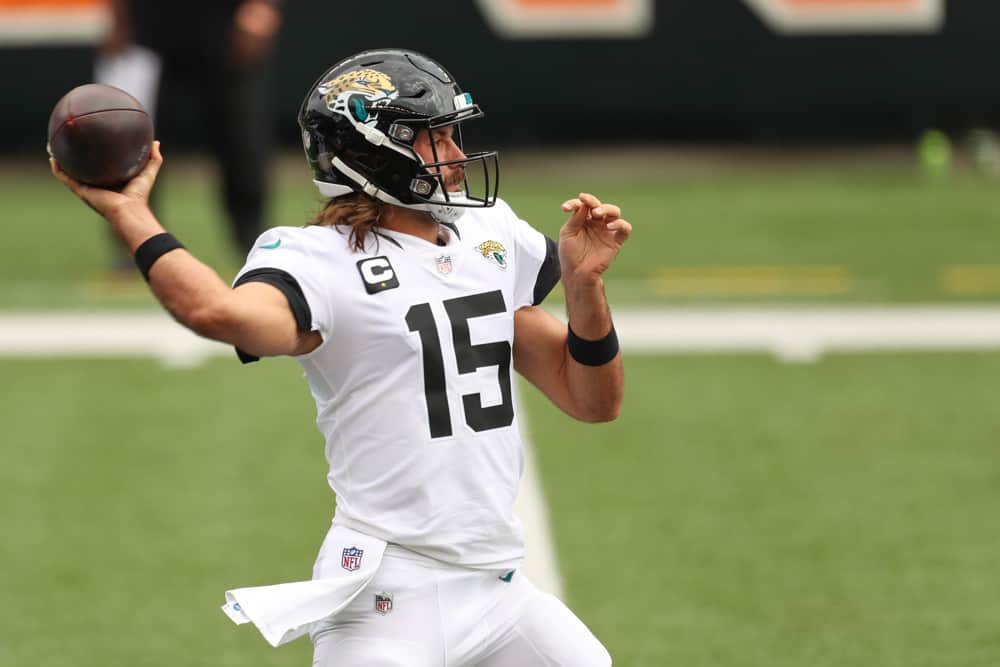 In Week 12, the Cleveland Browns were able to come away with the close 27-25 victory over the Jacksonville Jaguars.
The one-win Jags actually put up an admirable fight considering they were heavy underdogs in this contest.
What makes this situation even more interesting is that Jacksonville continues to bench former starting quarterback Gardner Minshew.
The organization continues to bench Minshew despite him being cleared from his thumb injury.
Minshew went as far as to beg the Jaguars to let him play against the Browns.
"It's so frustrating," Minshew said. "I pretty much went and begged before the Cleveland game to be able to play. It sucks, you know, There's no way around it."
Despite his wishes to play, the Jaguars kept Minshew inactive for that contest.
JAX Inactives (Week 12 vs. Cleveland):

15 QB Gardner Minshew II
17 WR DJ Chark Jr.
18 WR Chris Conley
33 RB Dare Ogunbowale
35 CB Sidney Jones IV
87 TE Tyler Davis
93 DE Reggie Gilbert

— Jamal St. Cyr (@JStCyrTV) November 29, 2020
It is certainly a shame to watch the young quarterback be stuck on the sideline instead of out on the field competing every week.
Is Minshew Mania Over?
It's unfair that the former sixth-round pick has been banished to the bench.
He earned the starting job last season with his fantastic performance after quarterback Nick Foles went down with an injury.
Minshew finished with 3,271 passing yards with 21 touchdowns and six interceptions in 14 games (12 starts) for the Jags last season.
He came into the 2020 season as the starter and looked good with limited weapons on offense.
Through seven games, Minshew had 1,855 passing yards with 13 touchdowns and five interceptions before suffering an injury.
After that, the Jaguars decided to start rookie Jake Luton at quarterback for three games.
Luton threw six interceptions in three games before being benched for veteran Mike Glennon.
The 30-year-old quarterback has struggled through two starts, but head coach Doug Marrone is sticking with Glennon going forward.
The doghouse continues for Gardner Minshew. Doug Marrone just announced he will play Glennon next week. Had two picks, a fumble, a safety and touchdown that bounced off a defender before being caught. Wow!

— Brent Martineau (@BrentASJax) December 6, 2020
Despite being stuck on the sideline, Minshew is trying to be positive about the situation.
"I want to be out there. I want to be helping our team, but if helping our team is me being the best No. 2 I can be then that's what I've got to do right now," said Minshew.
Marrone admitted that they continue to use Glennon over Minshew because he has looked better during practice.
Until a few weeks ago, the veteran quarterback had not started an NFL game since 2017, but looked better than your former starter?
It seems like the Jags are certainly using Glennon in order to lose for draft position.
To be fair, Glennon did look decent against the Browns, but Minshew obviously gives them the best chance to win going forward.
It's a real shame that the young quarterback has to beg his organization to play him.
Hopefully, the Jags do the right thing and trade Minshew this offseason, assuming they select another "franchise" quarterback in the upcoming draft.