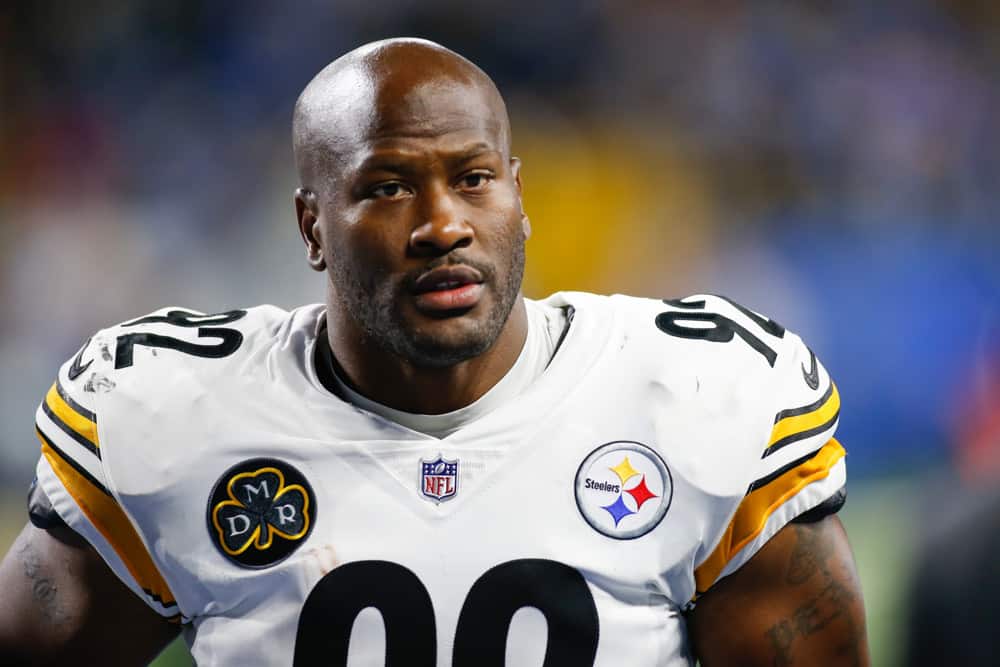 Simply put, James Harrison is not happy.
After making a statement about Mike Tomlin handing him an envelope on a hit on Mohammed Massaquoi in 2010, Harrison has faced some backlash.
Harrison took to Instagram to relay his response.
"Wow y'all really comparing what I said to BOUNTYGATE?!?" Harrison wrote in an Instagram post. "Mike T. Has NEVER paid me for hurting someone or TRYING to hurt someone or put a bounty on ANYBODY!"
The Backstory
Harrison made an appearance on the "Going Deep with Willie Colon and Steven Cheah" podcast.
On the podcast, the three remembered the time Harrison was suspended for his tackle on Massaquoi.
"Yeah. Dude, how are you going to fine me — dude, listen, listen, listen, listen, listen, everything I love, on my daddy's grave, I hit that man with about, max, 50 percent of what I had and I just hit him because I wanted him to let loose of the ball," said Harrison. " If I had known it was going to fine me $75,000, I would have tried to kill him."
After that, Harrison claims that the Steelers head coach handed him an envelope, which we all assume had money inside of it.
"Dude, I'm telling you. 75 (thousand)? And I ain't going to lie to you, I ain't going to lie to you, when that happened, right, and the G-est thing Mike Tomlin ever did, he handed me an envelope after that. I ain't going to say what, but he handed me an envelope after that."
Another dirty hit by james Harrison. This time on Mohammed Massaquoi pic.twitter.com/utGx7GFD0C

— Cleveland fan in pittsburgh (@216fanin412) October 6, 2019
The Severity of the Story
The story has blown up on a national scene and even gained a response from the Steelers' owner.
"I am very certain nothing like this ever happened. I have no idea why James would make a comment like this but there is simply no basis for believing anything like this," the statement said.
Even New Orleans Saints head coach Sean Payton weighed in on the conversation.
Payton was suspended in 2012 for Bountygate.
#Saints Sean Payton On James Harrison's Claim: That'll Be Something That's Tucked Away Under The Rug At Park Avenue.https://t.co/LIxh7miRne pic.twitter.com/zIUQXemkcD

— Pete Smith (@_PeteSmith_) May 15, 2020
Final Thoughts
The hit that took place occurred in the second quarter of a 28-10 Browns loss to the Steelers.
The short pass quarterback Colt McCoy threw to Massaquoi resulted in a helmet-to-helmet hit by Harrison.
Harrison's fine was later reduced to $50,000.
It's very questionable as to why Harrison would make a comment like this.
Harrison has come to the rescue of Ben Roethlisberger, downplayed Antonio Brown, and basically given every bit of loyalty to the Steelers franchise.
Why would he make a comment that could get the Steelers in an array of trouble?
It's likely he didn't think much of it, but Harrison has to know about Bountygate because he was playing during that time.
In the end, more secrets could be coming out of the closet in Pittsburgh.