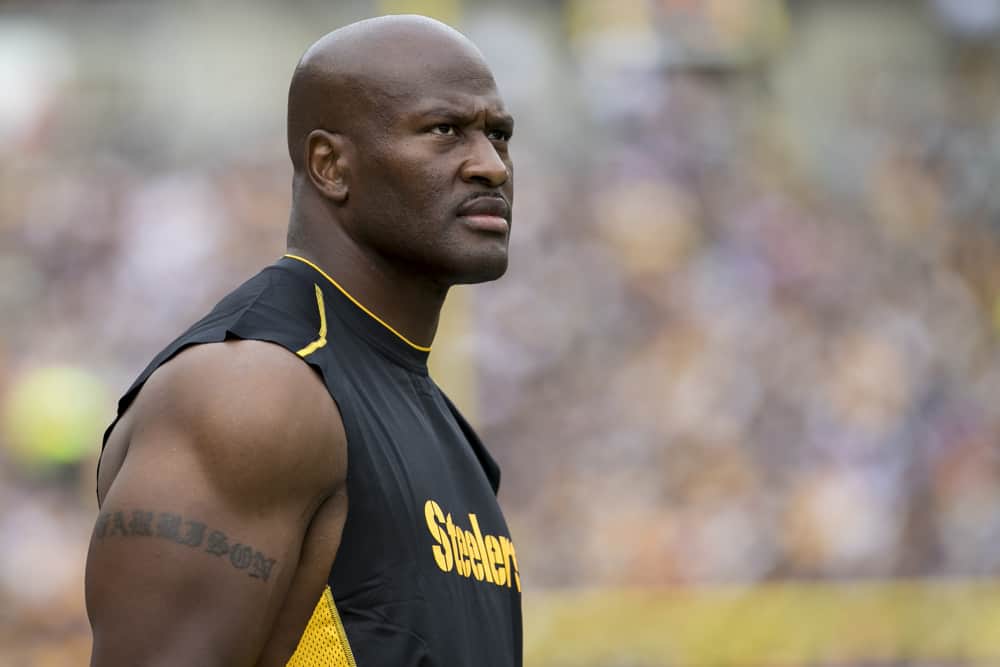 Cleveland Browns wide receiver Mohamed Massaquoi did not see Pittsburgh Steelers linebacker James Harrison coming 10 years ago:
ex #Steelers LB James Harrison said head coach Mike Tomlin "handed me an envelope", here's the play.

The fine was for $75,000. pic.twitter.com/FkFPB0e63X

— Dov Kleiman (@NFL_DovKleiman) May 14, 2020

In response to Harrison's envelope comment, Steelers President Art Rooney II said the following in a statement to Pro Football Talk:
Steelers president Art Rooney II, on James Harrison's claim that he received "an envelope" from Mike Tomlin: "I am very certain nothing like this ever happened. I have no idea why James would make a comment like this but there is simply no basis for believing anything like this."

— ProFootballTalk (@ProFootballTalk) May 14, 2020
"I am very certain nothing like this ever happened," Rooney said in a statement from the Steelers to PFT. "I have no idea why James would make a comment like this but there is simply no basis for believing anything like this."
Harrison's agent also denied his client's claims, according to Joe Rutter of the Pittsburgh Tribune-Review.
Alex Mack's Tweet About the Play
Meanwhile, former Brown and current Atlanta Falcons center joked about his involvement in the play:
In the replay, the flag that was thrown was for me kicking the ball out of bounds. Thought it could be a fumble and had a sprained AC joint so I didn't want to jump on the ball. No envelops of cash for me. https://t.co/MpMN0aNrVf

— Alex Mack (@alexmack51) May 14, 2020
This Steelers 28-10 victory over the Browns came on October 17, 2010.
Mack started the game, and he was hiking the ball to Colt McCoy, who was sacked five times in the game.
Harrison had a game-high 11 tackles, two sacks, three quarterback hits, and one forced fumble in the contest.
James Harrison's Career Fines
In 2010, Harrison received a $5,000 fine for an excessive tackle while sacking Tennessee Titans quarterback Vince Young.
Harrison is also well known for his helmet-to-helmet hit on McCoy that caused him to be suspended one game without pay.
McCoy received a concussion on the play in 2011.
Harrison's reaction to the McCoy hit was not serious either:
Lol!!!

— James Harrison (@jharrison9292) December 13, 2011
By 2012, the Steelers linebacker had already amassed $100,000 in fines.
Mohamed Massaquoi's NFL Career
Massaquoi, who on the unfortunate end of the Harrison hit, was in his second year in the NFL at the time.
During that loss to the Steelers, the incomplete pass to Massaquoi was the only time McCoy targeted him that game.
Even though Massaquoi was signed by other organizations after his four-year Browns career, he did not take an NFL snap with any team other than the Browns.
In Massaquoi's rookie season, Brady Quinn started at quarterback and played his final year with the Browns.
He had the 60/40 split with Derek Anderson, who also spent his final year with Cleveland in 2009.
Josh Cribbs, who was a Browns dynamic wide receiver like Massaquoi, also attempted four passes that season.
Massaquoi can say something that Cribbs cannot though.
While Cribbs had 15 career pass attempts and one interception, Massaquoi threw a passing touchdown in 2010.
Massaquoi threw his only career pass attempt for a touchdown to Brian Robiskie in a 20-10 loss to the Baltimore Ravens.
Unfortunately for Massaquoi, the Browns did not win more than five games during his time in Cleveland.
Eric Mangini welcomed him into the league, and he finished his Browns tenure with Pat Shurmur.
Massaquoi After the NFL
On February 12, 2018, Massaquoi penned a short introduction to his unique video on The Players' Tribune.
In the video, the former NFL wide receiver reflected upon how important his hands were as a part of his football journey in college and the pros.
The second-round pick in the 2009 NFL Draft then describes how an ATV accident changed his life:
"You go from joyriding to getting in a helicopter to find out that your hand is going to be amputated."
He now has a prosthetic left hand after four fingers were amputated.
Doctors from Piedmont Atlanta Hospital attempted to repair the hand, but the fingers failed to function soon after the surgery.
"It's a part of me that will never come back."