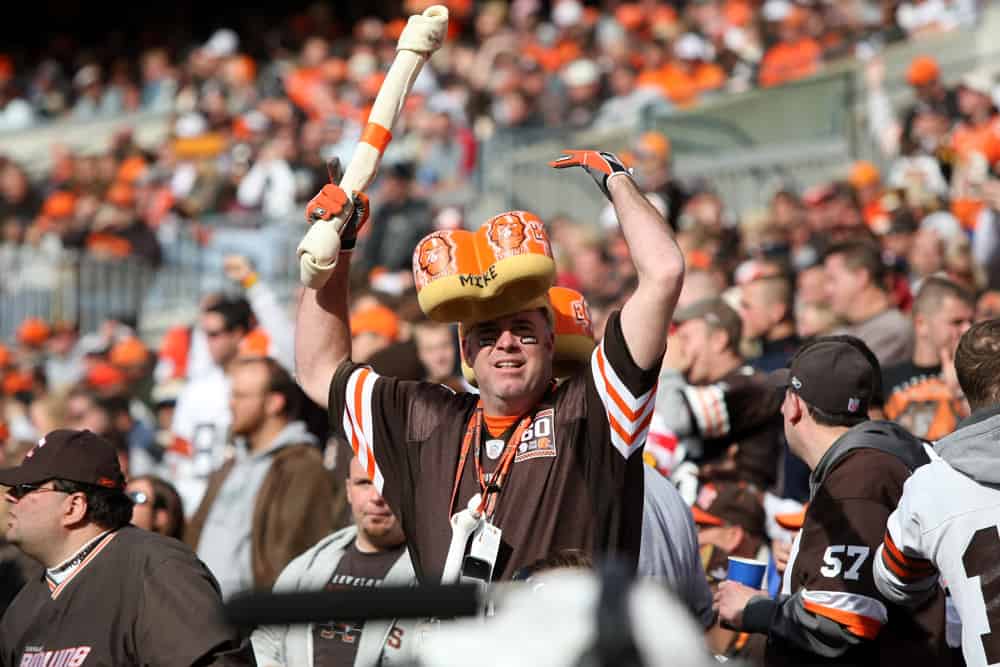 The Cleveland Browns and Pittsburgh Steelers have a rivalry that has not been competitive for 20 years.
So is it even a rivalry?
The Browns have the chance to flip the narrative Sunday afternoon in Pittsburgh.
Myles Garrett chimed in on what he thinks a win would mean, and offered up a bit of an understatement.
Myles Garrett on a potential win in Pittsburgh: "It can definitely energize the fans here and the franchise… We get a win there, most people would give us some respect and see us as a legit team across the league then we have to prove it week in and week out." #Browns

— Hayden Grove (@H_Grove) October 16, 2020
A Browns Win Would Mean Everything
The fans would be more than just "energized" with a victory.
A win would give the Browns a 5-1 record and talking about the playoffs would not be premature.
There are so many sad stats about the Browns since 1999.
One painful one is the fact the team hasn't won in Pittsburgh since 2003.
Remember, the Browns travel to Heinz Field every single year.
Browns haven't won in Pittsburgh since 2003. Amazingly, not the first stretch like that.

They were 0-16 all-time In Three Rivers Stadium before finally winning In 1986 (Bernie to Slaughter; "Ice Cube" McNeil kick return).

— Peter Schrager (@PSchrags) October 18, 2020
This would be a monumental shift in the story of the post-1999 Browns.
It doesn't even matter if it is a 3-2 victory or one by the final score of 50-49.
Getting to 5-1 would provide yet another historical comparison for a team that has had trouble winning five games in full seasons.
Beating a Steelers would also keep the Browns fighting atop the AFC North.
Want to hear another tough stat?
The team's last division title came in 1989 as part of the old AFC Central.
Getting past Pittsburgh even once should build insane levels of confidence for a team that has the swagger, but has never been able to follow it up with a complete season.
Ben Roethlisberger being 23-2-1 against the Browns in his career tells the whole story.
Getting a Win for Myles Garrett
The Browns have embraced the so-called Myles Garrett revenge game set to take place Sunday.
He infamously faced a season-ending suspension in 2019 after hitting Steelers quarterback Mason Rudolph over the head with a helmet in what was a rare Browns win over Pittsburgh.
This will be his first matchup against the division rival since then and his teammates appear to have his back.
Myles Garrett: the most dominant pass-rusher in football 💪 pic.twitter.com/3FYS76LY0N

— PFF (@PFF) October 12, 2020
The entire situation is deeper than just a "he said" debate and it remains hard to believe Garrett was lying about what went down.
He has been professional and mature and has made it clear he is ready to move forward.
That doesn't mean the Steelers have forgotten and this matchup will likely be chippy regardless.
Roethlisberger's injury in 2019, coupled with Garrett's eventual suspension, robbed us of a matchup between the defender and the quarterback.
Garrett made it clear when he joined the team he was looking forward to laying some hits on the veteran signal-caller.
He now has a chance to do just that in one of the most meaningful Browns games in recent history.
The Browns haven't provided fans with plenty of hype since 1999.
Even a loss Sunday puts the team at 4-2, which isn't the worst thing in the world.
But for once the team appears to be equal to the Steelers in talent.
That is something to be excited about and moral victories hopefully don't have to be talked about anymore starting Sunday night.