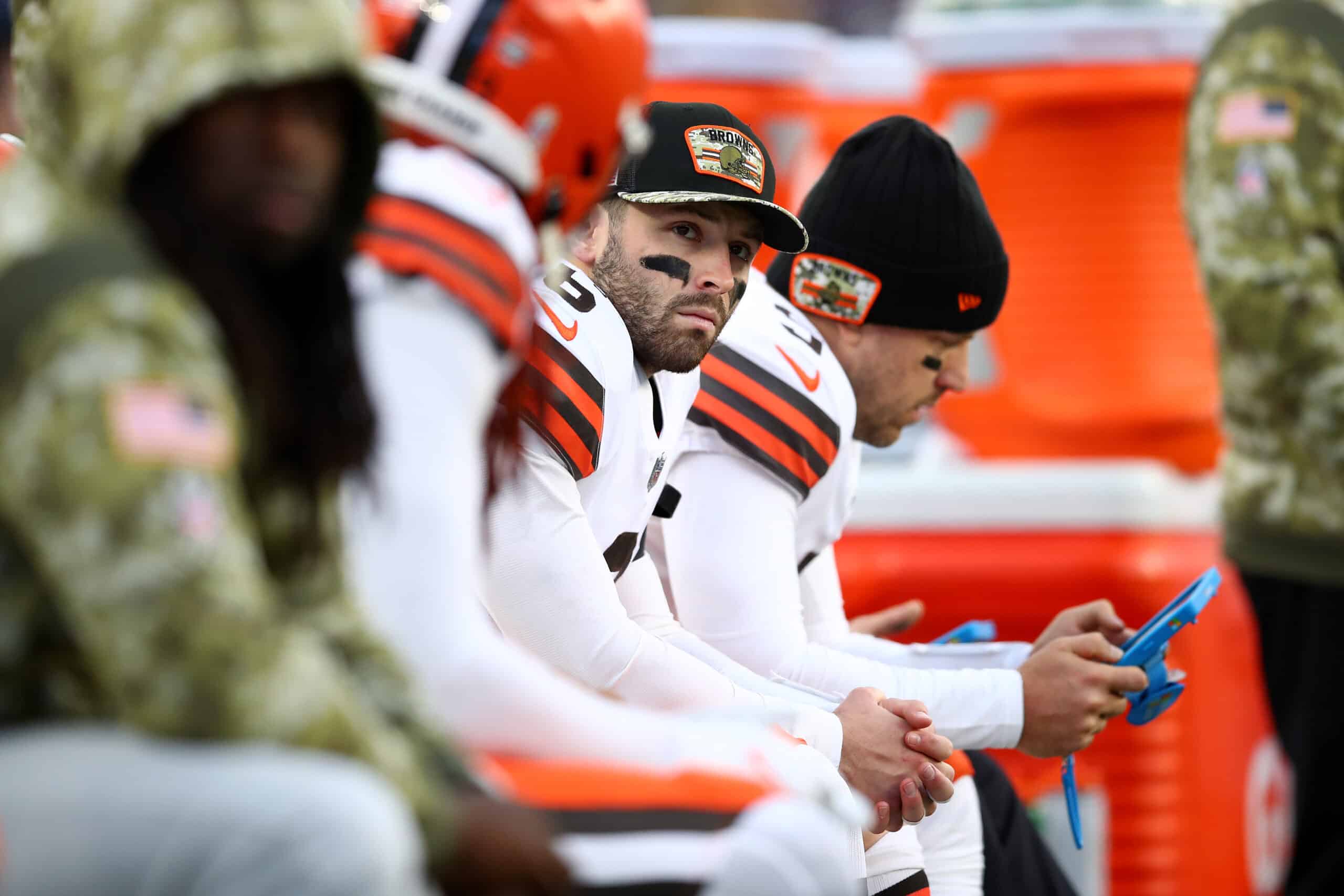 Baker Mayfield has not been at his best the last couple of weeks.
Inaccurate throws, questionable decisions, and poor ball security have defined his play of late.
However, many Cleveland Browns fans have been willing to give Mayfield a bit of a pass for this.
Mayfield has been dinged up, dealing with shoulder and knee issues among other injuries.
Others, though, think the "wounded Mayfield" narrative is overblown.
Jason Lloyd of The Athletic joined 92.3 The Fan in Cleveland and went on to say he believes the brown and orange faithful are making "way too much" out of these injuries.

Is Jason right with this assessment?
Are the injuries to Mayfield that exaggerated?
Let's dive in and take a look.
Is it Overblown?
"Has he been hurt this year? Yes. Has it impacted him on some level? Yeah, probably, for sure. But to go on and on and on and on the way everyone has over this… they called a throwback pass to Baker in the Detroit game. If he was spending all week in a body cast like everyone's acting, do you call that play?"
It's an interesting perspective Lloyd provides here.
Baker's social media defenders are quick to highlight the injuries he's sustained.
It would be ignorant to act like those don't have some impact.
However, how long is that excuse for?
We've talked about Kevin Stefanski trusting Mayfield if Baker keeps saying he is good to go.
Until Baker essentially sidelines himself, all indications are that Stefanski will stick with him.
If that's the case, so be it. However, you can't immediately claim injuries are the sole reason for Baker's struggles.
If they are hindering his play that much, Stefanski needs to take charge and sit him down for Keenum, regardless of what Mayfield has to say about that.
But it hasn't gotten to that point yet.
That should tell fans, as Lloyd says, that perhaps the injuries are harped on a bit too much.
It is the NFL after all. Bumps and bruises are more than commonplace in this league.
Again, this is not to say the dings Baker has taken aren't having some negative effect on him.
A torn labrum and a bad knee are no joke!
However, as long as he keeps trotting out there, it's poor reasoning to pin his poor play on those injuries alone.
Moving on Long-Term?
So, if the impact of Mayfield's injuries is exaggerated and he really is just struggling, what does that do long-term?
Later in the radio segment from The Fan, Lloyd brings up arguments he made last year with Anthony Lima about moving away from Mayfield and going after a guy like Deshaun Watson (before things went south with Watson).
Back then, it was an outlandish thought.
Now, however, an upgrade at quarterback doesn't sound too bad in Cleveland.
These final five games for Baker will be extremely important.
General manager Andrew Berry doubled down on his belief in Mayfield during his Wednesday presser.
Berry expects his quarterback to finish the season on a strong note.
#Browns GM Andrew Berry: "(Baker) has had stretches this year where he has played well for us. He's worked through injuries. We expect him to play his best football here down the stretch after the bye."

— 92.3 The Fan (@923TheFan) December 1, 2021
How this season plays out could very well dictate Baker's future in Cleveland.
Their commitment (or lack of) to Baker is too important to only excuse his poor play with injuries.
Betting on his future and chalking up poor play to being injured isn't a great mindset for Berry to have moving forward.
Mayfield has been beaten up this year, no question.
In the NFL though, if you're on the field, you need to produce.