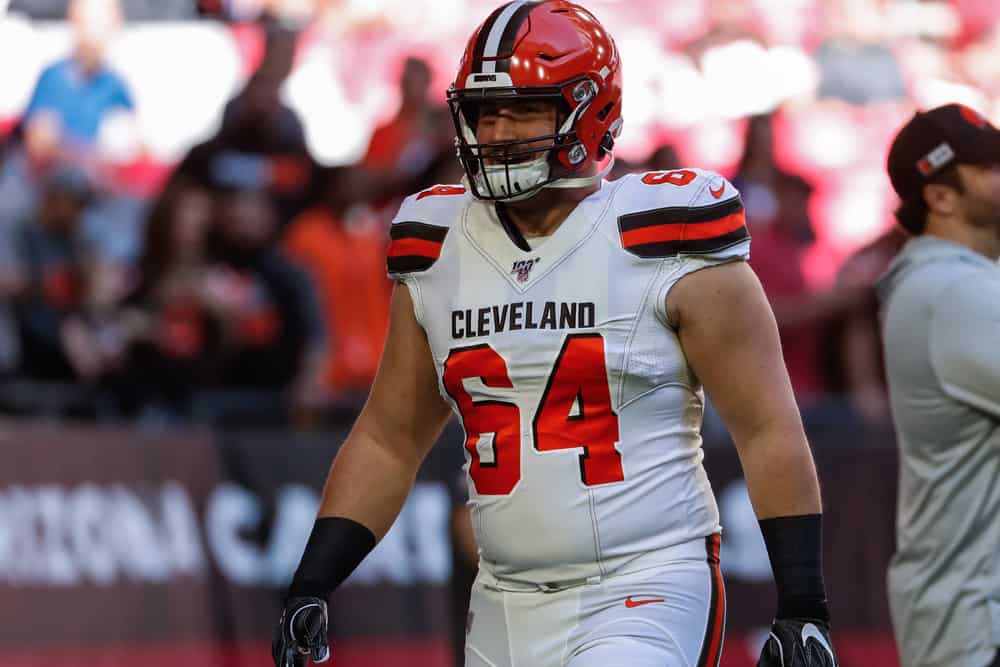 Being the head of a players association in any league has its challenges.
That is especially true of this season with Cleveland Browns center and NFL Players Association president JC Tretter.
In a move that is sure to receive support from his fellow players, Tretter is calling for an end to the previous offseason program used by NFL teams.
Tretter released an article on Thursday detailing some of the changes he wants made along with reasoning.
2020 forced us to do things differently for the betterment of everyone. Now that we can look forward to 2021, we might want to consider making some of these changes permanent. https://t.co/TmGRNtwF4a

— JC Tretter (@JCTretter) December 31, 2020
Tretter's proposal would eliminate events such as minicamp and organized team activities.

Should the NFL Change?
Tretter addresses how the NFL handles change in his opening sentences.
He claims the league is a bit hesitant to do things as it is almost always met with harsh criticism from the public.
He's not wrong, as many hardcore fans of the league get uncomfortable at the thought of something different.
However, JC does make an excellent point when referring to the changes made in the 2011 CBA.
"When the 2011 CBA got rid of two-a-day practices during training camp, coaches, executives and the public voiced concerns that players wouldn't be prepared to perform when the season started. Players are not only safer than we were before 2011, but our game has gotten better since then."
Most would agree with Tretter in that the NFL has improved in play since 2011.
Young and athletic quarterbacks, paired with freakishly athletic skill-position players has taken the NFL to another level.
Many feared that a reduction in offseason activity due to COVID-19 would take the league back a step.
Tretter claims, however, the opposite is true.
"The COVID CBA forced significant changes, and it has shown us another way players and teams can successfully prepare for and play in the NFL. I believe the changes implemented this season have demonstrated that we can put an entertaining product out on the field while further reducing wear and tear on our players' bodies."
Tretter also refers to an all-time high in scoring, fewer penalties, and better tackling. All-around, the game of football has improved even through a pandemic.

Will it Change?
Again, Tretter is right when he discusses slow change within the NFL.
It feels like so many issues, such as the ability to challenge pass interference, are discussed at length for years before any ground is broken.
He is also correct about the criticism the league faces.
Tretter's proposal hasn't surfaced for an entire day yet and people are already firing off passionate takes of disapproval.
If the players do not think they need OTAs or preseason games, then thats fine. But do not think that the quality of play is better. There is only fewer penalties because of fewer kickoff returns and the referees are not calling as much. (Ask Myles Garrett)

— Massillon Dude (@fentonc12) December 31, 2020
Typical. Want the same pay but less work.

— Manimal (@GJones84) December 31, 2020
maybe points are up because bad defense/tackling?
maybe penalties are down because the NFL wants points like college & are only calling blatant penalties?

bottom line, they don't wanna practice at their trade

— rochaser (@rochaser1967) December 31, 2020
One reason the NFL could be hesitant is the number of serious injuries that occurred at the beginning of the season.
It was happening at an alarming rate early, but seems to have evened out as the season has gone on.
It's tough to speculate on whether the NFL would agree to this or not.
There seems to be a big fuss every year about guys attending (or not attending) mini-camps, so perhaps there are organizations that hold a high value on the offseason.
But these players today are professionals in the truest sense.
This is what they do year-round.
It isn't the 1960's anymore where guys held down car salesman positions in the offseason and needed camp to get in shape.
NFL players keep themselves in peak physical condition from January to December, not just during the season.
Unless the NFL finds a financial incentive for not eliminating these offseason activities, I don't see why they would oppose.
Of course, who knows how long it will take for change to actually happen.