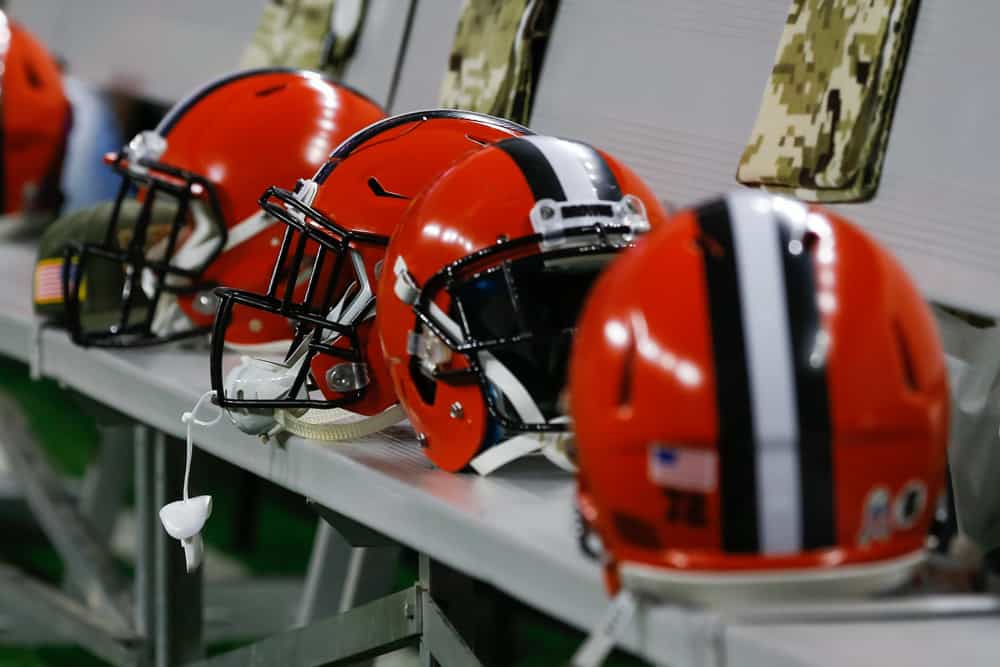 In what has become a sad reality in the past week, the Cleveland Browns have announced additions to its Reserve/COVID-19 list.
To begin with, rookie TE Harrison Bryant has now tested positive.
Bryant was placed on the list on Tuesday, December 29 as a close contact.
A new addition to the list today is LB Malcolm Smith who has also tested positive.
#Browns LB Malcolm Smith and TE Harrison Bryant are the players who tested positive for COVID-19, per sources. Bryant was already isolated and on the COVID list after a high-risk close contact outside the building.

— Tom Pelissero (@TomPelissero) December 31, 2020
This is the second consecutive day that the Browns have reported positive test results which has forced a closure of the building.
#Browns had a staff member and another player test positive for COVID-19 overnight and the facility is closed as they now do contact tracing. Cleveland's situation is something to monitor as they had a positive test late last week, then another yesterday, and now more today.

— NFL Update (@MySportsUpdate) December 30, 2020
To recap the Browns Reserve/COVID-19 list, it is as follows:
Harrison Bryant
Malcolm Smith
Javon Patterson, practice squad
Unidentified assistant coach
Goodson, Sendejo, Bryant, and Smith are out for the Steelers game.
Karl Joseph is a close contact so pending further negative tests, he could be eligible to come off the list before Sunday's game.
Good News – 5 Activated On Thursday
The good news of the day is that the five players who were deemed as close contacts and missed last Sunday's game were activated on Thursday.
Jarvis Landry, Rashard Higgins, DPJ, Hodge, Jacob Phillips all in fact coming off COVID-19/reserve list today, per Kevin Stefanski #Browns

— Jake Trotter (@Jake_Trotter) December 31, 2020
They are:
More Good News
Ronnie Harrison, Wyatt Teller, and Jedrick Wills are back.
Because the facilities have been closed and opened repeatedly this week for COVID-19 contact tracing protocols, it is unclear how much practice time they will get, but it is still good news.
S Ronnie Harrison Jr. has officially been activated from Reserve/Injured-Designated for Return

Details » https://t.co/4bLtFyDatX pic.twitter.com/sTcNmfU633

— Cleveland Browns (@Browns) December 30, 2020
Harrison had a shoulder injury that cost him to miss the entire month of December.
Prior to his injury, Harrison had been playing well with a pick 6 off of Philip Rivers and the Colts in Week 5.
Wyatt Teller suffered an ankle injury in the Ravens game and missed the Jets game.
He also suffered a calf strain in October that caused him to miss time also.
Many attribute the success of the Browns' running game with Nick Chubb and Kareem Hunt this season to the excellent play of Wyatt Teller.
Finally, Jedrick Wills who was a late scratch for the Jets game due to an illness is back.
Last week, Wills was put on the Reserve/COVID-19 list as a close contact.
He tested negative and was eligible for the Jets game before being scratched.
Wills has done an excellent job protecting Baker Mayfield this season so having him back in the lineup is a huge plus for the Browns.
Must Win
The Browns have to win to get in so healthy players are key.
While the Steelers are expected to rest some of their players including QB Ben Roethlisberger, C Maurkice Pouncey, OLB T.J. Watt and DE Cam Heyward, this game is not a gimme with the Steelers backups.
The Browns practices have been erratic with the repeated closures to the facility so it has definitely been a disruptive week.
While the Browns have other outlier ways of getting into the playoffs, the surest bet lies in their hands.
They control their destiny.
In many respects, the Browns 2020 playoff season begins at 1:00 pm on Sunday, January 3, 2021.