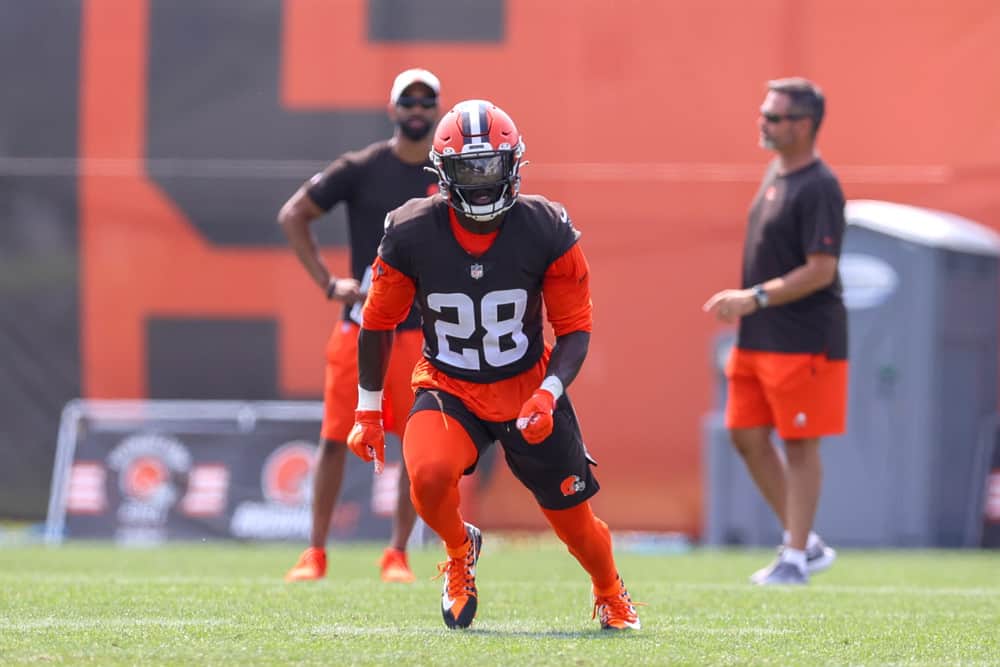 The Cleveland Browns opened the 2021 season with an excellent outing and notched a preseason victory over the Jacksonville Jaguars on Saturday.
This was a game that was not about the score though the Browns did win 23-13.
It was about how the rookies and second year players performed since neither group has ever played in an NFL preseason game before.
One of the rookies looked great, but it really is not surprising.
He is linebacker Jeremiah Owusu-Koramoah who also goes by the nicknames JOK or Wu.
Ever since the Browns itched up a few spots in the second round of the 2021 NFL Draft to get JOK, everyone has been nearly giddy about getting what should have been a first-rounder in the second round.
JOK took the field on Saturday night with all of the expectations, and he lived up to each and every one of them.
His Stats
He recorded seven solo tackles, and he sacked Jaguars backup quarterback Gardner Minshew.
Three of his tackles resulted in yardage loss.
More than the stats was his presence on the field.
Some @NextGenStats insight here: JOK was 4.39 yards away from Collin Johnson in the first frame. He closed that gap in 1.3 seconds to tackle Johnson for no gain, registering the top speed of any player on the field at 14.79 mph.

He went from 2.09 mph to 14.79 mph in 1.8 seconds. https://t.co/6D55eksp8g

— Nick Shook (@TheNickShook) August 15, 2021
He was flying around and getting involved in the plays like a wily veteran not a rookie in his first professional football game.
Jeremiah Owusu-Koramoah living in the backfield 💨@NDFootball

— PFF College (@PFF_College) August 15, 2021
A Latecomer To Camp
What makes JOK's performance on Saturday even more remarkable is that he was delayed getting to training camp.
He missed over a week of practice because he was on the Reserve/COVID-19 list.
His performance did not show any signs of missed practice time.
JOK was dialed in.
My biggest takeaway last night:

JOK didn't look like a rookie who missed over a week of his first training camp on the COVID list. He was ready.

— Nick Pedone (@NickPedone12) August 15, 2021
He left everyone knowing that even though he could not be with the team, he was still putting in the work at home.
JOK on being out with covid: "It doesn't really put you behind as long as you put the work in at home. It actually let me open up the play book and learn it more."

— Nick Karns (@karnsies817) August 4, 2021
JOK is just one of the young players who looked great on Saturday night.
The preseason game showed the depth of the Browns roster and just how difficult these roster cuts will be each Tuesday (beginning August 17) through the end of the month.