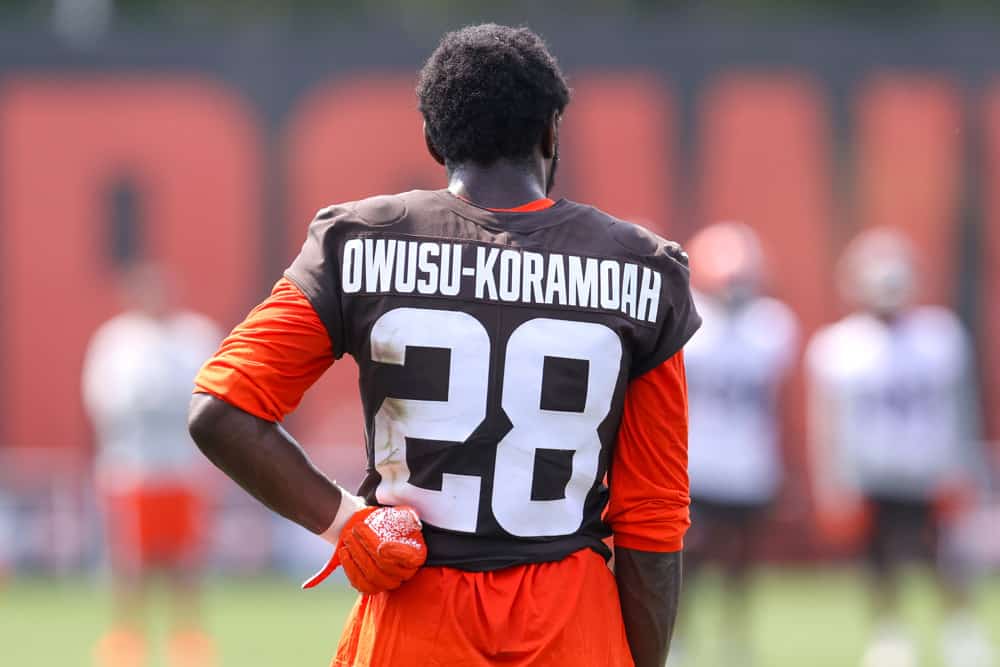 Week 5 of the NFL season is too early for the Cleveland Browns to name a team MVP.
But the team might consider whoever started the pre-draft health rumors about Jeremiah Owusu-Koramoah.
Those unfounded questions about JOK's heart allowed him to slip to the Browns at #52 overall.
How the heck did the rest the #NFL let Jeremiah Owusu-Koramoah fall to the second round?

— Ari Ross (@aross50) October 3, 2021
And JOK's heart is a big reason that selection is the undisputed steal of the 2021 NFL Draft.
"Wu" entered Week 4 as Pro Football Focus' highest-rated linebacker in the NFL.
And his Week 3 rating was the highest weekly linebacker score since the 2019 season.
The highest-graded rookie this season?

Jeremiah Owusu-Koramoah 😎 pic.twitter.com/CpjdhWU5EC

— PFF (@PFF) October 4, 2021
After another superb performance against the Minnesota Vikings, PFF's Week 4 rankings are likely to be similar.
But the group's analysts already announced one Week 4 ranking involving the Browns' rookie.
And Jeremiah Owusu-Koramoah is the top-ranked rookie in the NFL as of October 3.
JOK Is Bigger Than His Stats
Owusu-Koramoah is only playing about half of the defensive snaps.
He has 17 tackles, including a season-high 7 against Minnesota.
But it is his half a sack, quarterback hit, several hurries, and 3 passes defended that show JOK's flexibility.
And when the rookie makes a play, he delivers a disproportionate number of the highlight-reel variety.
Jeremiah Owusu-Koramoah is special. #Browns pic.twitter.com/xDcXUv3gNK

— Billy Heyen (@BillyHeyen) October 3, 2021
The rookie flies around the field, delivering hits that drop rushers in their tracks.
In the clip above, JOK is caught backpedaling 10 yards downfield when Dalvin Cook takes a handoff.
Cook has a full head of steam as he takes off around the left end with blockers in front.
But JOK changes directions and hits Cook like a bullet after just a one-yard gain in a typical Wu fashion.
Control Allows JOK To Play With Abandon
For someone who makes plays all over the field, Owusu-Koramoah shows great discipline.
That includes starting each play in the right position according to Joe Woods' design.
Can't stress enough how well Jeremiah Owusu-Koramoah is playing. Force player + fills + blitzing + coverage + flying to the football = complete defender.

— Brent Sobleski (@brentsobleski) October 3, 2021
News5Cleveland's Camryn Justice quoted linebacker coach Jason Tarver in a great article last week.
Talking about JOK's Week 3 game against the Bears, Tarver said,
"What Jeremiah did well was stay in his process and start the plays correctly. What I mean is his patience in the beginning of the play and then how he was able to fit and move and he got more in the groove than he has before. When he stays in his process, when we all stay in our process, that's when we can be our best."
Being where he was supposed to be allowed Owusu-Koramoah to see Justin Fields exposed for a sack in Week 3.
Jeremiah Owusu-Koramoah was insane again today — he should enter Week 5 as @PFF's highest-graded linebacker.

— Austin Gayle (@PFF_AustinGayle) October 3, 2021
It also put him close enough to stop on a dime, reach back, and knock away what looked like a chain-moving pass.
And it puts to rest any notion that the linebacker is freelancing or playing out of control.
JOK's Best Is Yet To Come 
There is a reason why JOK only plays about half the team's defensive snaps.
According to defensive coordinator Joe Woods, the coaches haven't fully introduced the rookie to the defense.
As quoted by Justice in the same article, Woods said:
"There are multiple packages we can create for him, but there is only so much he can handle because when you get on the field, you have a certain number of reps. If you are giving him a lot of stuff to do, how many times can you rep it for him to be comfortable doing it?"
So Owusu-Koramoah, the top-ranked rookie in the NFL, hasn't even taken on his full role yet.
#Browns Jeremiah Owusu-Koramoah. First play of the game. pic.twitter.com/FgwlZNoc49

— Roberto Shenanigans (@Rob_Shenanigans) October 3, 2021
And that means even greater things, and more big plays, are to come.
JOK certainly seems able to handle more responsibility going forward.
And NFL fans will undoubtedly talk about what a steal the 52nd overall pick of the 2021 draft was for a very long time.