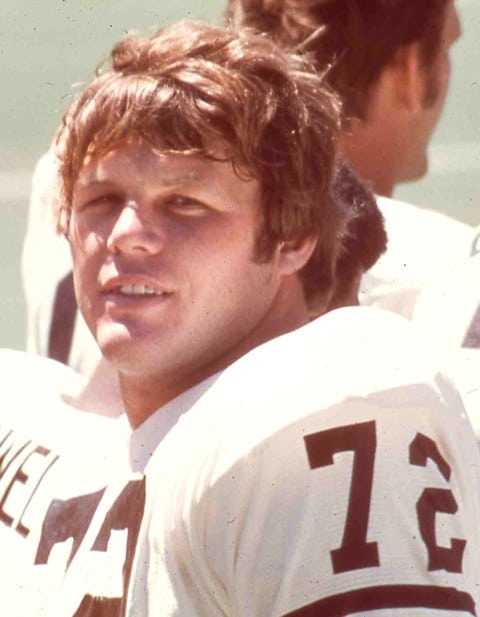 The years 1970 through 1981 were not "golden" years for the Cleveland Browns.
The Browns won only two division titles and lost all three playoff games in which they played during this period.
However, over these 12 seasons, one "shining light" for Cleveland was Jerry Sherk.
Considered by many to be the best defensive tackle ever to play for the Browns, Sherk was potentially headed for enshrinement in the Pro Football Hall of Fame before a knee injury and a staph infection cut his career short.
We take a look at the life of Jerry Sherk – before, during, and after his Cleveland Browns career.
The Early Years Through High School
Jerry Martin Sherk was born on July 7, 1948 in Grants Pass, Oregon.
Grants Pass is located in southwestern Oregon, just north of its border with California.
During Sherk's childhood, Grants Pass had a population of approximately 7,500 to 11,000 people.
Sports were an important part of life in Grants Pass.
Sherk grew up watching local sports.
Grants Pass High School
Sherk attended Grants Pass High School, graduating in 1966.
Sherk was a two-sport athlete in high school – wrestling and football.
Sherk's initial sport in high school was wrestling.
Sherk wrestled on the junior varsity until his senior year when he made the varsity team.
He had a successful senior year in wrestling winning a district title and finishing third in the state at 191 pounds.
Sherk believes that his time as a high school and college wrestler helped him in football.
First, the agility and balance that Sherk learned and developed as a wrestler were important skills that Sherk applied in his football career.
Second, the one-on-one competition on the wrestling mat was good training for Sherk competing in football on a "one-on-one" basis against opposing offensive linemen.
Sherk did not even participate in football in high school until his senior year.
Because he thought that Grants Pass High School had such a good football team (Grants Pass High School won a state championship just before Sherk started there) and because he considered himself too small, Sherk initially did not think that he was good enough for football.
When Sherk finally did play high school football his senior year, he was called "a strong contributor as a defensive end," and his team had a 9-1-1 season.
While no major college showed an interest in Sherk coming out of high school, a little-known fact about Sherk is that he was recruited to his first college by John Elway's father, Jack Elway.
Elway was then the head coach at Grays Harbor College, a community college in Aberdeen, Washington.
Grays Harbor College offered Sherk a work-study scholarship, and Sherk moved on to college.
College Years
Grays Harbor College
Sherk attended Grays Harbor College from 1966 to 1968.
As in high school, at Grays Harbor College, Sherk was on both the wrestling and football teams.
Sherk especially excelled at Grays Harbor College in wrestling.
Sherk won back-to-back state titles, went undefeated, and pinned all but two opponents (in 1968, he pinned every opponent he faced).
Sherk was called "the key to the GHC wrestling teams."
In football at Grays Harbor College, Sherk earned all-conference honors on offense and defense.
Sherk became interested in attending Oklahoma State University.
Oklahoma State University had a wrestling tradition and was a national wrestling power.
Sherk himself called Oklahoma State to see if they needed a wrestler.
He discusses this in the video below:
Don't miss another episode of Club 46 premiering this Tuesday with Jerry Sherk!

Our former DT sits down with Jim Donovan to discuss his past as a collegiate wrestler, his efforts to keep the Browns in Cleveland and more!

Watch last week's: https://t.co/5cRzDWiOqA pic.twitter.com/WaaLtSDiQy

— Cleveland Browns (@Browns) October 7, 2019

Sherk convinced Oklahoma State wrestling coach Myron Roderick to add him to the wrestling team.
Roderick then convinced the Oklahoma State football coaches to give Sherk a scholarship to also play football.
Sherk left Grays Harbor College and transferred to Oklahoma State University.
Oklahoma State University
Sherk attended Oklahoma State University, in Stillwater, Oklahoma, from 1968 to 1970.
As he was recruited, and as in high school and at Grays Harbor College, at Oklahoma State, Sherk was on both the wrestling and football teams.
Sherk was an "All-American" wrestler at Oklahoma State and won the 1970 Big Eight heavyweight wrestling championship.
In football, Sherk started on the defensive line for the Cowboys in both 1968 and 1969.
Jerry Sherk and Noah Franklin pic.twitter.com/4JgLFFFlZ1

— Doug Shivers (@casdas29) June 14, 2018

In 1969, Sherk was voted to the "All-Big Eight Conference" football team by the Associated Press.
Oklahoma State Athletic Director Terry Don Phillips, who played against Sherk as a tackle at Arkansas, said, "In Fayetteville, we knew all about and respected Jerry Sherk as a player."
Sherk's Oklahoma State football teams struggled.
Oklahoma State had a 3-7 season in 1968, and a 5-5 record in 1969.
While Oklahoma State was not successful in 1968 and 1969, Sherk's skills improved by practicing against two "All-Big Eight Conference" and future NFL offensive linemen at Oklahoma State – Jon Kolb and John Ward.
While at Oklahoma State, Sherk was especially scouted by Browns assistant coach, Howard "Sonny" Keys. Keys told Browns defensive line coach, Dick Modzelewski (who also played for Cleveland from 1964 to 1966), about Sherk.
Keys and Modzelewski together were responsible for pressing the Browns to draft Sherk.
The Pro Football Years
1970-1972
Sherk was drafted by the Browns in the second round of the 1970 NFL draft (47th pick overall).
Jerry Sherk's 1970 signing bonus on 3-year contract pic.twitter.com/9djm9LzdPW

— 𝐏𝐫𝐨 𝐅𝐨𝐨𝐭𝐛𝐚𝐥𝐥 𝐉𝐨𝐮𝐫𝐧𝐚𝐥🏈 (@NFL_Journal) June 28, 2018

A little-known fact about Sherk is that he found out he was drafted by the Browns when he was in Carbondale, Illinois.
Sherk was there competing in a wrestling meet for Oklahoma State against Southern Illinois.
"The year before, I didn't even know I would be playing professional football . . . I felt like I had rockets in my shoes, warming up around the mat."
There was a brief strike in the NFL in July, 1970, and veterans did not immediately report to training camp.
As a result, Sherk was able to get more snaps and playing time than he otherwise would have as a rookie.
Sherk's play in preseason apparently impressed defensive line coach Modzelewski, as Sherk was named the starter at right defensive tackle.
Sherk started every game at right defensive tackle in his rookie season in 1970.
In fact, Sherk was to start every Browns game for the first seven years of his career (from 1970 to 1976).
Sherk's first regular-season NFL game on September 21, 1970 against the New York Jets was notable as the first game on ABC's "Monday Night Football".
Cleveland won the game 31-21.
The game is also memorable for Sherk being singled out by ABC broadcaster Howard Cosell.
Cosell said that Jets quarterback Joe Namath intended to exploit Sherk, and Cosell repeatedly commented on Sherk's bad plays.
"I was Howard's whipping boy. I wondered if I could play in the NFL. I was fortunate to have a position coach, Dick Modzelewski, who kept encouraging me."
Sherk appreciated having Modzelewski as his defensive line coach from 1968 to 1975, and his defensive coordinator in 1976 and 1977 (Modzelewski was also interim Browns head coach for one game in 1977).
When a head coach would tell Sherk to hold back and look for a draw play, if Modzelewski disagreed, he would tell Sherk.
"This guy [Modzelewski] had so much integrity. . . . He'd come over and say, 'Don't listen to him. I'll take the blame. You fire off that ball."
In 1970, Sherk recovered two fumbles that he returned for 15 yards.
While the Browns did not make the playoffs in 1970 (finishing the season with a 7-7 record), in 1971, the Browns won the AFC Central Division with a 9-5 record.
The Browns then lost in the divisional round of the playoffs to the Baltimore Colts 20-3 on December 26, 1971.
Sherk contributed to the Browns winning the AFC Central Division in 1971 by intercepting two passes that he returned for three yards and recovering two fumbles.
In 1972, Sherk recovered two additional fumbles, as the Browns again made the playoffs, with a 10-4 record, as the AFC "wild-card" team.
In the divisional round of the playoffs, on December 24, 1972, the Browns led in the fourth quarter against the undefeated Miami Dolphins, before ultimately losing to the Dolphins 20-14.
In the game, Sherk had 1.3 sacks.
Although Sherk continued to play through 1981, it was to be the last playoff game in which he played.
1973-1976
It would not be incorrect to say that the years 1973 to 1976 were Sherk's best NFL years.
In 1973, Sherk received the first of four consecutive Pro Bowl invitations.
Sherk had two fumble recoveries in 1974.
He was voted "Browns MVP" by his teammates in 1974.
In 1975, Sherk recovered one fumble that he returned for 26 yards.
In addition to his Pro Bowl invitation, Sherk was voted "1st Team All-Conference" by the Sporting News, and "2nd Team All-Conference" by United Press International, in 1975.
Sherk also won the "Bulldog Award" in 1975, for being voted as the best defensive lineman in the NFL by offensive linemen.
Sherk was again voted "Browns MVP" by his teammates in 1975.
1976 was probably Sherk's greatest NFL season.
In 1976, Sherk won the Newspaper Enterprise Association NFL Defensive Player of the Year Award.
In addition, Sherk was voted "1st Team All-Pro" by the Associated Press, the Newspaper Enterprise Association, the Pro Football Writers Association, and Pro Football Weekly, and "1st Team All-Conference" by the Associated Press, the Sporting News, United Press International, and Pro Football Weekly, in 1976.
Inside the 1977 #ClevelandBrowns: 1976 NEA Defensive Player of The Year-Jerry Sherk. #browns @VintageBrowns pic.twitter.com/ehXq7y60D7

— Hammer Hains (@HammerHeadcases) March 10, 2019

Sherk had one of the best games of his NFL career on November 14, 1976, when he recorded four sacks in a 24-3 Cleveland victory over the Philadelphia Eagles.
Sherk intercepted one pass and recovered one fumble in 1976.
Sherk and defensive tackle Walter Johnson (who played for the Browns from 1965 to 1976) formed one of the NFL's best defensive tackle tandems when they played together.
Going to go w/the best (in my opinion) DT we ever had, Jerry Sherk. pic.twitter.com/pOG4XA50nt

— IamMichaelC (@MichaelCondelli) January 15, 2019

Johnson's power was an effective complement to Sherk's quickness and balance.
"He [Johnson] actually came up to me late in his career and said, 'Jerry, at first you couldn't do anything. I couldn't believe how terrible you were. But then you got good, and so I really had to work to keep up with you'. So we were real good for each other."
Unfortunately, these four years generally were not successful for the Browns.
They did not make the playoffs at all from 1973 to 1976, posting records of 7-5-2 in 1973, 4-10 in 1974, 3-11 in 1975, and 9-5 in 1976.
1977-1981
The last five years of Sherk's NFL career were unfortunately beset by injuries.
In 1977, Sherk sustained his first major injury – a knee injury during the preseason.
As a result, Sherk only played in seven games in 1977.
Sherk recovered one fumble in 1977.
He also scored his only NFL points – a safety when he tackled Houston Oilers running back Rob Carpenter in the end zone during a Cleveland loss to the Oilers 19-15 on December 11, 1977.
Sherk rebounded in 1978 and started all 16 games for the Browns.
#TBT: Dick Ambrose recalls when he accidentally threw a bottle full of Gatorade onto Jerry Sherk on the sidelines pic.twitter.com/HIXBHkr6FP

— Cleveland Browns (@Browns) November 16, 2017

Sherk appeared on his way to having another excellent season in 1979, starting the first 10 games of the season for Cleveland.
Sherk had another one of the best games of his NFL career in a 26-7 Browns "Monday Night Football" victory over the Dallas Cowboys on September 24, 1979.
Sherk was credited with three sacks of Cowboys quarterback Roger Staubach, and he also recovered a fumble (what turned out to be the last recovered fumble in Sherk's NFL career).
Describing Sherk's performance, Browns head coach Sam Rutigliano said:
"He played the best game of any defensive lineman I ever saw. He controlled the entire middle of the line."
Howard Cosell, apparently now having a different opinion of Sherk from his first NFL game, said of Sherk, "He's one of the best in the league, and he has been for a decade."
However, in Sherk's 10th game of the 1979 season, on November 4, 1979, against the Philadelphia Eagles (the Browns won the game 24-19), Sherk sustained what turned out to be the worst injury of his NFL career.
A boil on Sherk's arm was scraped off on the artificial turf at Philadelphia's Veterans Stadium.
Sherk developed a staph infection.
The infection traveled to Sherk's left knee and was so painful that when he got home, he had to crawl to his front door.
Sherk was hospitalized for five weeks at the Cleveland Clinic, battling both the staph infection and an allergic reaction Sherk had to the antibiotic he was given to treat the infection.
Sherk lost 40 pounds and could have lost his left leg or even his life.
Sherk did not play again in 1979.
He tried to return in 1980, but he was only able to play in one game.
It was unfortunate for Sherk that he essentially missed the 1980 season.
After three more "non-playoff" years in 1977 (Cleveland had a 6-8 record), 1978 (Cleveland had an 8-8 record), and 1979 (Cleveland had a 9-7 record), in 1980, the Browns, known that season as the "Kardiac Kids", won the AFC Central Division with an 11-5 record, before losing in the divisional round of the playoffs 14-12 to the Oakland Raiders on January 4, 1981.
In 1981, Sherk was able to play in 15 games.
He was used mostly just in third-down passing situations, as a designated pass rusher.
The Browns could not repeat their 1980 season and had a 5-11 record in 1981.
After the 1981 season, at the age of 33, Sherk retired.
Sherk has fond memories of playing in Cleveland (his entire 12-year NFL career was with the Browns), including walking together as a team from the locker room through a long tunnel (with a hand on the shoulder pads of the next player to direct you because it was so dark) to the dugout and on to the field at old Cleveland Municipal Stadium.
"Maybe you were the 30th guy up the tunnel and you hear this roar just come up the tunnel, and the hair on the back of your neck would stand up."
Sherk definitely felt a close bond with Browns fans.
"I loved playing for the people. They were my motivation. I related to the people of Cleveland, the underdogs who were fighting for respect. I tried to immerse myself in their emotions, their cheers. As a defensive tackle you had to get wound up every game or you would get eaten alive. I had the philosophy that I was a warrior fighting for respect for the people of Cleveland. I wanted to make them happy and proud to be represented by the Cleveland Browns. I saw the town as kind of depressed, and I wanted to help pull them out of the blues."
As the NFL did not start keeping official sack statistics until 1982 (one year after Sherk retired) and official tackle statistics until 2001, Sherk's official NFL production cannot be comprehensively numerically measured.
Unofficially, for his entire career, Sherk totaled 69-1/2 sacks (three sacks in 1970, four-and-a half sacks in 1971, 10-1/2 sacks in 1972, five-and-a-half sacks in 1973, 10 sacks in 1974, six sacks in 1975, 12 sacks in 1976, three sacks in 1978, 12 sacks in 1979, and three sacks in 1981) and 864 tackles (83 tackles in 1970, 84 tackles in 1971, 91 tackles in 1972, 100 tackles in 1973, 94 tackles in 1974, 100 tackles in 1975, 92 tackles in 1976, 105 tackles in 1978, one tackle in 1980, 12 tackles in 1981, and an aggregate 102 tackles in 1977 and 1979).
Unofficially, for his entire career, Sherk also blocked six kicks.
Browns owner Art Modell said about Sherk, when he announced his retirement:
"What Jerry accomplished on the field are achievements that made him the best tackle in Browns history. Those who have had a chance to know him realize what a special person he is."
The Years After the NFL
Sherk is married to Ann Kelley, from Lakewood, Ohio.
They met at the old "Don's Fishmarket" restaurant in Rocky River, Ohio.
They have two children, Mike and Hannah.
After his retirement, Sherk received a number of honors.
In 2005, Sherk was inducted into the "Cleveland Browns Legends".
The Great Jerry Sherk 🏈 Go Browns 🏈 pic.twitter.com/k19gyu2Bnd

— Bernie Kosar (@BernieKosarQB) August 3, 2019

Sherk was admitted into the Grays Harbor College Hall of Fame in 1999 and Oklahoma State University's Athletic Hall of Honor in 2000.
In 2019, Sherk was admitted into the Northwest Athletic Conference Hall of Fame and the Grants Pass High School Athletic Hall of Fame.
After his retirement, Sherk has stayed close with ex-Browns quarterback Brian Sipe.
They both now live in the San Diego area, and their wives are best friends.
In 1995, Sherk and Sipe made a television documentary, "The Browns Blues", which included highlights of their four-day trip from California to Ohio to watch the final home game of the original Cleveland Browns in Cleveland.

The documentary featured interviews with Browns fans and former Browns players.
As part of the documentary, Sherk and Sipe were given access to owner Art Modell's office.
"We were sitting in Art's office, and Brian is drinking from the owner's spirits and I'm eating jelly beans that were on his desk. I looked over at Brian and said, 'People want to kill this guy and we're consuming his booze and candy. Think we should have had a taster before we got into this?"
Sherk was also concerned with NFL player issues in his retirement.
Sherk was President of the San Diego Chapter of the NFL Players Association from 2000 to 2004.
Sherk has indicated that he has provided in his will for his brain to be studied by research scientists after his death to review the issue of the impact of playing football on head injuries and related health consequences.
Photography
In 1977, while he was injured and missed some games, Sherk was looking for some activity to stay busy.
Sherk had always been interested in photography, and he began to ask photography questions to Cleveland sports photographers Paul Tepley (who worked for "The Cleveland Press") and, in particular, Ron Kuntz (who worked for United Press International).
After about three years of learning and training, Kuntz actually hired Sherk to assist him on some sports photography jobs.
After his retirement, Sherk became a freelance photographer, working for magazines (including "Sports Illustrated") and newspapers.
Sherk's sports photography work provided a transition for him after retirement to still be involved with sports in some manner.
Living in San Diego, Sherk, working for Associated Press, did sports photography of San Diego Chargers and San Diego Clippers games.
He broadened his work outside of sports to also do photography of people (including "head shots"), buildings, and nature.
Psychology, Counseling, and Mentoring
Sherk's post-NFL life has not just involved photography.
In addition to two degrees in education from Grays Harbor College and Oklahoma State University, Sherk went back to school and achieved a Master's degree in psychology from the University for Humanistic Studies in 1990.
Sherk became a counselor, both counseling children (from September, 1994 to June, 1997, as School Counselor at Winston School) and NFL players.
Sherk's primary activity over the last 25 years has been in the area of mentoring.
Sherk first became interested in mentoring after being inspired by former Secretary of State Colin Powell's efforts to help troubled children from one-parent homes and attending President Bill Clinton's parental summit.
"In the inner city, there are so many kids who have only one parent or no parent. These kids have no adult to confide in. Our goal is to recruit adults with the values to be mentors to these kids. It takes time to recruit the right kind of people. But it's working. It is rewarding."
Sherk has served as a consultant to the State of California since 1995 in developing youth mentoring programs, such as "Big Brothers" and "Big Sisters".
In 2000, Sherk founded and is the President of Mentor Management Systems of Encinitas, California.
"Mentor Management Systems (MMS) is a leader in youth and adult mentoring program development. Our consultants are nationally recognized experts who have provided assistance to hundreds of mentoring efforts, big and small. We begin by helping organizations develop the structure of their program. We also create mentor and mentee manuals, program policies and procedures, and forms. MMS consultants conduct in-person pre-match trainings for mentors and mentees."
Sherk believes that he has helped approximately 300 organizations with program design and training of mentors and mentees.
In reflecting on how he felt when he was drafted by the Browns, Sherk said:
"I felt like I hit the lottery when I came here."
In fact, there are two groups who "hit the lottery" – Cleveland Browns defensive players, who were helped by Jerry Sherk, the defensive tackle, and mentees in his mentoring programs, who are helped by Jerry Sherk, the mentoring expert.