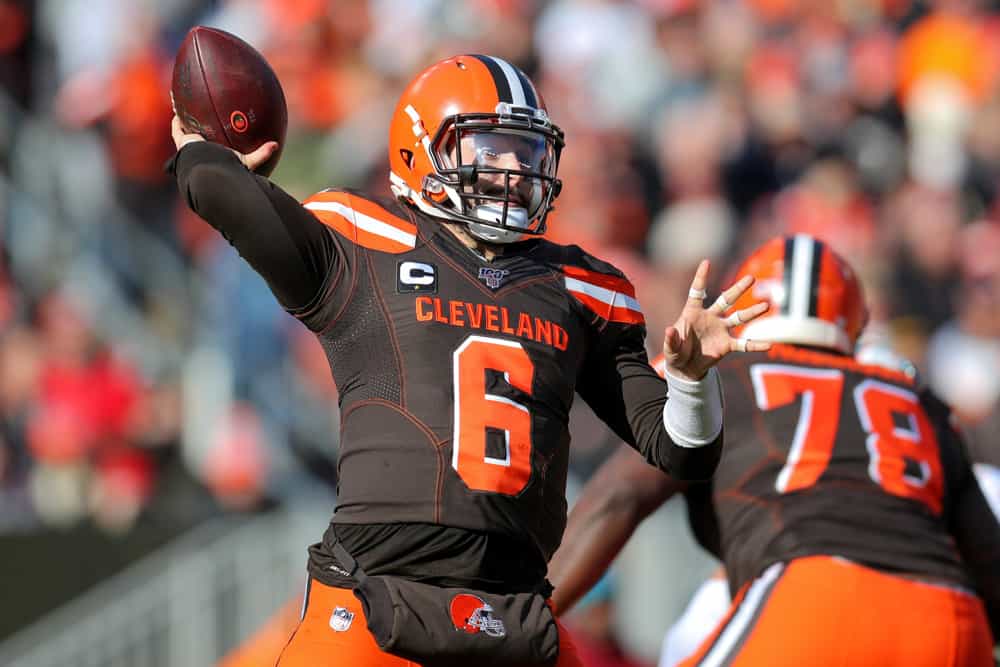 Can Baker Mayfield put last year behind him and build on his outstanding rookie season?
That's the biggest question for the Cleveland Browns right now, and for good reason.
For an organization that has lacked a true "franchise quarterback" since their return to the NFL, the development of Mayfield is vital.
In what is already a strange year for not only sports but the world as a whole, that may be easier said than done.
Former NFL head coach Jim Caldwell believes Mayfield will certainly be able to bounce back.
In fact, Caldwell has had confidence in the former number one pick since his very first preseason game.
"You could tell right away that he's got some very unique talents… strong leader, but also his feel in the pocket," Caldwell said on a recent interview with Bull and Fox of 92.3 The Fan in Cleveland. "I think you're going to see those same traits pop back up again. You're going to see him develop and you're going to see him get better."
Caldwell also spoke highly of the rest of Mayfield's rookie season, one in which he broke a rookie passing touchdown record despite starting in only 13 games.
Won't Be Easy
The decline last year continues to be discussed what seems to be like everyday.
That's not necessarily a bad thing though, as it shows people have confidence in what they know Mayfield is capable of when performing at a high level.
With yet another coaching change in Berea for this upcoming season, that's yet another adjustment Baker will have to make in just his third season.
That kind of stability isn't exactly ideal for a young developing quarterback, and that's one of the hurdles Caldwell pointed out in his interview on 92.3
"When you change so often in terms of a coordinator and an offensive scheme with a young quarterback, it slows you down a little bit," said Caldwell. However, he also believes new head coach Kevin Stefanski can help make the change a little easier for Mayfield. "If they can sort of blend the things that he knows into the things they are doing… I think you'll see the same kind of improvement."
Given how well the offense worked under Freddie Kitchens in 2018, the pairing of him and Baker was endearing heading into last season.
Now, knowing that Kitchens lacked a serious gameplan on a weekly basis, it's easier to argue that Mayfield was just trying to turn some awful lemons into lemonade.
Chad Porto:

"Baker Mayfield's struggles last year revolved around trying to force plays to happen after Freddie Kitchens abandoned his gameplan. When you're in dysfunction, the best you can do is try to navigate the chaos and Mayfield did a great job in a really awful situation"

— BrownsFreak51 (@BrownsFreak51) June 29, 2020
Stefanski the Savior?
A big factor that will determine the success of Mayfield is the coaching ability of Kevin Stefanski.
He, similarly to the Kitchens regime, will have a lot of talent to work with offensively.
Some are concerned that there may be "too much" talent on the offense, making it hard for Mayfield to get everyone involved.
When asked if a team could have the problem of too much talent during his interview on The Fan, Caldwell simply laughed it off.
"Uhh, no," Caldwell chuckled as he cited his days with the Colts that featured an offense with Edgerrin James, Marvin Harrison, Reggie Wayne, and Dallas Clark with Peyton Manning under center. "The more the merrier".
Caldwell also mentioned earlier in the interview when discussing Mayfield that he believes Stefanski will be able to do a tremendous job with this Browns offense.
Coming from someone who had a winning record during his time with the Detroit Lions of all teams, that should instill some confidence in Browns fans.