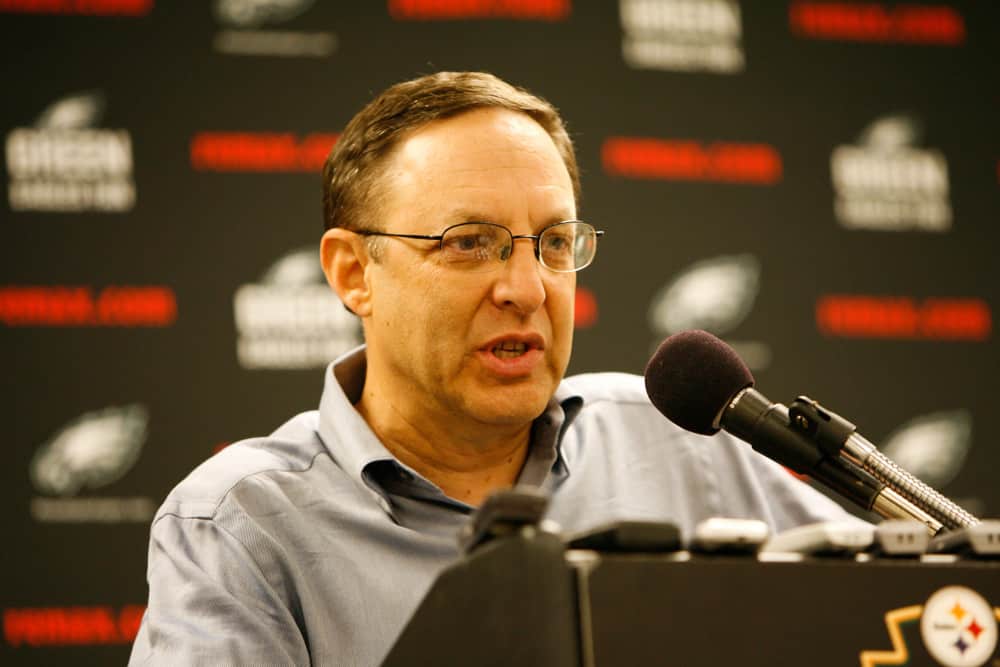 Former Cleveland Browns CEO Joe Banner, who writes for The 33rd Team, recently discussed why Baker Mayfield, among other quarterbacks, should begin the 2021 season with a new contract.
Banner took a deep dive into the situations of three first-round draft picks from the 2018 draft:
7. Josh Allen
32. Lamar Jackson
According to Pro Football Focus, each of these players is a top-10 quarterback in the league right now:
The top-10 QBs in the NFL, per @PFF_Eric

What does your top 10 look like? pic.twitter.com/DMa87wrYXd

— PFF (@PFF) June 29, 2021
However, the three third-year quarterbacks in the bunch are without new deals:
Patrick Mahomes: extension of 10 years, $450 million
Tom Brady: 2 years, $50 million
Aaron Rodgers: extension of 4 years, $134 million
Russell Wilson: extension of 4 years, $140 million
Josh Allen: rookie deal – 4 years, $21.2 million
Dak Prescot: 4 years, $160 million
Matt Ryan: extension of 5 years, $150 million
Kirk Cousins: extension of 2 years, $66 million
Baker Mayfield: rookie deal – 4 years, $32.7 million
Lamar Jackson: rookie deal – 4 years, $9.5 million
The alary numbers for Allen, Mayfield, and Jackson pale in comparison to their fellow top-10 quarterbacks.
Interestingly though, Banner believes that the quarterback market has "reset" after a booming number of dollars were dealt out last year.
Why does Banner think this way?
Why Does Banner Think that the Quarterback Market is Different in 2021?
Banner has a lot of thoughts about why 2021 is different than 2020 in terms of quarterback contracts.
He first establishes that the 2020 market hit a peak:
"For the quarterback market, I think this offseason is different from last year. I could have understood waiting as a player last year. There were a number of deals waiting to get done like Mahomes, Dak Prescott and Watson…"
Banner also mentions the $35 million per year for Wilson, $40 million per year for Prescott, and $45 million per year for Mahomes.
He then details that the market is completely different this time around:
"The market has been reset, and I do not really see a deal that will get done soon that will blow through those numbers, so I do not see the benefit of waiting in this scenario."
He believes that contracts being dealt out in 2021 will be completely different.
So, what does he think about Mayfield's contract specifically?
How Does Banner Think the Browns Should Handle Mayfield's Contract Extension?
Banner worries about the mindset that can occur if there is a delay in getting a deal done:
"If we get to that point and deals are not done, these teams are basically telling their players, "We still have doubts in you," because all the player would be asking for is the precedent that has already been set."
Banner thinks that Allen and Jackson are both $38-$40 million per year quarterbacks.
He thinks Mayfield should get a little less money.
However, if the Browns quarterback would like money around the $38-40 million area, Mayfield should try to get a deal done as soon as possible.
Mayfield seems to have the power right now, according to Banner.
If Mayfield wants a contract extension this year, it is to the Browns' advantage that Andrew Berry locks him up as soon as possible:
"Paying Mayfield $38 million a year is better than the alternative of starting over, because I think Mayfield can lead the Browns to the Super Bowl, but I do not think he can carry a team like some of these other guys can."
While Mike Tannenbaum thinks that Mayfield is replaceable, Banner is all for the Browns signing Mayfield.
He just thinks that the Browns could be wise to pump the brakes on when to sign him:
"The best case for the Browns is that Mayfield expresses his commitment to the team and says he would be willing to do a deal next season. I just do not think that will be the case, and I would not advise him to do that."
Contract talks reportedly may extend into the 2021 season, so this could be an ongoing discussion for a while.
This is such an interesting topic because Mayfield has been the Browns' best quarterback in a long time.
He may be a future Hall of Famer.
Is this the time to extend him?
Also, what do you think of Joe Banner's ideas regarding Mayfield's extension?
Comment below about what you think.