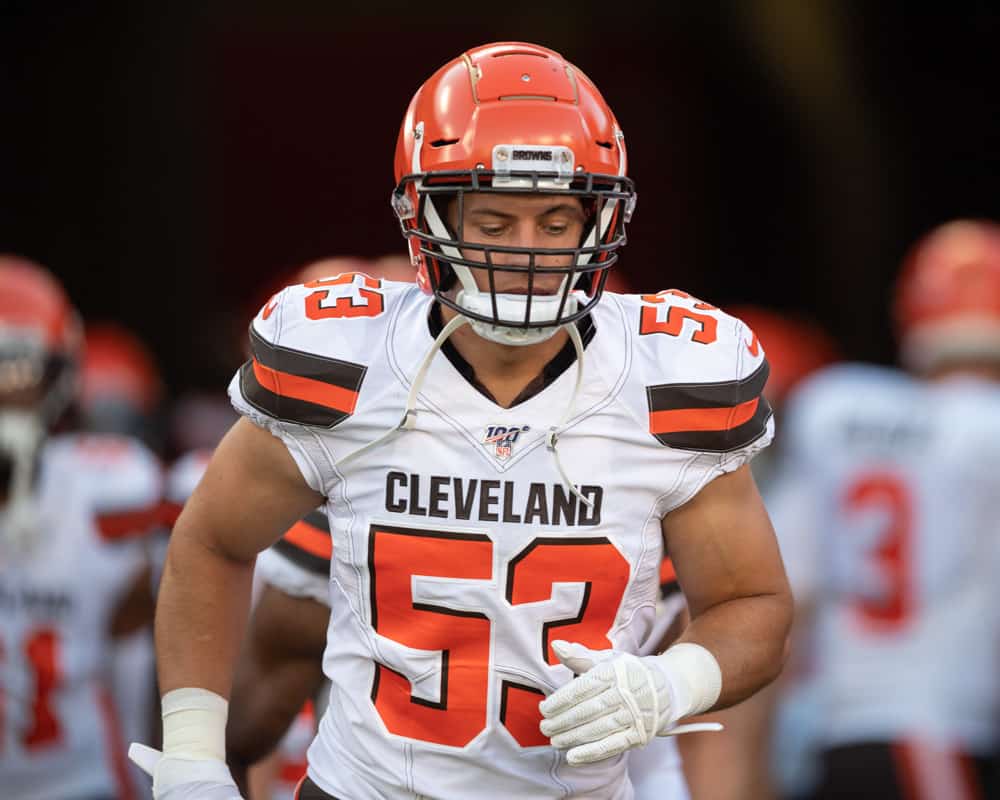 On Wednesday, Joe Schobert was named AFC Defensive Player of the Week after his 5 tackle and 2 interception performance against the Miami Dolphins last Sunday.
He is the first Browns Defensive Player of the Week since Linebacker D'Qwell Jackson in Week 12 of the 2012 season.
Schobert has been a stud at the middle linebacker position for the Browns this season, leading the team in tackles (97), interceptions (4) and passes defended (9).
This makes the delay in signing Schobert to a new contract all the more curious.
The 2017, and likely 2019 Pro Bowler is due to become an unrestricted free agent in the off-season as his rookie contract expires.
What makes Schobert so valuable is his Swiss-army knife talents.
He is the prototypical modern, versatile inside linebacker.
He's one of the league's best coverage linebackers, and he's the field general for the Browns defense.
Not only does he make plays but he gets other guys in position to make big plays.
Head coach Freddie Kitchens says, "Above all else, he does a great job of getting guys where they're supposed to be to enable them to make plays."
So re-sign the guy, right?
A few weeks ago Schobert did confirm his agent had been in contact with the Browns over a new deal.
"They've had conversations. I just let him do his job and I just try to focus on football."
Beyond that Schobert indicated he would be willing to stay in Cleveland stating, "Sure. You always want to have the long-term security and comfort knowing where you're going to be and what team you're going to be on and that kind of stuff."
He sure picked a heck of a time to have his best-ever season and will force the Browns to either pay up or see him walk.
Over the last four weeks Schobert is 2nd among LBs in defensive grade (90.4) and third in coverage grade (90.3)*

*out of 80 LBs with qualifying snaps https://t.co/KFHT9bMcif

— PFF CLE Browns (@PFF_Browns) November 27, 2019
The top 3 inside linebackers in last year's free-agent class signed deals worth $85 million (C.J. Mosley), $54 million (Kwon Alexander) and $34 million (Jordan Hicks).
Of those linebackers, only Kwon Alexander have been selected for a Pro Bowl.
Also, Schobert is a year younger than two of those listed above.
Needless to say, the Haslams will have to be opening up the checkbook if they expect to get Schobert back in Cleveland.
What if they don't?
Who will the Browns turn to in that situation?
Currently, in the building, the Browns have Sione Takitaki the rookie 3rd round pick from BYU.
So far this season he's totaled just 5 tackles so clearly he isn't ready to be the main man.
Looking to the draft, the Browns project to have a middle first-round pick, which could be spent on a linebacker like Oklahoma's Kenneth Murray or Alabama's Dylan Moses.
However, this is not a strong draft class for linebackers and both of the men mentioned would be a reach in the first round at this point.
You wouldn't expect or want, a second-round or later linebacker taking the spot of a Pro Bowler.
Let's take a look at what the free-agent class looks like in terms of inside linebacker replacements.
Of the 33 inside linebackers that are unrestricted free agents in 2020, just a handful have been to Pro Bowls.
Chicago's Danny Trevathan has been productive in the league for a long time, but that's part of the problem.
He's been around for a long time, is already 30 years old, and would not be a good long term investment.
Ram's Cory Littleton has been a huge surprise for the Rams after they signed him as an undrafted free agent and he turned into a Pro Bowler in 2018.
He's just 26 years old and would be a terrific signing and has similar career numbers to Schobert.
Washington's Jon Bostic is having a good year for the hapless Redskins and may be looking to cash in one last time with a winner.
He is 29 and likely looking at the last contract of his professional career.
He might be motivated to perform on a winner after having spent time with a terrible Redskins organization.
Finally, and probably the best option outside of resigning Joe Schobert is Green Bay's Blake Martinez.
While not as prolific in pass coverage as Schobert, Martinez is a tackling machine.
In fact, when he was the NFL's co-leader in tackles for the 2017 season it was Schobert he tied with.
With all the possibilities laid out in the open, it seems like the best possible option is to pay Joe Schobert what he's worth.
Joe Schobert is going to be one hell of a free agent signing for someone

— Matt Miller (@nfldraftscout) November 15, 2019
The Browns have long struggled to draft and cultivate talent.
Here's a player they got right, it's not time to skimp on salaries and let him go.
Hopefully, for Browns fans, John Dorsey and the Haslam's will agree.