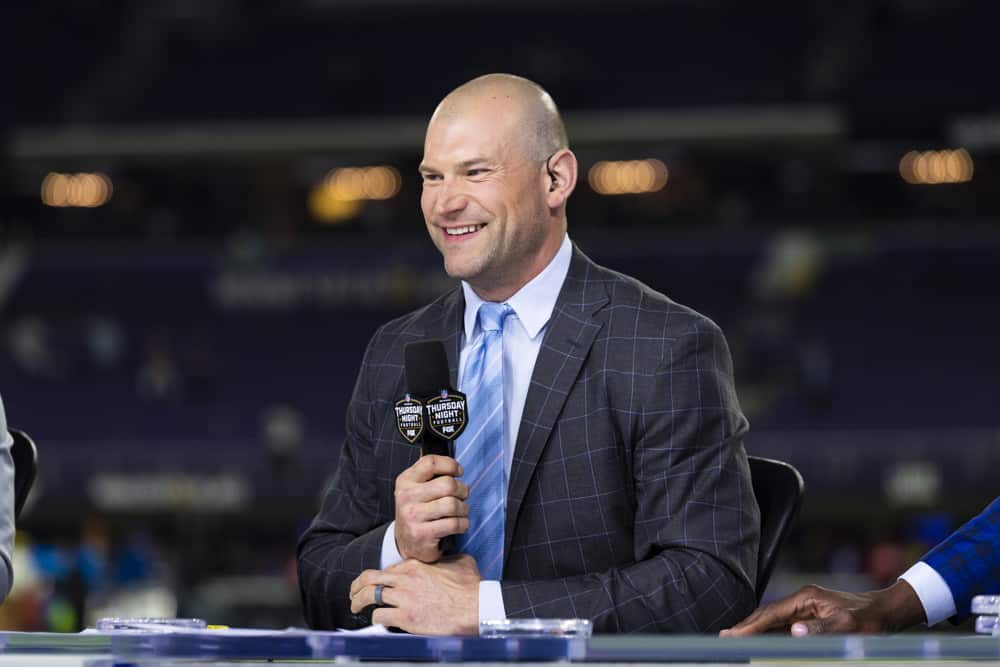 Lots of prominent NFL pundits put their reputations on the line with 2021 NFL Draft predictions.
There are some popular experts who get the benefit of the doubt for any surprising choices.
Then there is NBC Sports' Chris Simms' and his stunning prediction of Justin Fields falling to No. 32 overall.
Social media erupted with ridicule, including one of the Cleveland Browns' favorite ex-players.
Nice work with the clickbait there at #32 😂😂

I'd like to see you back that belief up with some greenbacks https://t.co/b36ct7f6C3

— Joe Thomas (@joethomas73) April 27, 2021
Joe Thomas would like to cash in on Simms' unpopular take, daring Simms to bet on his Fields prediction.
Simms is likely to ask for some favorable odds if his own self-assessment is any indication.
While announcing his final mock draft on the Chris Simms Unbuttoned podcast, he said,
"If (this) happens at the end of the night, I'm dropping the mic and I'm not coming to work the next day."
But during the course of the podcast, Simms explains why he thinks 31 other teams will pass on Fields.
And since the Tampa Bay Buccaneers have no real needs to address, they'll take Fields if he falls to 32.
Simms called it a perfect situation for the rookie since he would have Tom Brady to mentor his flaws.
Why Would Justin Fields Fall Through The First Round? 
To be fair, Chris Simms isn't the only person to drop Fields out of the top draft tier.
Fields endured several criticisms, including questions about his work ethic and ability to throw past the first option.
Then came a ridiculous concern from ESPN Insider Chris Mortensen.
Chris Mortensen with a real humdinger here suggesting Justin Fields has bad throwing mechanics because he's been playing baseball, a sport he has not played since 2018 pic.twitter.com/0idwpfUC11

— Ben Koo (@bkoo) April 13, 2021
Mortensen claimed Fields' baseball history might affect his throwing mechanics in the NFL.
He undoubtedly is spooked by the efforts of other college baseball players like Patrick Mahomes, Kyler Murray, and Russell Wilson.
But Mortensen still has Fields going to New England after a trade into the top ten.
Simms claims that Fields scares him when it comes to his throwing mechanics.
"I'm rooting for the guy, but there are things about (Justin Fields') throwing that I am not sure can be fixed."
Based on that, Simms moved North Dakota's Trey Lance ahead of Fields into his QB5 ranking.
Simms reminded viewers he was higher on Lamar Jackson and Josh Allen than almost everyone else in 2018.
It is not that he has anything against running quarterbacks, but he thinks Field's passing is suspect.
Will Passer-Needy Teams Agree With Simms? 
Fields has taken a tumble in many mock drafts, but Simms is the first to drop him as far as the bottom third.
One popular scenario has the New England Patriots trading into the 8th or 9th position to snag their future QB.
In Simms' mock, Carolina trades down and lets Washington pick up Trey Lance at no. 8.
Chris Simms has Justin Fields going 32 pic.twitter.com/3jCmavaraJ

— Unnecessary Roughness (@UnnecRoughness) April 27, 2021
Denver then goes defense with the 9th pick, leaving a clear path for Fields to fall to the Patriots at 15.
But after Dallas picks a corner, Simms has New England trading into the Giants' no. 11 slot.
None of the teams between 11 and 15 are in the quarterback market, which doesn't matter since the Patriots pick Jaylen Waddle.
The Giants are expected to pick a wide receiver, but perhaps they thought Bill Belichick wanted Fields at 11.
In Simms draft, he gives the Giants an edge rusher instead of a quarterback- not that far-fetched an option.
Can someone please explain to me how/why Mac Jones & Zach Wilson could be drafted before Justin Fields? If Fields falls, Pace better be on the ☎️ trying to move up to snag him. I don't understand why they hate on this kid. All he's done is ball since I 1st saw him on QB1. #Bears pic.twitter.com/zqEivMvf1G

— Jarrett Payton (@paytonsun) April 27, 2021
But then Simms has Fields sliding past Carolina (19), Chicago (20), and Pittsburgh (24), all teams with uncertain long-term quarterback situations.
The former quarterback discussed the possibility of Atlanta or Denver trading back into the first round for Fields.
But he ultimately stuck with his Tampa Bay scenario.
Joe Thomas Trying To Figure It Out 
Meanwhile, Simms has not replied to Joe Thomas' betting challenge.
However, other fans are trying to help the Browns' icon make sense of Simms' mock.
So if I'm understanding this correct, it's not a Mock Draft, it is a top 32 draft prospect list?

Because a Mock Draft would inject team need into the equation, nobody in 1-31 (or close behind to trade up) would need/want a QB of Justin Fields' ability? https://t.co/c9AnervQ9O

— Joe Thomas (@joethomas73) April 27, 2021
This is not the correct interpretation.
Simms presented his list of top prospects before he started explaining his mock draft.
According to Simms, the mock was his best guess but he admitted those guesses were not all based on fact.
After saying he trusts his sources around the league, Simms said:
"This is what I think will happen in most cases. But there are others I have no idea about."
And that certainly explains a few of Chris Simms' projections.