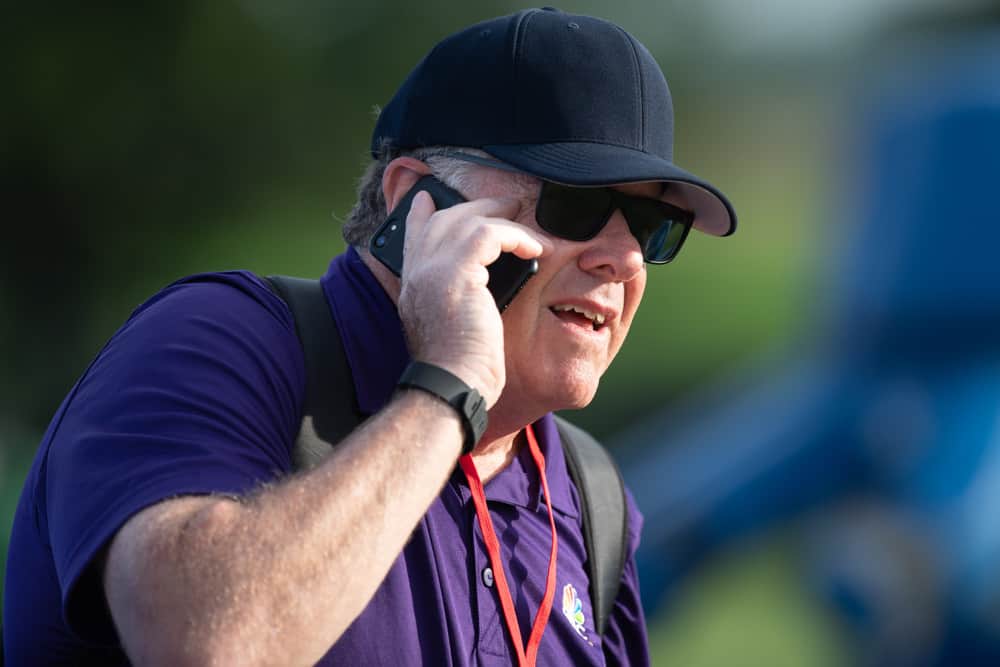 There have been thousands of NFL mock drafts for Cleveland Browns fans to peruse this month.
But as the NFL Draft Day draws close, reputations are on the line with everyone's Final Mock Drafts.
Several first-time head coaches pick early, making this year's draft predictions more of a dart throw than usual.
No NFL Combine and fewer opportunities for coaches to mingle tempered the draft rumor mill, too.
'@Peter_King's first-round mock draft is here!

King breaks down his thoughts on the 2021 NFL Draft, which he predicts will feature two trades on draft day. https://t.co/GugBg3WcTO pic.twitter.com/bPcTW5ngGH

— Sunday Night Football on NBC (@SNFonNBC) April 26, 2021
But there are still a handful of NFL Draft gurus fans rely on for "expert" opinions.
One of the biggest is Peter King, host of NBC Sports' Football Morning in America.
And his final mock draft includes an interesting trade proposal from Andrew Berry and the Browns.
King has Cleveland trading up to the 21st position in the first round for Jeremiah Owusu-Koramoah.
Notre Dame's All-America linebacker will be in demand, as explained by King:
"The Golden-Domer is rangy (he played a rover position in the Irish D), dropping in coverage, rushing, and being a complete playmaker at the second level on defense. I could see others (Green Bay, New York Jets) being interested around here. I think playing behind Myles Garrett, Jadeveon Clowney, and the Browns' interior front, Owusu-Koramoah should be free to roam and be a playmaker in year one."
Why JOK Makes Sense For The Browns 
Joe Woods wants to live in dime and nickel packages, but he likes to disguise his intentions as much as possible.
Versatile players keep offenses guessing and fit nicely into Woods' plan.
Owusu-Koromoah can roam sideline-to-sideline in pursuit of a rusher or to contain scrambling passers.
He is also quick enough to scoot through holes created by stunts or double teams along the front four.
Jeremiah Owusu-Koramoah blows up the center to free up his teammates.
I am not sure where you want to play him but rest assured he will be impossible to keep off the field. pic.twitter.com/4iMwd6O4l8

— John Chapman (@JL_Chapman) April 18, 2021
If he can cover an NFL-level tight end or rusher out of the backfield, he is the complete package.
And nothing he did at Notre Dame indicates he won't match up well with most.
Some fans might note that Woods does not place a high value on linebackers in his offense.
But using fewer linebackers does not lessen their value, just the amount of roster space required.
And if Woods uses one linebacker in some sets, nobody currently on the roster can match JOK's skillset.
But What About The Other Draft Options? 
In King's draft, the top 4 cornerbacks are off the board by the 17th pick.
Andrew Berry indicated he will go with the best athlete available with the future in mind.
That doesn't mean he will ignore glaring needs for the 2021 roster.
But he won't reach for cornerback depth in favor of a more impactful player at any position.
🚨Jeremiah Owusu-Koramoah is the best LB in the draft🚨 Make sure to check out my full breakdown of his tape vs Alabama right here➡️ https://t.co/vlNwAeSUbo pic.twitter.com/S22ksbRcLR

— Kyle Fahey (@KyleFaheyNFL) April 20, 2021
One notable player available in King's final mock draft is defensive tackle Christian Barmore.
Barmore was projected to be a late first-round selection in a draft void of many quality interior linemen.
But Berry has contingencies, which might include resigning Sheldon Richardson, that lessens any draft urgency.
In King's scenario, Berry gives up one of his pair of third-round picks.
That leaves him 2 shots at landing a quality corner during what is considered the "sweet spot" of the draft on Day 2.