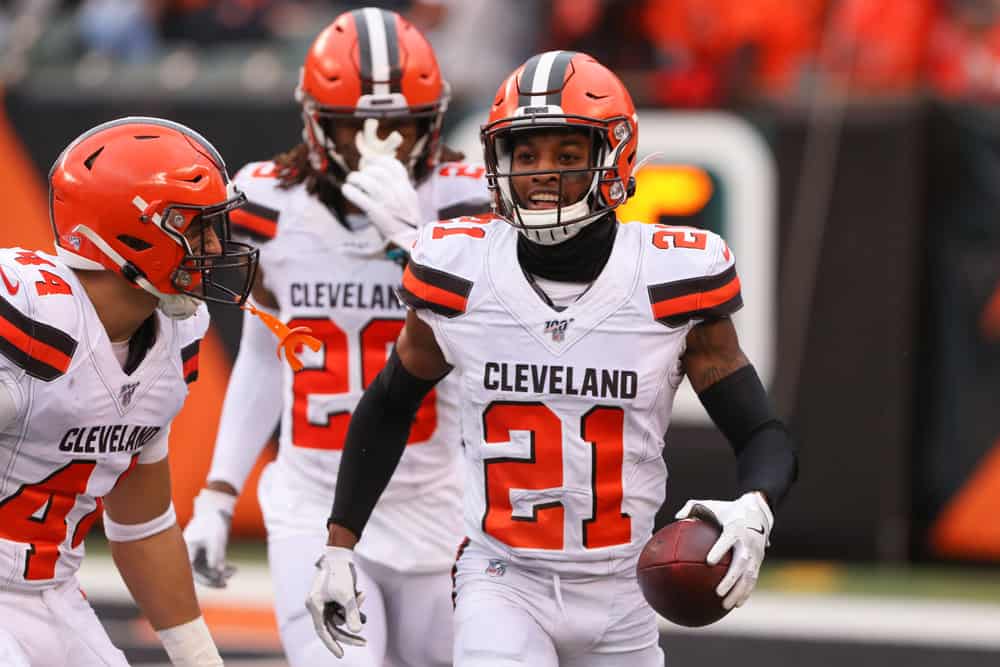 Many have been critical of Cleveland Browns defensive coordinator Joe Woods after last season.
They were 21st in yards allowed per game and struggled defending the pass, allowing the 27th most yards per game.
Some of Wood's and the defense's issues came from personnel, or lack thereof.
Myles Garrett, Denzel Ward, and others impressed.
But the lack of talent (and eventually, execution) came to an ultimate exposure as Chad Henne scrambled for a first down on third and long, ending the Browns season.
This offseason has been a dream for Woods and the Browns defense though.
Andrew Berry has struck some great deals, at least on the surface.
This upcoming season, Woods should have a much more talented cast to orchestrate.

Stout Secondary
The stud of the secondary, Denzel Ward, will return in his role as the team's number one corner.
The problem has been getting consistent play from both the opposite corner position and two safety spots.
Greedy Williams, back this year from injury, is hopeful of being the answer across from Ward.
#Browns CB Greedy Williams moments ago on Instagram live: "The shoulder back baby."

— clebrownsnetwork (@clebrownsntwork) March 22, 2021
As for the safety positions, Grant Delpit is another injury returnee looking to make an impact.
The 2020 2nd round draft pick out of LSU will be a much needed upgrade over Andrew Sendejo at free safety.
Ronnie Harrison filled the strong safety role last year along with Sheldrick Redwine and a host of other names.
They did an okay job, but okay doesn't get you to a Super Bowl.
John Johnson III was brought in on three-year, $33.75 million deal.
John Johnson is Cleveland bound🔥 pic.twitter.com/OLIxB37ThJ

— PFF (@PFF) March 15, 2021
Johnson is a big fan of the pieces elsewhere on the defensive side, per cleveland.com.
"I just felt it had a young group, young secondary, great defense. We can get a rush on the quarterback… It will be a perfect fit to get out here to Cleveland."
Johnson also reportedly turned down other, larger offers to come play in Cleveland.
John Johnson turned down a "significant amount" of extra money to come to Cleveland and sign with the #Browns (MKC)

Ps – I'm not sure ive ever really typed that before 🥲

— MoreForYouCleveland (@MoreForYou_CLE) March 15, 2021
Nickel corners are increasingly important and today's NFL, and Andrew Berry snagged a good one in Troy Hill.
The Browns knew coming into free agency they had to address their secondary. Landing S John Johnson (3-years, $33.75M) and CB Troy Hill (4-years, $24M) are two of the best values in free agency. Just smart, solid football business being done in Cleveland.

— Field Yates (@FieldYates) March 18, 2021
PFF has high praise for Hill who, along with Johnson, were integral parts of the Rams defense the last few seasons.
PFF's highest-graded CB's when aligned in nickel since 2019 (min. 30 targets) among the free-agent class:

1. Troy Hill – 89.8 (@QBsMVP) #Browns pic.twitter.com/FElc06xI1U

— MoreForYouCleveland (@MoreForYou_CLE) March 18, 2021
Hill is one of the faster slot coverage guys in the game and will be needed for teams with quick receivers like Kansas City and Pittsburgh.
So, four new faces should be in key roles this year for the Browns secondary this year.
All of them are seen as instant upgrades.
Job well done, Andrew Berry.
Joe Woods will leave his thank you note in your office shortly.

Aggression in the Front Seven
Cleveland finished 9th in run defense last season, a credit to some solid play from their defensive front.
There were still some clear gaps, especially with the linebackers, and the Browns have done well to address that in free agency too.
Former Colts' LB Anthony Walker is signing a one-year, $3.5 million deal with the Browns, per @DrewJRosenhaus.

— Adam Schefter (@AdamSchefter) March 19, 2021
The Anthony Walker signing had Browns fans drooling and Colts fans in disarray.
The former Colt did just post his lowest tackles and tackles for loss totals in three seasons, but he did record an interception and five pass deflections.
On a one-year deal for $3.5 million, the Browns will gladly take Walker's services.
#Browns newest LB Anthony Walker and what drew him to the Browns. pic.twitter.com/qy9pHZkkXy

— Fred Greetham (@FredGreetham) March 22, 2021
Takk McKinley was also brought aboard to line up opposite of Myles Garrett.
Olivier Vernon could just never be the consistent force the Browns defense needed in that role.
McKinley is hoping to be the answer for Woods and the defense.
New #Browns DE Takk McKinley pic.twitter.com/PLImjoarm9

— MoreForYouCleveland (@MoreForYou_CLE) March 16, 2021
Defensive tackle Malik Jackson will also be available for Woods this season.
The departure of Larry Ogunjobi hurts, no question.
But, Andrew Berry didn't leave his defensive coordinator with a bare cupboard afterwards.
Browns are signing interior DL Malik Jackson, per @RapSheet

Jackson: 72.8 pass-rush grade since 2018 (19th) pic.twitter.com/ePr8Kcdi64

— PFF (@PFF) March 20, 2021
While his best days may be behind him, Jackson logged two and a half sacks last year and can provide some humor even in his lowest moments.
Never forget Malik Jackson's reaction to getting crossed up by Le'Veon 😂 @LeVeonBell

(via @Jaguars) pic.twitter.com/KhSe6rt4Gb

— The Checkdown (@thecheckdown) October 15, 2020
This Browns defense has a chance to be great in 2021.
Joe Woods has the talent to get them to an elite status, but will he be able to do so?