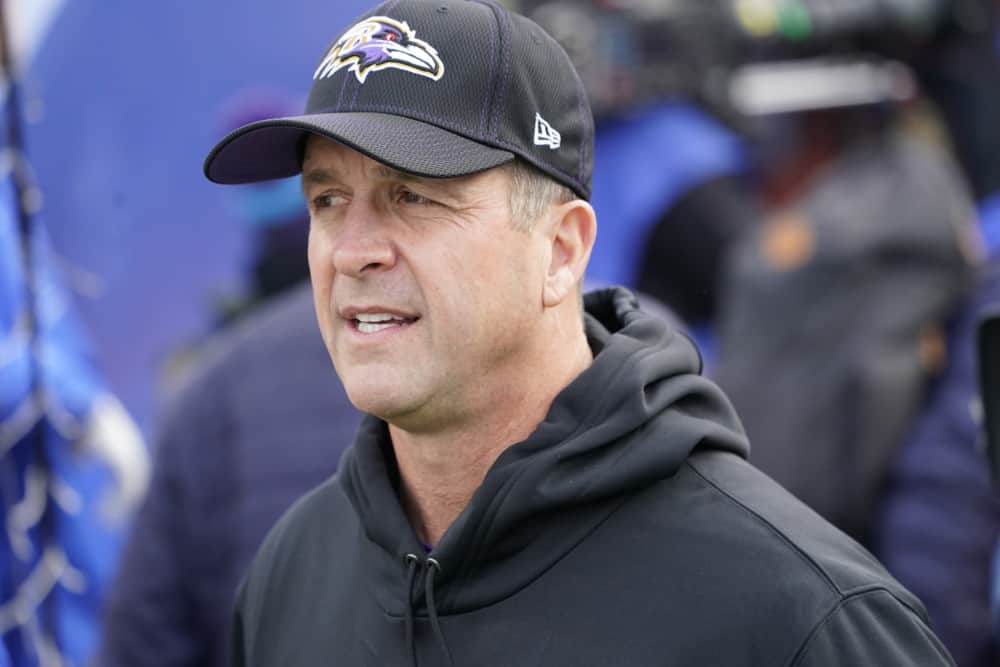 One benefit of the Cleveland Browns resurgence is the potential blossoming of the Ravens-Browns rivalry.
Cleveland fans will never want anything less than the total annihilation of the Baltimore franchise.
But if both teams are perennial playoff contenders with quarterbacks from the same draft class, all the better.
We could be entering a period of Browns' history where the stories of big games with the Ravens become lore.
And while stories of victory will be better, John Harbaugh might have already spun the first classic.
Harbaugh recently took part in a forum on Hudl Football for high school football coaches.
He included details of the moments before Lamar Jackson returned from his famous "cramps" against the Browns.
Things didn't turn out too well for the Browns, but Harbaugh's description of the Ravens sideline is hysterical.
Setting the Stage 
For those who don't recall the incident, it occurred in the Browns Week 14 game against the Ravens.
Lamar Jackson was in the locker room being treated for cramps, putting Trace McSorley in charge of the offense.
Baker Mayfield and the Browns had outscored Baltimore 15-0 in the fourth quarter to take a 1-point lead.
Cleveland's defense needed to stop the Ravens and their backup passer at least one more time to save the win.
This Cleveland Browns vs Baltimore Ravens game should be made into a movie. 💯

— Jeffrey (@JeffreyMWard) December 15, 2020
But when McSorley went down with a knee injury, Harbaugh wasn't sure what to do.
Baltimore faced a 4th-and-5 on the Browns' 44-yard line, usually an area from which Harbaugh would go for it.
But with McSorley hurt and Jackson still out, the Ravens would have to rely on their emergency quarterback.
Willie Snead started warming up.
And that is where Harbaugh picks up the story. 
Snead was taking practice snaps right in front of Harbaugh when the two made eye contact.
"This is my time to shine!" said an excited Snead.
Harbaugh didn't know what to think at first until kicker Justin Tucker trotted over.
Tucker looked at Harbaugh waiting for an indication of whether he should attempt a field goal or not.
"It's 68 yards! Can you make it?" asked Harbaugh.
This story from John Harbaugh about the Cleveland game where Lamar Jackson cramped up is hilarious 😂😂 @HudlFootball #Blitz21 pic.twitter.com/3UrFzU3Qo5

— James Light (@JamesALight) April 10, 2021
Harbaugh says he was already thinking the long field goal attempt might be a good idea when Tucker said,
"I think I got a better chance than Willie!"
Unfortunately for the Browns, and most fortunately for the Ravens, the next words heard quickly settled matters.
"I got this, coach," said Lamar Jackson as he jogged past the group and into the huddle.
Then Things Got Exciting… Or Crushing
In one of the most exciting finishes of the season, a scrambling Lamar Jackson quickly hit Marquise Brown on a 44-yard touchdown.
But after the 2-point conversion, Baker Mayfield answered by driving the Browns 75 yards in 4 plays.
Cody Parkey put the extra point down the middle to tie the game with 1:04 left.
AJ Brown dropped 3 passes and Parkey missed 2 kicks prior to those last 2 minutes.
Here's all 12 touchdowns from last night's unbelievable game between the Cleveland Browns and the Baltimore Ravens

The Ravens were a highest 6/1 to win in game at one point! 🔥

📹 @NFL #BALvsCLE pic.twitter.com/ncJy7xRcsV

— BettingOdds (@BettingOddsUK) December 15, 2020
But any sense of redemption or irony was lost when Jackson quickly moved the Ravens back over midfield.
Tucker got his chance at a game-winning kick and squeezed a 55-yarder inside the left upright with 2 seconds left.
While the play-by-play announcers reveled in the exciting finish, Browns fans dealt with the hard-fought defeat.
Could that Week 14 game be the first in a long series of Browns-Ravens classics we'll tell our children about?
Well, let's just say we look forward to a bunch of classic game-winning stories to tell first.