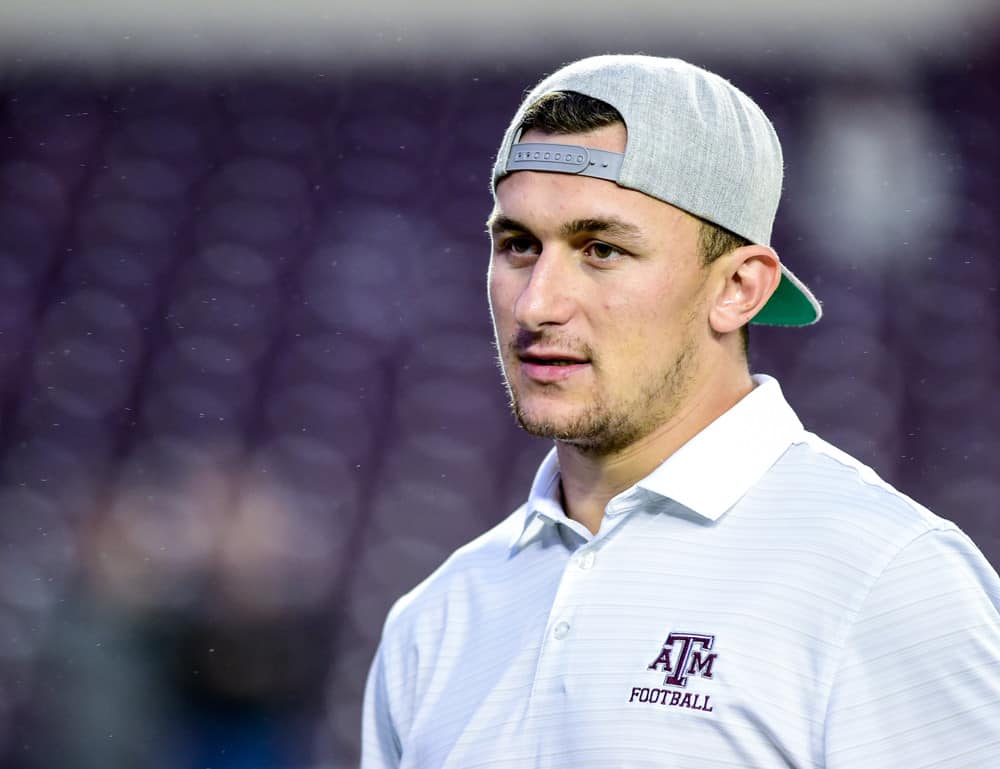 To most people, Johnny Manziel's football career appears to be a thing of the past.
But some people often wonder if Manziel will ever pick up a pigskin again.
This past weekend At Hillcrest Golf & Country Club In Lubbock, Manziel appeared to answer this question himself.
According to a column by Don Williams:
"In the past, probably, is the way I'd characterize it," Manziel said, leaning forward and without a moment's hesitation. "I've finally got to a point where I'm trying to achieve happiness in life, not happiness on the football field.

"I know a lot of people probably want me to come back and play and give it another chance, but I don't know, as far as being a person and figuring out life as a young adult — trying to make it and figure it out — if I've ever been in a better place than I'm in right now. I can honestly say I'm happy and I'm doing the right things to try and put a smile on my face every day, and that means more to me than going out and grinding on a football field."
Johnny Manziel says he considers his football career to be "in the past." If that bothers the 2012 Heisman Trophy winner, he's not letting it show. https://t.co/grwbU7naoR

— Don Williams (@AJ_DonWilliams) June 28, 2020
Manziel's Post-Football Life Seems to be Going Well for Him
Manziel has found a new sport and a new home away from home: golf.
A fellow golfer spoke glowingly about Manziel, saying that he is the "nicest guy you'll ever meet."
Manziel and former Texas A&M offensive coordinator Kliff Kingsbury, who now coaches the Arizona Cardinals, speak "all the time."
"That's a guy that I admire very, very much. I can't respect another person on the face of the earth as much as I do Kliff."
Kingsbury was also Manziel's quarterbacks coach during the 2012 Heisman Trophy year.
Manziel's bond with Kingsbury is strong:
"What a guy, a guy who's changed my life for the better and who I'll always be thankful for."
Manziel was also the winner of three Player of the Year awards that year.
The All-American also won two quarterback awards: the Manning and Davey O'Brien awards.
However, he does not seem to be thinking about another stint of football, and he is content with that decision:
"People can call me whatever they want, but at the end of the day, I'm proud of what I did. I'm proud of what I accomplished. I bettered myself. I bettered my family's life. I got a chance to play amazing college football, and it didn't work out in the NFL, and that's ok."
Is This Really The End Of Johnny Football?
When we had last heard from Manziel, he was roasting himself on Twitter about a cliff jump video:
Went about as well as my time in the league 🤦🏻‍♂️ https://t.co/e9PfTrD9a6

— Johnny Manziel (@JManziel2) May 12, 2020
Meanwhile, the 2012 Player of the Year, who moved to Scottsdale, Arizona, has been playing golf almost every day of the week recently:
"I'm probably playing six days a week. Scottsdale is the mecca of golf, so it doesn't get any better than that. I'm probably a 2 [handicap] right now, but I've taken it down from an 8, so I feel like I'm getting better day by day."
Manziel spoke about being humbled by the game, and he admits to the fact that his heart was not in it:
"During that time when I got drafted, I didn't put in the time that I needed to be a great player and I don't think my heart was in it, and I think when I went back to Canada, it was the same way. I truly believed and truly thought it was what I wanted to do, and my heart wasn't in it, and it worked out the way it did."
The former quarterback started just eight games with the Cleveland Browns, his only NFL franchise.
The Browns' 22nd overall draft pick in 2014 is turning 28 years old this December.
In early 2016, the Browns released Manziel.
He played in the Canadian Football League and the now-defunct Alliance of American Football.
At this point, it would be surprising to see Manziel ever suit up again.