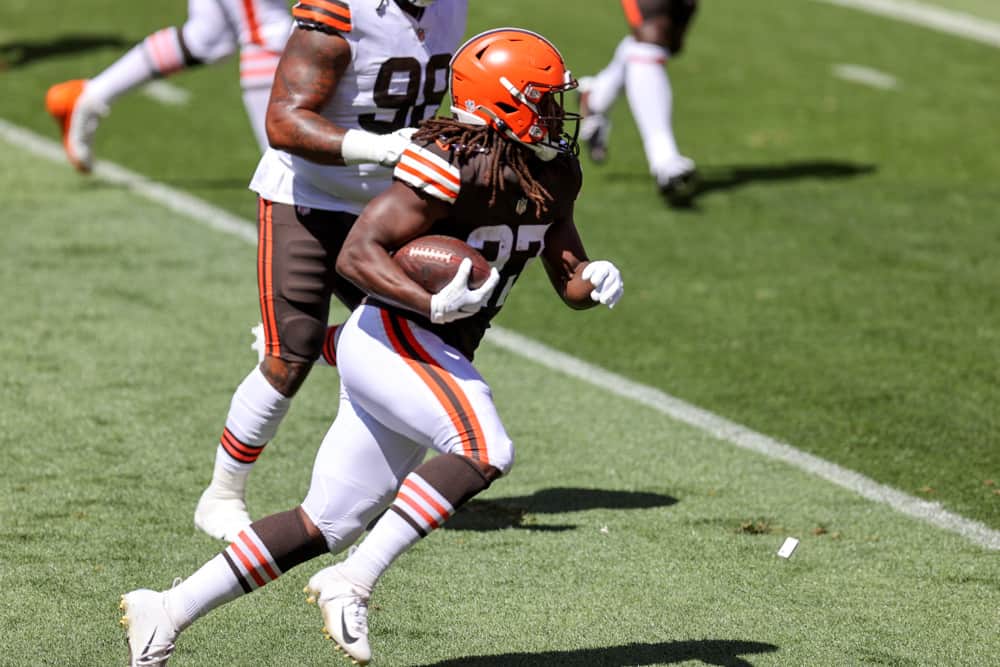 The 2020 NFL season has begun and the Cleveland Browns will start the year versus the Baltimore Ravens in Week 1.
Cleveland was able to take one game from the Ravens last season, which is a pretty big accomplishment.
The Browns are hopeful that they can take both games this year.
Sadly, the injury bug has taken out some of their starters during training camp.
However, the Browns do have a few sneaky weapons that could be the make-or-break for them in this Week 1 contest.
One of the biggest question marks for Cleveland is what should they expect from running back Kareem Hunt?
Hunt's NFL Career
Hunt was only able to play in eight games for the Browns last season due to his suspension.
Despite that, he was near the top of the team in multiple receiving categories.
He is a dual-threat running back that possibly has been overlooked.
Most broken tackles as a runner and receiver since 2017:

1. Kareem Hunt – 164
2. Christian McCaffrey – 162
3. Alvin Kamara – 157
4. Melvin Gordon: 156
5. Derrick Henry/Todd Gurley: 147 pic.twitter.com/UAijBMsShl

— PFF (@PFF) September 8, 2020

During his rookie season in 2017, Hunt rushed for 1,327 yards with eight touchdowns.
He was also able to haul in over 50 receptions during that season.
Sadly, he wasn't able to showcase his full potential in 2019 with the Browns.
Hunt was able to play during the matchup with the Ravens in late December last season.
He finished that game with eight rushing yards and four receptions for 33 yards in their loss.
Obviously, that was not the best outing, but Hunt could be in for a better game on Sunday.
Hunt Can Be The X-Factor
The Browns do have a stacked offense with Odell Beckham, Jarvis Landry, Austin Hooper, and Nick Chubb.
However, Hunt's ability should not be overlooked as he can be used in both the rushing and passing attack.
Thr #Browns boast two top-10 backs in the same backfield⬇️

RB grades and rank since 2018:
1. Nick Chubb (91.4)
8. Kareem Hunt (84.5) pic.twitter.com/53XcfXluuN

— PFF CLE Browns (@PFF_Browns) September 9, 2020

He has proven throughout his career to be a useful and trustworthy option in the backfield.
Clearly, the Browns believe in him because they gave him an extension this offseason.
.Hunt was the leading rusher in the league during his only full season in the NFL.
The ceiling is high for Hunt, assuming he can stay out of trouble.
Cleveland desperately needs a reliable change of pace running back.
Hunt is actually a perfect fit for this offense and could potentially be a star in Cleveland.
He is a player that can do just about anything on the football field.
It'll be interesting to see how new head coach Kevin Stefanski works Hunt into the gameplan during their first contest.