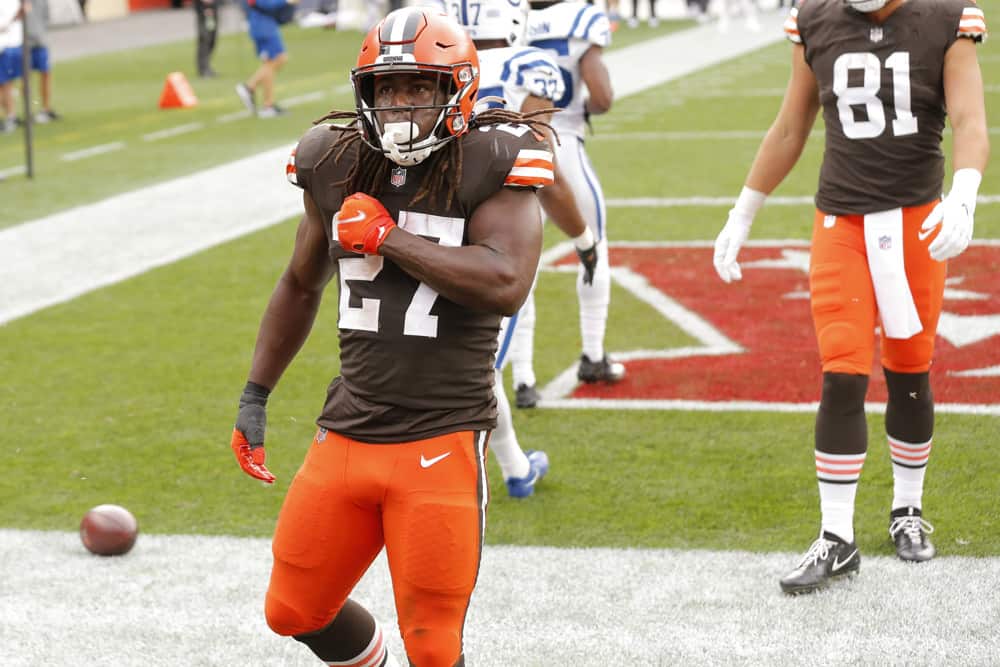 The Cleveland Browns have the best running back tandem in football.
Nick Chubb and Kareem Hunt, sometimes called "the two-headed monster", are elite players that could carry any team, but their teamwork and camaraderie in Cleveland is truly something special.
Back in December, Nick Chubb talked about sharing carries with Hunt.
"I'm glad we're working together, I wouldn't want it any other way."
Center JC Tretter spoke about the duo after the season ended.
"Kareem is so versatile as a football player, being able to run, being able to be utilized out of the backfield and utilized in the slot as receiver. They just let us do so much. It's nice having no real dropoff when one of them has to go out because you have another No. 1 back coming in."
Kareem Hunt had 198 rushes for 841 yards and 6 touchdowns in 2020.
Though we are focusing on his running skills, it is worth mentioning that Hunt also had 304 receiving yards and 5 receiving touchdowns during the regular season.
This makes him a legitimate and scary dual threat for opposing defenses to deal with.
Here are Kareem Hunt's 3 best runs of the 2020 season.
3. What Groin Injury? Hunt Powers His Way For The TD. Dallas Cowboys, November 4, 2020
Kareem Hunt won't be denied as the RB runs his way in for 6 🤫pic.twitter.com/tOe1e7smfC

— Browns Nation (@BrownsNationCP) October 4, 2020
This is the game where Nick Chubb got hurt.
Kareem Hunt also was nursing his own injury, to the groin.
In fact, he was limited in practice in the week leading up to this game and was listed as questionable on the injury report.
This is just one of the two rushing touchdowns Hunt had in the Dallas game.
His running style is fearless; it looks as though he thinks no one can take him down.
Often, that is exactly the case.
2. Hunt Can't Be Stopped.  Wildcard Playoff Game, Pittsburgh Steelers, January 10, 2021
The @Browns are on a roll. @Kareemhunt7 caps off a six-play 65-yard drive. #WeWantMore

📺: #CLEvsPIT on NBC
📱: NFL app // Yahoo Sports app: https://t.co/1RAy8atRT2 pic.twitter.com/GncC23VOPB

— NFL (@NFL) January 11, 2021
This was the "Browns is the Browns" game where JuJu Smith-Schuster fired up the Browns with his bulletin board words during the week.
The thing is no one needs to fire up Kareem Hunt any more than he normally is.
He is so stubborn and determined, and this is one of his three rushing touchdowns in the playoffs.
This was also the game where he was running his way back to Kansas City.
"Kareem ran pissed off. He ran like he wanted to get to Kansas City."
1. It Takes A Village To Tackle Hunt, And He Still Keeps Running. Houston Texans, November 15, 2020
Kareem Hunt runs mean 😤 @Kareemhunt7 @Browns

📺 #HOUvsCLE on FOX pic.twitter.com/BV7zN0K6US

— The Checkdown (@thecheckdown) November 15, 2020
Elusive is one word to describe it.
He twists and turns his way out of the hands, arms, and bodies of tacklers and just keeps running.
Hunt is truly a force to be reckoned with.
What's Next For Hunt?
Hopefully, Hunt is paired with Chubb and on the Browns roster for many years to come.
He signed a 2 year $12 million contract with the Browns which is in effect through the end of the 2022 season.
His counterpart Chubb will be entering the fourth and final year of his rookie contract in 2021.