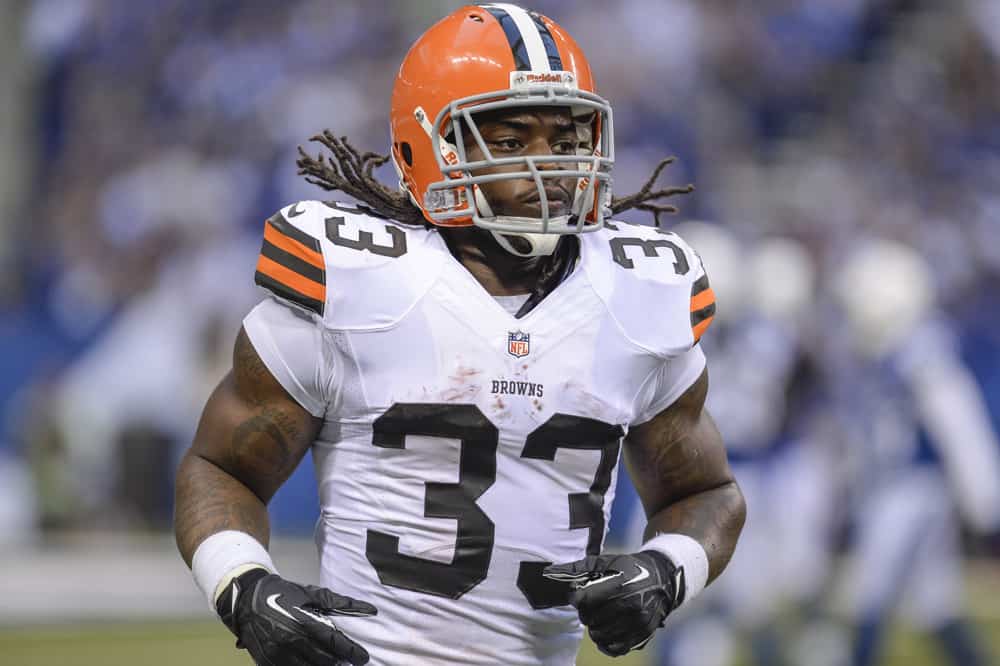 Trent Richardson, who was drafted third overall by the Cleveland Browns in 2012, is going to Mexico to play football:
Former NFL RB Trent Richardson has joined the Caudillos de Chihuahua of the Mexican American Football League. https://t.co/4a0yaO4KHs

— Field Yates (@FieldYates) February 21, 2021
The last we had heard from Richardson and his football career was when he was in the Alliance of American Football.
He was playing very well with the Birmingham Iron, as he led the league in rushing touchdowns.
Unfortunately, the AAF only existed for a few months, as it went bankrupt.
The Alabama product, who is now 30 years old, could have some strong years playing football in Mexico.
He played NFL snaps in just three seasons.
However, with how well he played in the AAF, fans could be in for a treat when they watch the Caudillos de Chihuahua of Liga Futbol Americano de Mexico.
Richardson flashed his talent during his NFL career, but the trade to the Indianapolis Colts set off a frustrating set of events for him.
Richardson's NFL Career
Richardson, a native of Pensacola Florida, went to Alabama for college and was set for a promising professional career.
He accumulated 1,317 yards during his rookie season in 2012.
He received the seven-most touches in the league that year and went for 11 rushing touchdowns, which ranked fifth in the NFL.
The Browns were able to get that Richardson through a draft-day trade with the Minnesota Vikings:
Browns received No. 3 overall selection
Vikings received No. 4 overall selection (Matt Kalil) along with a fourth-rounder, fifth-rounder, and seventh-rounder in the 2012 draft
Richardson was then traded just one year and five months later.
The Browns front office did not think that Richardson would be the future of the franchise and sent him to the Colts for the No. 26 pick in the 2014 draft.
Prior to the 2013 trade, Richardson played just two games with the Browns.
Near the end of Richardson's career with Indianapolis, he was suspended for the AFC Championship Game after missing a walk-through without giving notice.
Then, in March 2015, the Colts released Richardson.
Richardson's Future in Football
While a return to the NFL is unlikely, Richardson has shown promise during his time in the Canadian Football League and the AAF.
In 2011, Richardson won the SEC Offensive Player of the Year with the following accolades:
Rushing yards: 1,679 (First in the SEC)
Yards from scrimmage: 2,017 (First in the SEC)
Rushing touchdowns: 21 (First in the SEC)
Touchdowns from scrimmage: 24 (First in the SEC)
Points scored: 144 (First in the SEC)
Although it is a decade later, Richardson has shown football personnel that he can still contribute.
Liga Futbol Americano de Mexico plans to kick off its 2021 season on June 4.