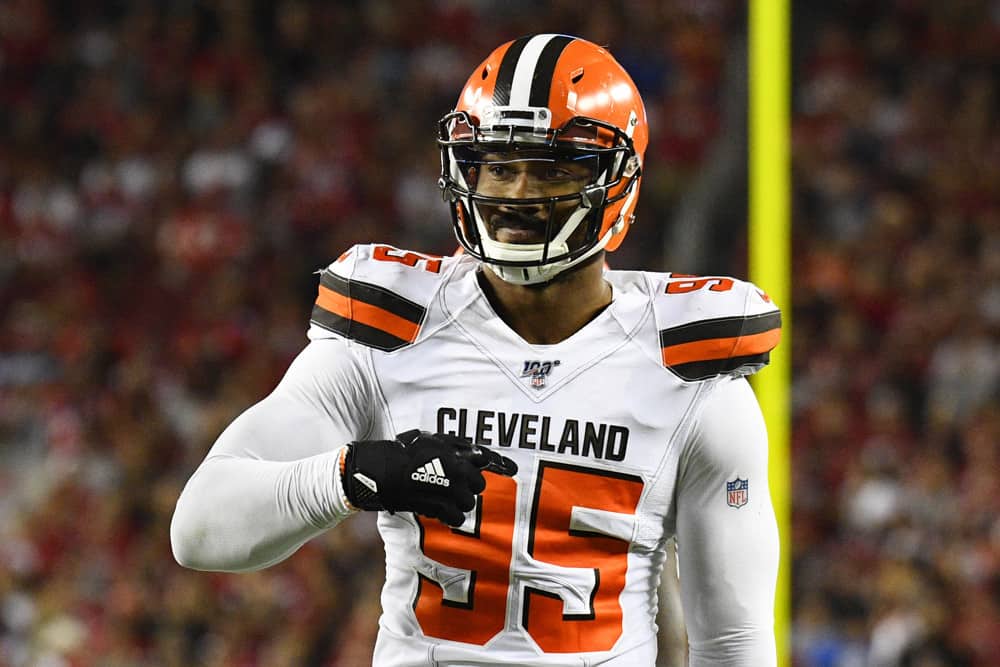 Cleveland Browns Coach Kevin Stefanski shocked everyone today when he declared Myles Garrett retired from basketball.
Browns and NFL fans have been entertained by Garrett's basketball videos in the offseason.
This was the last one he posted before reporting to OTAs this week.
Aight I'm going back to football 😂 pic.twitter.com/ZhUNCUip5Z

— Flash Garrett ⚡️ (@MylesLGarrett) May 26, 2021
What Stefanski Said
While talking with Keith Britton of 92.3 The Fan today, Stefanski said:
"He retired. So congratulations to Myles for a great career . . . but he's done."
This is an interesting turnabout for Stefanski who is notoriously consistent and on message.
Back in March when asked about Garrett's basketball videos, Stefanski said:
"I've told him this, I've told all of our players, 'Listen, you've got to stay in shape. You need to do some things that gets your cardio going. You gotta do it safely.' He's very, very well aware of that, but I do marvel at his athleticism…I think that's the key: within reasonable limits. They know not to go in some competitive game where they're gonna turn an ankle or catch an elbow or those type of things. If they're working on their body, which for these guys that is their lifeblood is their body. If they're looking to get more athletic and quicker and stronger, I'm gonna support that within reason."
Stefanski, at the time, reportedly went so far as to joke that an NBA team should sign Garrett to a 10-day contract.
What Garrett Said
Garrett remarked that his retirement could resemble Michael Jordan's which hints at the possibility that his pickup basketball days are not over.
#Browns DE Myles Garrett on Kevin Stefanski saying he's retired from basketball: "I feel it's more like a Jordan retirement. Now I got to go back what I'm good at. Next season, you never know. I might go back to basketball, baseball."

— Keith Britton (@KeithBritton86) June 2, 2021
Whether we see more video of Garrett's mad basketball skills remains to be seen.
We do hope to see plenty of his football dominance beginning in September.
Garrett, Jadeveon Clowney, and his other teammates on the rebuilt Browns defense should be a force to reckon with.