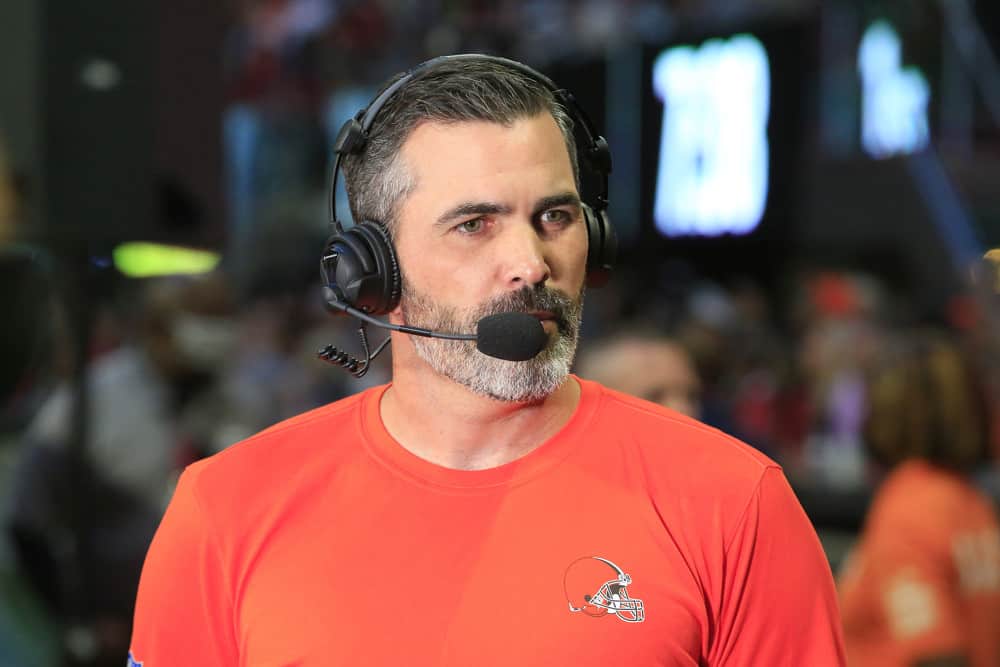 The Cleveland Browns had looks of sheer joy and perhaps relief on their faces when the final seconds of the Thursday night game ticked away.
They managed to pull off a 17-14 win over the Denver Broncos without a lot of their key starters.
Those who filled in stepped up to the plate and handled the challenge beautifully especially running back D'Ernest Johnson.
In his FIRST career NFL start! 💪@DernestJohnson2 | #Browns pic.twitter.com/5xtrVoIijM

— NFL (@NFL) October 22, 2021
Perhaps one of the happiest people was head coach Kevin Stefanski.
Coach Stefanski is very articulate in his postgame locker room speeches, and he delivered a heart-wrenching emotional one last night.
"I'm so proud of you guys for fighting…for 60 minutes"
🗣 Kevin Stefanski pic.twitter.com/ilb1RqeNKe

— Cleveland Browns (@Browns) October 22, 2021
He is correct.
The players worked together as a team for 60 solid minutes of football.
Coach Stefanski is too humble to add that he also called a great game.
The play calling resembled 2020 which is a good thing.
A Necessary Win
The phrase must-win is thrown around a lot in sports, but this was a legitimate must-win situation for the Browns.
Being 3-4 in a competitive AFC North before even meeting any of the conference opponents would be problematic.
Work And Healing Are Necessary
The Browns have 10 days off.
Hopefully, players get well and are able to play.
Kevin Stefanski says he's "hopeful" that RB Nick Chubb and RT Jack Conklin could return for the Pittsburgh game next weekend #Browns

— Jake Trotter (@Jake_Trotter) October 22, 2021
The Pittsburgh Steelers are coming to town.
They are a tougher opponent than the Denver Broncos.
If the Browns are still using backup players on offense, they will need to prepare for the Steelers defense and the likes of TJ Watt.
His brother JJ was a tough customer last week, just ask Baker Mayfield.
Still Missing Four Solid Quarters Of Football
This type of performance has eluded the Browns and cost them games against playoff caliber teams.
They will not be able to get away with playing a dominant quarter here or there against the Steelers.
The goal needs to be four solid quarters in all three facets of the game.
It is easier said than done, but if the Browns could do it repeatedly, they would be very tough to beat.