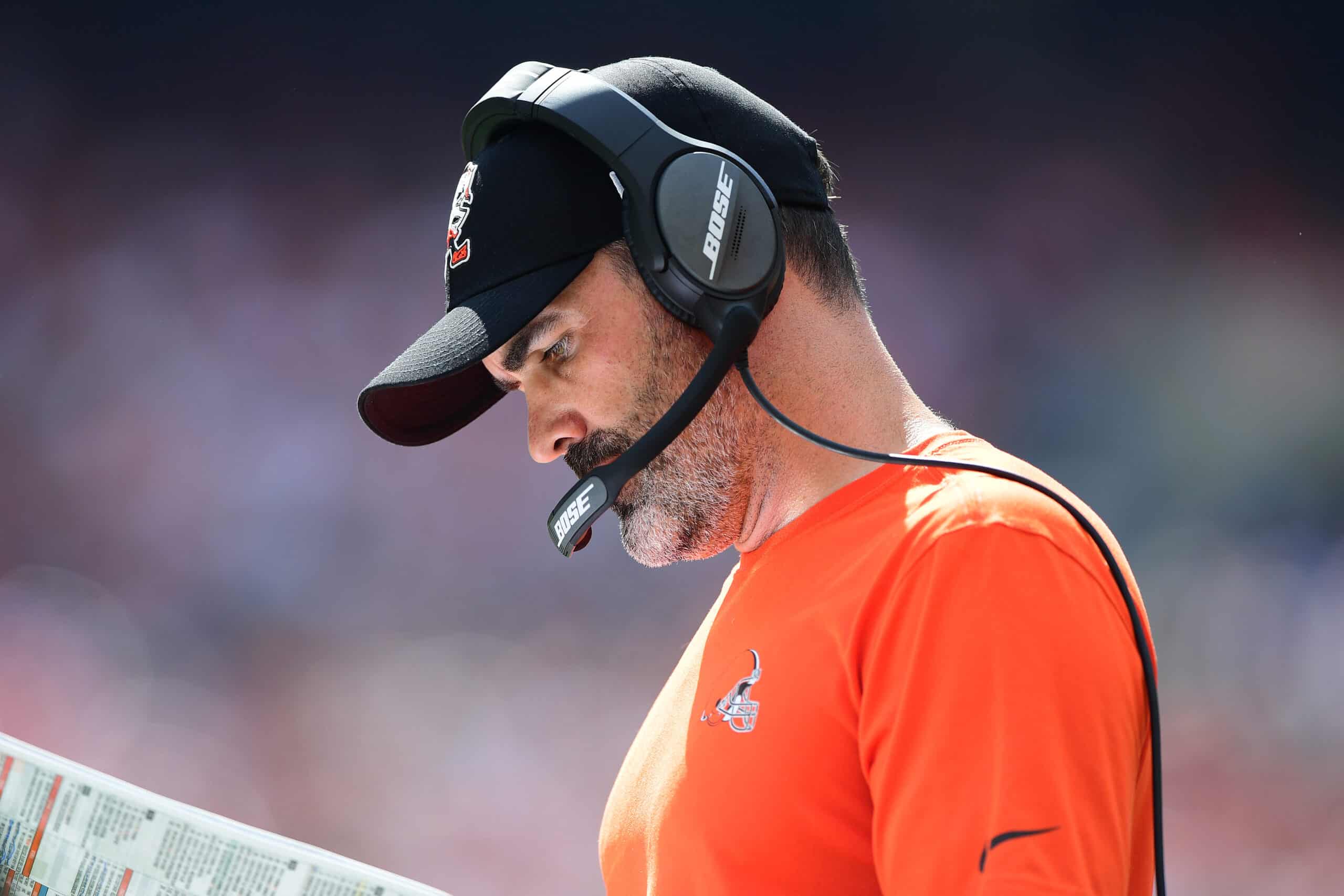 Let's just put it out there and hope we do not need to repeat it in upcoming weeks.
Cleveland Browns head coach Kevin Stefanski did not put his team in a position to win at the end of the Week 5 loss to the Los Angeles Chargers.
The Browns had the ball with about two minutes left in the game.
This seems like prime time for the team's two minute offense.
Every team, in theory, has one.
It is carefully designed and practiced each week.
In the Browns case, it did not look well thought out which is uncharacteristic of Coach Stefanski.
Kevin Stefanski is one of the most innovative, awesome offensive minds in football. I am glad he is our head coach.

Kevin Stefanski also needs to work on his play calling late in games/when we have leads.

Both can be true.#Browns

— Keaton Wineman (@KeatonWineman) October 11, 2021
The Browns did not have any time outs.
There were no throws to the sidelines to move the chains and stop the clock.
A lot of necessary time was wasted with Kareem Hunt trying to get a first down without trying to stretch the field.
How do the Browns possibly justify running the ball on that 3rd & 10 with how their defense has played???

Stefanski is a sharp coach but that's terrible.

— nick wright (@getnickwright) October 10, 2021
This L is on Coach Stefanski. Soft play calling with 3 & some change. Refs didn't help but you have to overcome that adversity if you want to be an elite team in the NFL.

— Dustin A. (@ANut1331) October 11, 2021
"A complete head scratching move by Kevin Stefanski."@ColinCowherd on the CRAZY Browns/Chargers finish: pic.twitter.com/xY3bF2zSmK

— The Volume (@TheVolumeSports) October 10, 2021
More Positives Than Negatives
In general, Stefanski calls a good game.
There are always a few head scratchers.
This week, he did not take as many 4th down conversion risks and utilized McLaughlin to get points on the board.
He has been a great coach for the city, team, and franchise.
However, he has to button up the late game play calling or turn it over to offensive coordinator Alex Van Pelt.
This loss is on coach Stefanski only
His play calling today & last week & vs KC. I need the same play calling that was used in Pittsburgh when Coach K was in the basement#Browns

— KeedaHall216 (@Keeda03ntheland) October 10, 2021
Arguably, it was an issue in the Week 1 loss to the Kansas City Chiefs also.
If the play calling starts to become the issue, he needs to do something about it so it does not become even more of a recurring theme.
Or worse yet that his play calling woes allow comparisons to Freddie Kitchens.
We haven't lost a lot under Stefanski. But he's not a young coach anymore. In all the big losses (and several wins) there's been head scratching play calling. If I wanted to keep hearing "I need to do better" we could have just kept Freddie. On to Arizona.

— Chris Markoch (@chrismarkoch68) October 11, 2021
Conclusion
The Browns are 3-2 and will be the underdogs to the 5-0 Arizona Cardinals whom they host in Week 6.
There is no better way to turn the page than with a victory and excellent play calling.
Those are next week's goals.