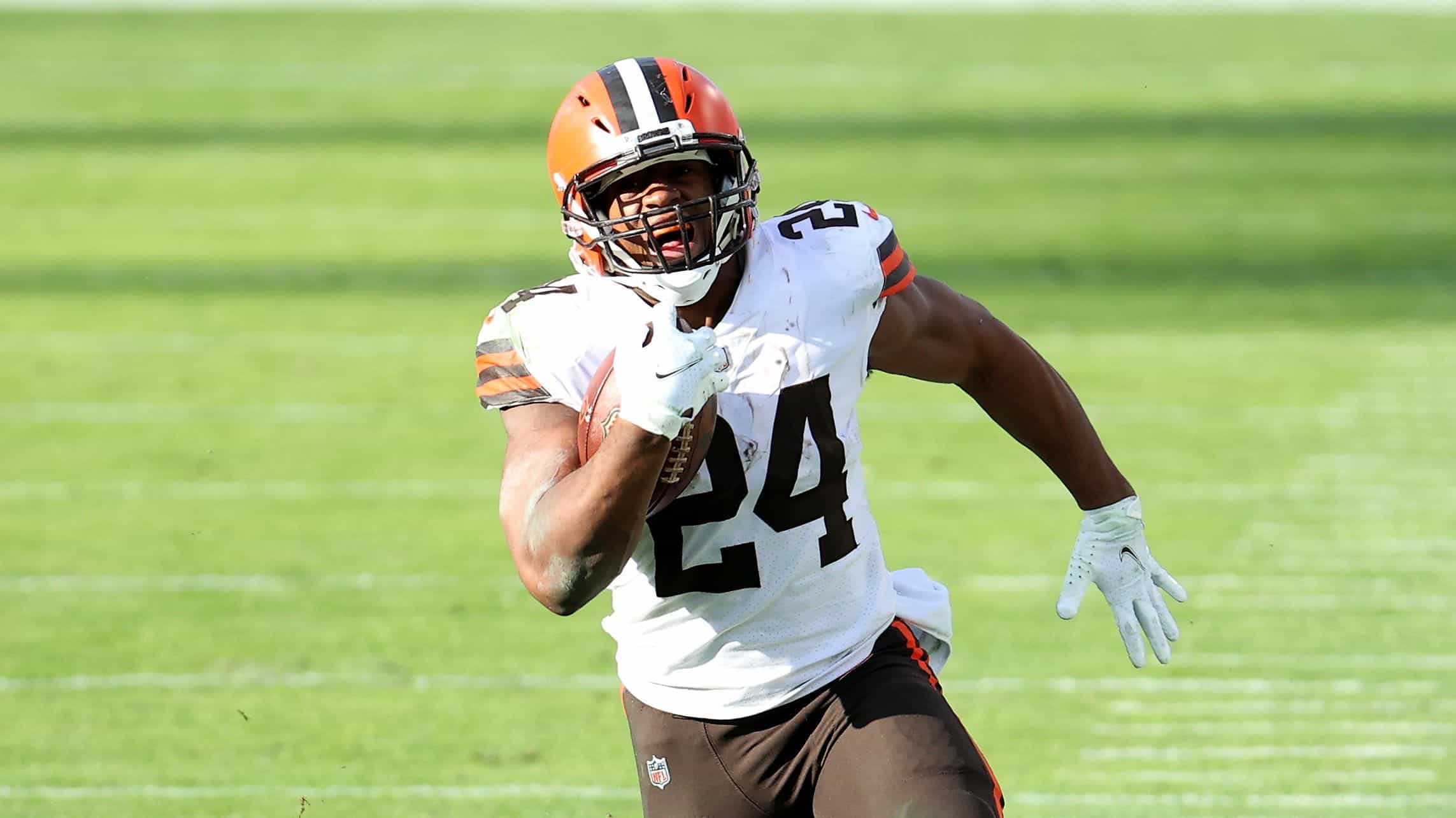 Cleveland Browns fans who want Nick Chubb on the field for third down may finally get their wish this season.
During Sunday's training camp, head coach Kevin Stefanski hinted at the possibility of Chubb being more involved on third downs this year.
#Browns Kevin Stefanski said Nick Chubb could be used more on third downs this season. pic.twitter.com/pD7TmDB2hk

— Fred Greetham (@FredGreetham9) August 6, 2023
This would be a major change as the Browns have typically spelled Chubb for a secondary back in those third-down situations.
If Stefanski stays true to his word here, this could be a huge benefit for Cleveland's offense.
Receiving Ability
Traditional "third down backs" are able to make plays through the air more so than on the ground.
Catching the ball just isn't something the Browns have asked Chubb to do.
Last year, he caught just 27 passes, well into the bottom third of starting running backs.
That might make one wonder if the Browns trust Chubb to catch the ball consistently out of the backfield.
Running backs coach Stump Mitchell said the team knows he can catch the ball and is good at it.
Mitchell followed by saying Chubb simply hasn't had the opportunity.
#Browns Stump Mitchell said Nick Chubb has always been good catching the ball, just hasn't had the opportunity. pic.twitter.com/5ssjoSkx28

— Fred Greetham (@FredGreetham9) August 6, 2023
Back during the 2018 season, Chubb had arguably the best catch from a running back that season.
Nick Chubb, what a catch 👀pic.twitter.com/fq4b17p2z7

— LeadingNFL (@LeadingNFL) November 25, 2018
Cleveland should be more than confident in tossing a pass Chubb's way on third down if need be.
Unpredictability
Chubb's big-play ability has been put on display time and time again.
He's almost always just one good block or broken tackle away from taking one the distance.
Defenses need to honor that.
That could allow for some more unpredictable play-calling on third down for Stefanski.
Those third down and five or six-yard situations become trickier to defend with Nick in the backfield.
Go For It
Chubb is far and away Cleveland's most talented back. Instead of trying to get cute with the offense, it's probably better to just keep him in on third down.
It doesn't have to be every time.
He's human and he'll need his breaks.
Overall, Cleveland's offense likely takes a step forward if Stefanski leaves him in there more often than not.