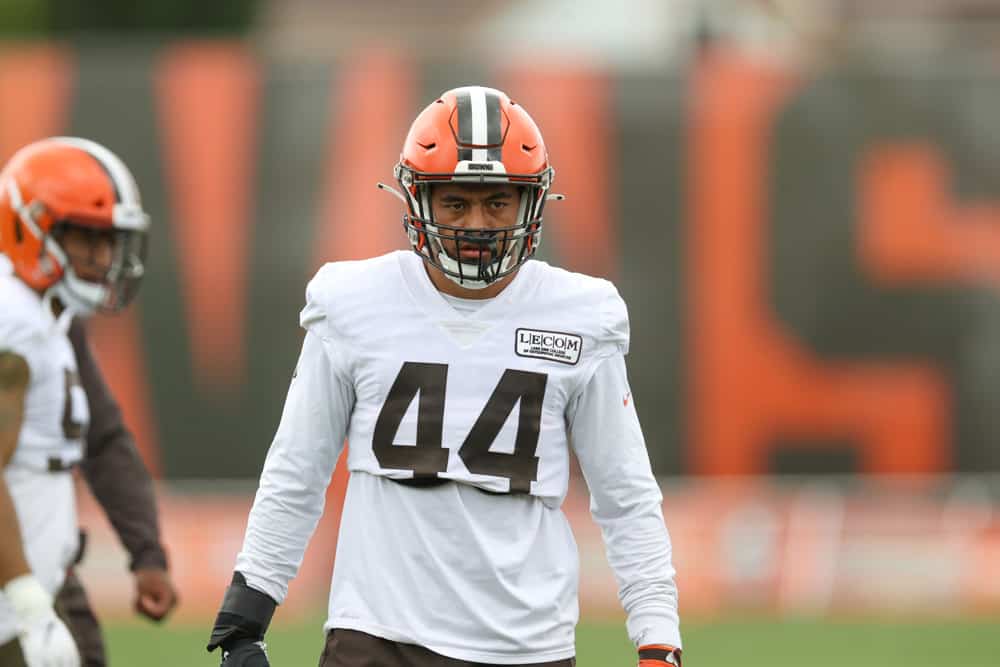 The hits keep on coming for the Cleveland Browns.
There has been bad news every day this week, and it's only Wednesday.
#Browns Sione Takitaki tests positive for COVID-19, joining Myles Garrett on the reserve list. It means the Browns are without their two best defenders for the #Jaguars game and one of their best LBs https://t.co/ta37KDfe3K

— Mary Kay Cabot (@MaryKayCabot) November 25, 2020
Monday, we learned that CB Denzel Ward has a calf strain and will miss an unspecified number of games.
Tuesday, DE Joe Jackson was added to the Reserve/COVID-19 list.
And today, Wednesday, LB Sione Takitaki is added to the Reserve/COVID-19 list.
Ironically Ward and Takitaki were close contacts to Myles Garrett who tested positive late last week.
However, they tested negative late last week and both were cleared to play the Eagles game.
Sione Takitaki
Takitaki is coming off a great game against the Eagles.
He had a Pick 6, his first in the NFL, off of Eagles QB Carson Wentz.
Carson Wentz with an ugly interception to Sione Takitaki and he takes it the other way for a 50-yard #Browns TD. No excuses for this one.pic.twitter.com/XiwGL9Cpsy

— NFL Update (@MySportsUpdate) November 22, 2020
Takitaki has already accomplished more than he did in 15 games last season.
Through 10 games, he has 22 solo tackles compared to 12 in 2019.
Reserve/COVID-19 list is growing.
The Browns are suffering from the the COVID-19 crisis that is sweeping the US, and all NFL teams are dealing with more occurrences.
Of course, DE Myles Garrett was added to the list on Friday, November 20.
As a result, he is about to miss his second straight game.
Also, OL Chris Hubbard and FB Andy Janovich also tested positive and are on the list.
Like Garrett, Janovich is about to miss his second game.
In a glimmer of good news, Hubbard was activated on November 26.
Browns Are Following Protocols
Team facilities have been closed for two straight days with the back-to-back positive tests by Jackson and Takitaki.
Contact tracing is being done, and Coach Stefanski has consistently said the Browns are following protocols.
After Garrett tested positive, Stefanski said:
"This is 2020. Things are going come your way, and you have to react. I think our team is used to that…I think we just have to maintain the diligence that the organization has shown throughout. That is kind of how we take it day by day and make sure we are doing everything we can to keep everybody safe."