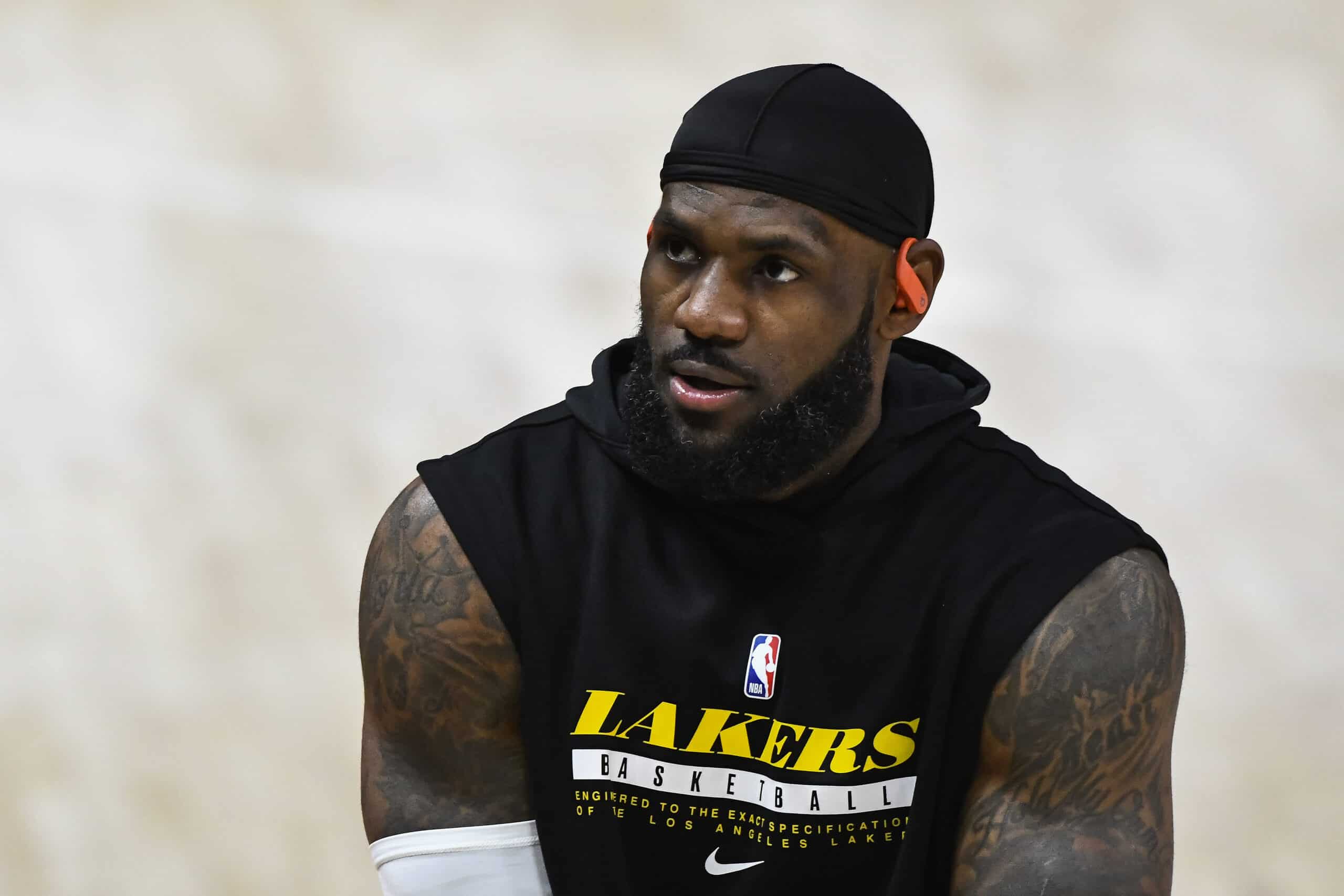 LeBron James appeared on the Peyton and Eli Manning broadcast of Monday Night Football during the Cowboys and Eagles game.
James, an Akron native, grew up a Cowboys fan, but cheers for his hometown team, the Cleveland Browns, also.
As usual @KingJames a natural with the Manning brothers on #MNF He propped up the @Browns pic.twitter.com/UUIzRZw1GT

— .@JohnTelich8 (@JohnTelich8) September 28, 2021
He told the Mannings that he is "with the Browns."
LeBron James on the Peyton and Eli broadcast on which NFL team he roots for:

I'm a hometown guy, I'm a #Browns fan. I grew up a Cowboys fan but I'm with the Browns, I think they are going to be really good this year, I'm excited

— Matt Fontana (@MattFontana83) September 28, 2021
James Has Supported The Browns In The Past
King James has used his social media presence to cheer on the Browns in the past.
As recently as last week, in the Week 2 game against the Texans, he tweeted his excitement over Nick Chubb's fourth-quarter touchdown.
YESSIR!!!!!!!!!!! CHUBB #Browns

— LeBron James (@KingJames) September 19, 2021
Two weeks ago, Myles Garrett dropped a sneak peak of the commercial he filmed with James for Ladder Protein.
Cleveland, This Is For You. 👑 x ⚡️ pic.twitter.com/FIVFAddhTM

— Flash Garrett ⚡️ (@Flash_Garrett) September 11, 2021
Garrett himself has said he wants to be the LeBron James of the Cleveland Browns.
"I've got my Kyrie and my Love?  Well, hell, I have to prove that I'm LeBron first before anything. I have to prove that I'm the playmaker at all levels. Hell, he's top three in any debate that you have."
That's Great But…
Having LeBron James support is great for the Browns.
He is a legend that brought home a championship to the Cavaliers.
Fans have mixed feelings about him after he fled to Miami and then Los Angeles.
In the end, the Browns need to get on the field every weekend for 14 more weeks and play their best football.
That's all that matters.
Not that LeBron is one of them, but if they play as they are capable of, celebrity "fans" will come out of everywhere.
They will jump on the bandwagon.
LeBron is not a bandwagon fan.
He might like the Cowboys (which Browns fans certainly have problems with), but he has an obvious allegiance and loyalty to Cleveland because he is an Ohioan who brought a championship home to Cleveland.
It is clear LeBron wants the Browns to bring a Lombardi Trophy home to Cleveland also.
Let's hope they can.