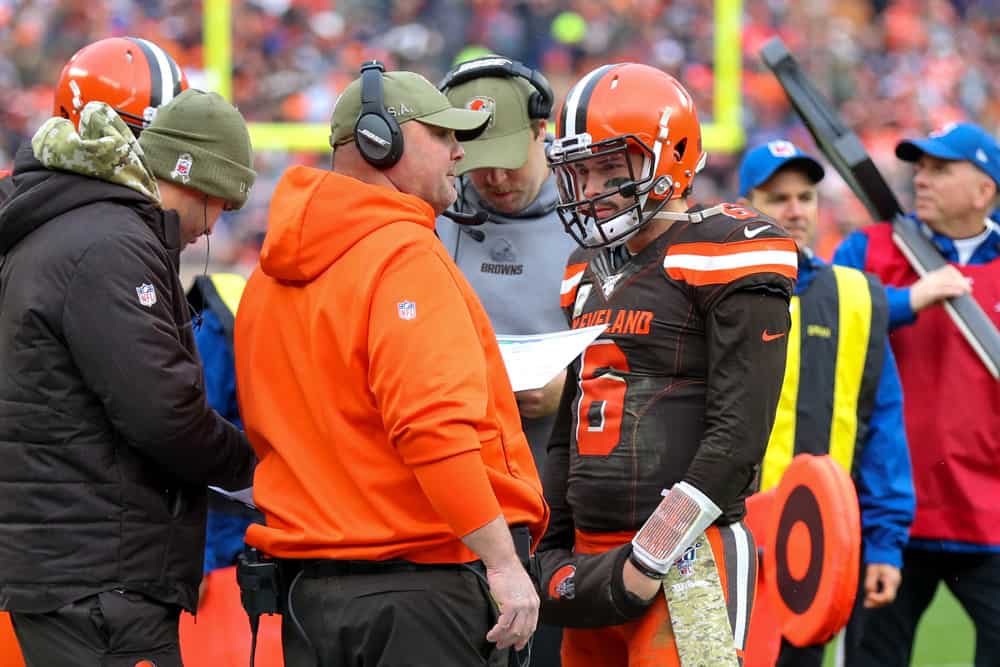 When is the last time you saw someone staring under the hood of a disabled car and shaking his head?
That's what we do when our cars break down.
Whatever we see, we assume it's responsible for the problem.
We shake our heads in disgust before we let the mechanics deal with it.
If we pop the hood on the Cleveland Browns offense, we can easily shake our heads at Baker Mayfield's play, Odell Beckham's antics, and the offensive line's woes.
But what if the real problem lies deeper than that?
When I bought my first brand new car, I expected it to run smoothly.
It didn't.
After months of staring under the hood, hammering on cylinders, twisting wires, and lots of colorful words, someone finally fiddled with a gas filter that was not connected right.
The problem was hidden way down low and behind everything else. You couldn't see it from the hood.
Cleveland has a bad connection somewhere in the recesses we can't see.
Somewhere between Freddie Kitchens, Todd Monken, and others is something that needs to be fiddled with.
How Many Cooks Does It Take?
Mary Kay Cabot of Cleveland.com recently shared what several sources told her regarding the Cleveland Browns offensive game-planning and play-calling.
Systemic issues reportedly hamper the offense from the first moments.
Offensive coordinator Todd Monken calls the Thursday game-planning meeting his "weekly dentist appointment."
Reports that Freddie Kitchens and Monken have disagreements about how the offense should run on game day seem validated by Monken's description.
But Cabot reveals there are more people involved than Monken and Kitchens.
Quarterbacks coach Ryan Lindley and injured quarterback Drew Stanton also attend the meetings.
Sources say the quarterbacks have as much say in Kitchens' ultimate plan as Monken.
That input seems to extend into game day play-calling.
That might explain why wide receiver Jarvis Landry wound up in a heated sidelines argument with Lindley during the second Pittsburgh game, as opposed to Monken or Kitchens.
#Browns Freddie Kitchens attributes Jarvis Landry's heated sideline exchange with QB coach Ryan Lindley to his passion for the game: "That's what makes Jarvis such a special player' https://t.co/knULS1VXti

— Mary Kay Cabot (@MaryKayCabot) December 3, 2019
Three or four voices in the headset explain why the Browns have issues getting plays in on time.
Failure to line up correctly, pre-snap penalties, and inexplicable time outs are other results of delayed play calls, confusion, and contradiction.
Kitchens' famous fourth-down punt team penalty to save a timeout before going for it on 4th-and-16 makes more sense now, too.
Can't They Fix It?
The coaching team reportedly tried to hammer out responsibilities and processes during the bye week.
Cabot's sources said Kitchens hoped to "clear the air" at that meeting.
The team came out of the bye with two more losses before winning four of their next five.
Fans might hope the recent winning trend indicates a clearer and more efficient offensive process, but it does not.
Warning signs showed themselves again in Week 14 against what is statistically the worst defense by yardage in the NFL.
Mayfield managed to complete less than half of his passes.
He threw his 15th interception to go along with his 15 touchdowns on the season.
Odell Beckham Jr didn't join the huddle for a play after Mayfield ignored him on a pair of man-to-man advantages.
Odell refusing to huddle up with the Browns? Lmaooo pic.twitter.com/KYGpmr2sbD

— NFL Memes (@NFL_Memes) December 8, 2019
Despite staying alive in the playoff hunt, the post-game focus was on off-field issues.
Mayfield and others acted like they just lost their best dog.
How bad was it?
Players from the 1-12 Bengals pointed out how bad things are in Cleveland.
Defensive end Carl Lawson told USA Today the Browns are "disconnected somehow…they have all this star power… but they are bickering and just… there is a disconnect."
Is There A Fix?
Any businessman worth his mettle will tell you process errors are easy to repair.
But first, you have to identify the process issue.
Statements from the coaching staff don't indicate they know what the problem is.
Monken calls his game-planning meetings difficult, but when pressed about the problems with his offense, he cites a need for more consistent play from his players.
Likewise, when Kitchens is asked if game plans are faulty, he says the players just need to execute better.
After his blow-up with Landry, Lindley has been made unavailable to the press.
But there is no indication his role has changed in the offense.
GM John Dorsey cites a lack of consistency in the players around the quarterback when asked about Mayfield's woes.
When a good company identifies a problem, they assign someone to take ownership of it.
In this case, Dorsey has to kill the play-calling by committee process and hand it to one person.
If it is Kitchens, the head coach needs to spend more time with Monken before Thursday's game-planning session.
He would do well to eliminate outside noise, like Lindley and Stanton.
Monken might be a better choice. Let him own the game plan and call the game.
If he fails, at least there is a clear fault line.
The Fall Guy approach
Dorsey and the Browns organization seem more content to find fall guys instead of solutions.
Baker Mayfield called out the Browns' medical staff this week for not treating Odell Beckham's sports hernia properly in the preseason.
It was an uninformed and misguided statement he quickly apologized for, but it is consistent with the culture of the Browns.
The Haslams are not known for making sharp decisions when it comes to hiring management personnel.
In fact, they seem easily manipulated by smooth talkers like Sashi Brown, Hue Jackson, and… John Dorsey.
Dorsey knew his young and talented players needed a strong, experienced, no-nonsense personality to mold them into a winning team.
Instead, he went with an inexperienced coach with minimal credentials based on a trumped-up opinion of how much he helped Baker Mayfield last season.
Kitchens is unlikely to get a contract extension the same day Dorsey's risk-taking, undisciplined style of management sends him to the door as happened in Kansas City.
Dorsey has his fall guy.
He can also extend Kitchens' tenure- and his security blanket- by blaming Monken and defensive coordinator Steve Wilks for failing to prepare the team well enough to win.
Kitchens and Monken can cite each other or Lindley as the third wheel steering the team off course.
Everyone can say the quarterback didn't take the next step they expected from him.
Unfortunately, the Haslams and Browns fans will probably see the fall guys before they fix the disconnect lurking deeper in the organization.