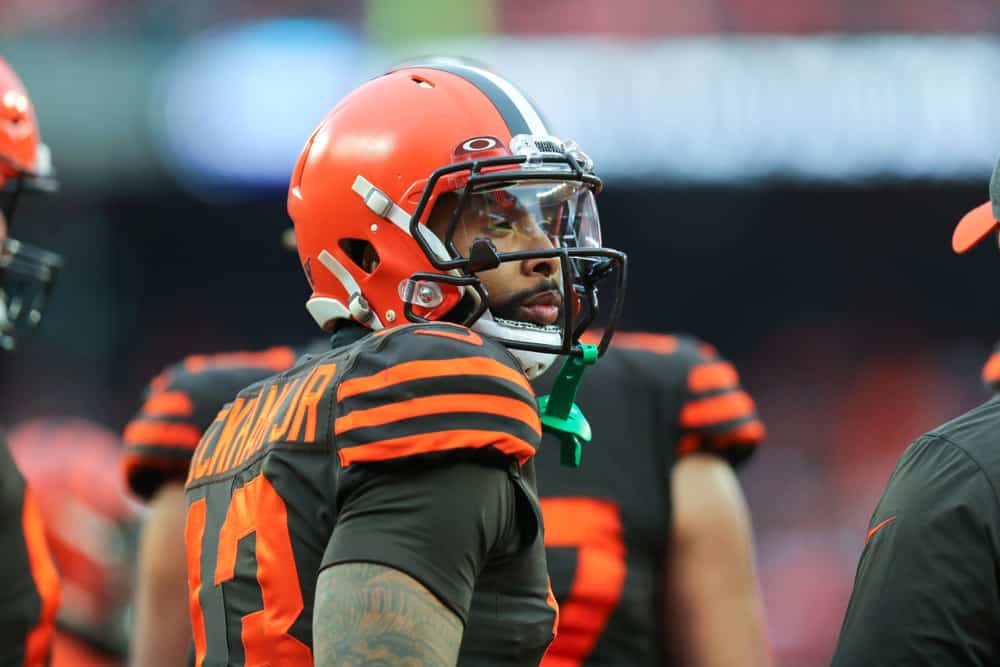 Odell Beckham Jr. has struggled in his first season for the Cleveland Browns.
Through 13 games, he has posted 59 receptions for 844 yards and 2 touchdowns on 108 receptions.
He played fewer than 13 games in both 2014 and 2018, but posted significantly better numbers in those games.
Beckham also played only four games in 2017, but he posted one more touchdown on only 41 targets that season.
He has made the playoffs only once in his career, losing in the first round to the Green Bay Packers in 2016.
The Cleveland Browns haven't technically been eliminated from playoff contention at this point in 2019, but their odds of playing in the postseason are low.
The lack of production with playoffs hopes dwindling could be weighing heavily on Beckham in his first season with his new team.
Jay Glazer of FOX reported that Beckham was telling opposing players to "come get him," stating that he wants out of Cleveland.
Fuel was added to the fire when he declined to comment on the situation.
"I'm not going to talk about any offseason stuff that's going on,'' Beckham stated, per Cleveland.com. "Right now the focus is to win, 1-0, and that's what we did today. Any other questions about it I'm not going to answer.''
He added, "I'm used to it. I've been dealing with this for three or four years. It's the same thing that's going on, not anything that I can't handle'' when discussing recurring stories about his future.
With all of that being said, Beckham went out of his way to get his teammates gifts for Christmas.
He bought each player a pair of his new Nike Air Max 720 shoes.
#Browns Joe Schobert said Odell Beckham Jr. gifted the entire team with his new Nike Air Max 720 shoes today

— Mary Kay Cabot (@MaryKayCabot) December 9, 2019
The @OBJ Nike Air Max 720 "Young King of the People" releases September 8 for $200. pic.twitter.com/bwxvOQ1zhm

— B/R Kicks (@brkicks) September 1, 2019
This doesn't truly sound like the actions of a player that is trying to or anticipating leaving his teammates after the season.
Beckham is a player that always seems to be in the headlines for differing reasons.
The truth likely lies in the middle of what he is saying and what's being reported.
Beckham is an alpha-receiver that demands the ball and success.
His frustrations likely stem from a lack of production.
On top of him struggling on a base level, Beckham has produced on two touchdowns in 2019.
He has been one of the least successful red-zone targets for Cleveland after finding plenty of success through the first five years of his career.
Cleveland fans shouldn't be worried at this point, as the star receiver has yet to state any true frustrations with the team rather than potentially being frustrated with his lack of production.
If the Browns can finish the season strong, there will likely be no lingering issues heading into the 2020 season.