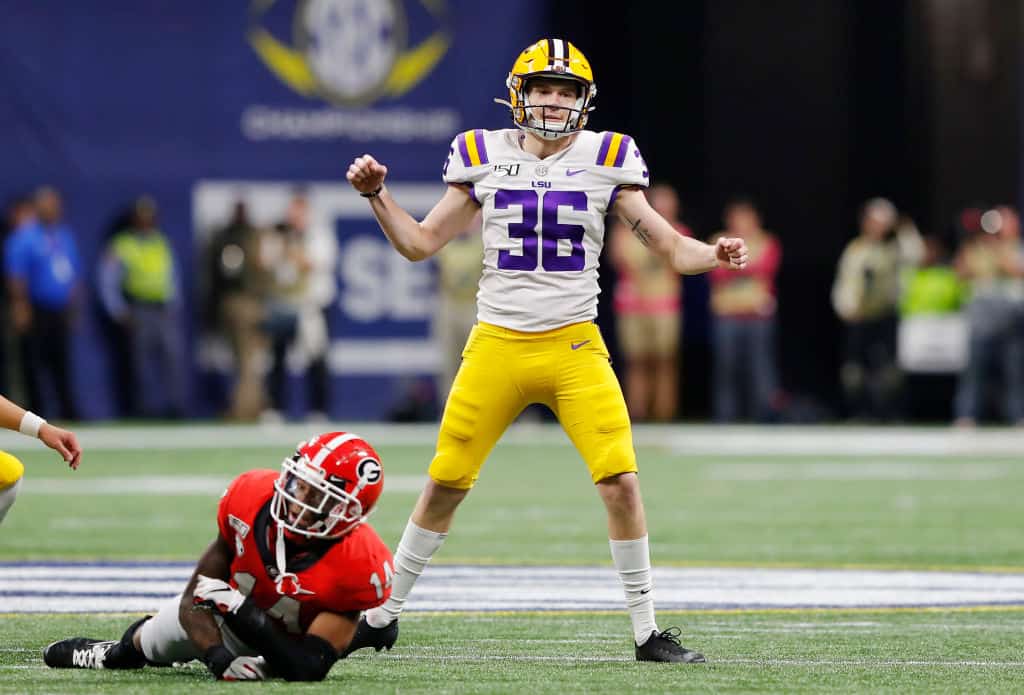 In case you haven't heard the outstanding news, the Cleveland Browns drafted a kicker this weekend.
🚨CADE YORK IS A CLEVELAND BROWN🚨

91.4 field goal/extra point grade in 2021 (🥈 among all FBS kickers) pic.twitter.com/tcRKLHxq5j

— PFF CLE Browns (@PFF_Browns) April 30, 2022
A franchise kicker has been a missing piece of the arsenal since the Phil Dawson era a decade ago.
LSU's Cade York seems like the perfect choice for the Browns and for this moment.
#Browns have waived kickers Chase McLaughlin and Chris Blewitt

Sounds like Cade York has the job without a competition.

— Matt Fontana (@MattFontana83) May 2, 2022
Many people believe this but especially his college coach, former LSU special teams coordinator, Greg McMahon.
McMahon, who retired after the 2021 season, cannot get done extolling the praises of York.
What McMahon Said
The Browns, especially special teams coordinator Mike Priefer, did a lot of background work on York.
In addition to Priefer watching film with York at the NFL Combine in early March, he talked to McMahon about York.
It is worth noting that McMahon and Priefer have a long relationship because McMahon worked with Priefer's father Chuck.
The advice #Browns special teams coordinator Mike Priefer received about LSU kicker Cade York from a coach he's known for roughly 30 years: "Whatever it took … I would draft this guy" https://t.co/tvXTUfIxOV

— Nate Ulrich (@ByNateUlrich) May 2, 2022
"Look, you're family. This is a business decision, and if I were going to go back to the NFL as a coordinator, I would draft [York]. Whatever it took to get this guy, I would draft this guy."
McMahon doubled down on his assessment of York by telling Nate Ulrich:
"This guy's got all the DNA you look for. He's got work ethic. His leg is so dadgum strong. He's got a really strong leg, and he's a guy that can figure things out. If he misses a kick, he'll go look at it, evaluate it and he'll fix it himself. I'm very biased, but I think it's a heck of a pick."
How York Stacks Up In Tough AFC North Kicking Game
McMahon is a fan of Evan McPherson, but he believes York can compete at a high level also.
#Browns announced they released kickers Chase McLaughlin and Chris Blewitt. It's Cade York's job, and his coach at LSU told me yesterday he expects York to hit it off with Phil Dawson as he seeks advice on the weather and stadium on the lakefront https://t.co/292I9u4Eue

— Nate Ulrich (@ByNateUlrich) May 2, 2022
Priefer will likely have Dawson mentor York especially when it comes to mastering the weather and conditions at FirstEnergy Stadium.
Is it too soon to get a Cade York jersey?

— TheMainRyan85 (@TheMainRyan85) May 2, 2022
All this adds up to a lot of special teams' excitement, and a lot of Cade York jersey sales in Cleveland.