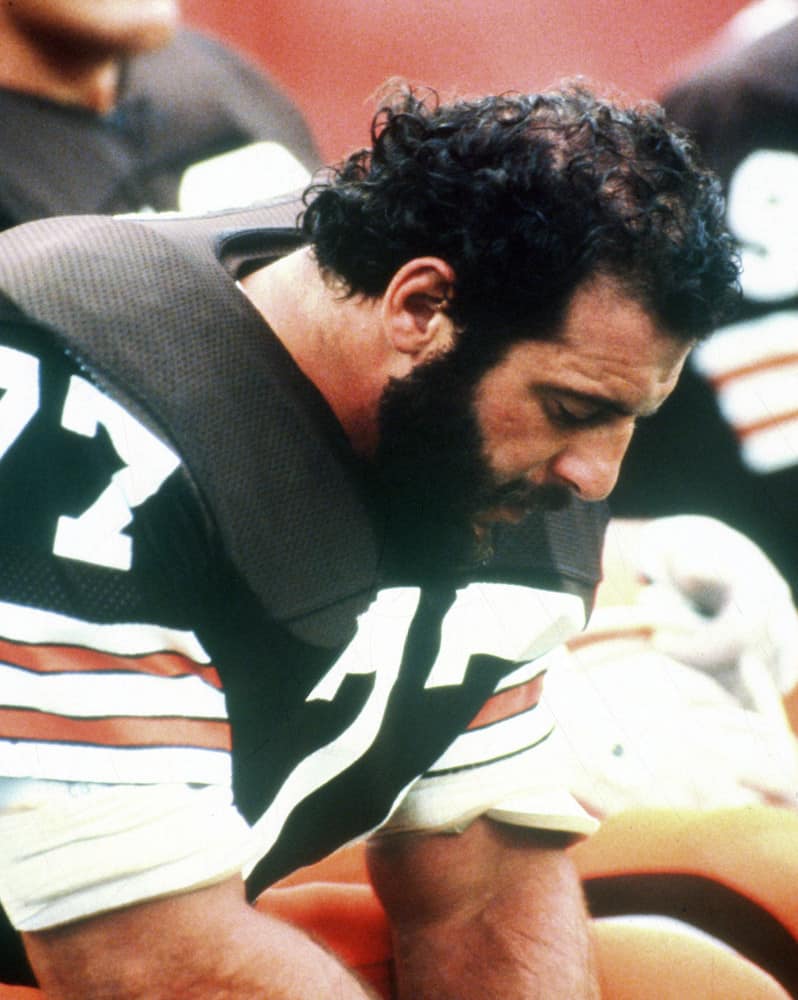 In the history of the NFL there have been many players who's outsized personality was evident both on and off the field.
These players were not only talented and flamboyant on the gridiron, but charismatic and ostentatious away from the game.
They could be found wrecking havoc from their respective position during a game and then be seen in the tabloids living the nightlife and soaking up the glamour of their fame.
When it comes to the Browns, a few such players come to mind.
Cleveland's history is littered with colorful characters who showed up to play week after week.
But in this case, players who made just as many (or more) headlines away from the game as during the game are considered.
One example is Jim Brown.
Brown helped lead the organization to multiple NFL Championship game appearances including the 1965 title.
However, he was also highly visible for decades off the field due to his numerous movie roles and social activism.
Another former Brown to consider for his outlandish personality is Lyle Alzado.
Lyle Alzado of the Cleveland @Browns Source: @Cleveland_PL Sports Research Collection. ca. 1979-1981. pic.twitter.com/PhrueqSVy4

— John Skrtic (@SkrticX) November 16, 2019

From 1979-1981, Alzado played defensive end for the Browns.
He performed well for the team and fit in perfectly as a member of the Kardiac Kids.
His personality not only drove his defensive mates to play better but also drove opponents crazy.
It wasn't until years later that the primary cause of his eccentric personality came to light and how that cause may have led to his sudden passing.
This is a look back at the life, career, and sad death of Lyle Alzado.
From New York to South Dakota
Lyle Martin Alzado was born on April 3, 1949 in Brooklyn, New York.
His upbringing was difficult from the start.
When he was a sophomore in high school, Alzado's father abandoned the family.
He later described his father as a drinker and a street fighter.
To help support his mother and four siblings, Alzado found work where he could.
He also worked hard playing football for Lawrence High School in Cedarhurst, Long Island where the family had moved when Alzado was 10.
Alzado played well enough that he was a Vardon Trophy Candidate for defensive players for three consecutive years.
However, despite his high motor, no colleges came calling for Alzado after his senior year.
Facing very limited options, he headed to Kilgore Junior College in Kilgore, Texas.
After only two years, he was asked to leave the team.
Alzado believed that the reason for his ouster was because he had befriended a black teammate.
From Kilgore, Alzado traveled to the wild frontier of South Dakota.
He played well for Yankton College, an NAIA school, during the next couple seasons but not well enough to get any notice from the NFL.
That all changed after a fortuitous pit stop many miles west.
Yankton College had 9 Rhodes Scholars, notable players including all-pro NFL DE (and actor) Lyle Alzado; the Greyhounds went 158-169-12 all-time and finished 4-5 in their final season. The campus is now Federal Prison Camp, Yankton. pic.twitter.com/jyN3reAs49

— RedditCFB (@RedditCFB) February 3, 2020
Traveling through southwest Montana in 1970, a Denver Broncos scout experienced car trouble and pulled off the road in Butte, Montana, home to Montana Tech.
As his vehicle was being repaired, the scout decided to pass the time by watching game film of Tech.
It just so happened that the opponent on the film he watched was Yankton College.
Prominently featured during numerous plays in the game was Alzado, who frequently disrupted the Tech offense.
Impressed by Alzado's play, the scout sent word back to the Broncos, asking them to consider the long shot during the upcoming draft.
Alzado Becomes a Bronco
During the 4th round of the 1971 NFL Draft, the Broncos looked like they were reaching when they selected Alzado with the 79th overall pick.
Despite playing well for Yankton, almost no one had heard of him, especially due to Yankton's near invisible NAIA affiliation.
After arriving in Denver though, Alzado wasted little time in establishing himself.
According to Alzado himself, he was on a mission during his rookie year to make a name for himself.
"My first year with the Broncos, I was like a maniac," Alzado said. "I outran, outhit, outanythinged everybody."
A big secret at the time was that Alzado was getting a little extra 'help' to make him perform well.
"All along I was taking steroids and I saw that they made me play better and better." Alzado explained years later.
During the 1971 season, Broncos starting defensive end Rich "Tombstone" Jackson went down with an injury and Alzado stepped in.
He dominated immediately making the NFL All-Rookie team after racking up 60 tackles and eight sacks.
Admirably, after his rookie year, Alzado went back to Yankton to finish his B.A. degree in Physical Education.
When he returned for the 1972 season, he continued to terrorize opponents.
That year, he increased both his sack and tackle totals from the previous year with 10.5 and 91 respectively.
By 1974, Alzado had established himself as one of the best defensive ends in the game.
That year he finished with a team record 13 sacks to go along with 80 tackles.
At one point, Alzado had at least one sack in seven straight games.
Recognizing the birthday of Broncos great, Lyle Alzado. RIP. #BroncosCountry pic.twitter.com/0AQCNuYzw7

— DenverBroncos QBClub (@BroncosQBClub) April 3, 2019
However, as Alzado was making a name for himself, both teammates and opponents noticed that he was a bit 'off' during games.
Fellow Bronco defenders frequently found themselves having to pull Alzado away from offensive players after the whistle.
He would work himself into such a lather that he was akin to a crazed maniac on the field.
Tom Jackson, a linebacker for the Broncos (and future ESPN talking head) mentioned years later how it was difficult to figure out the real Alzado.
"I never knew how much of Lyle was Lyle," Jackson said, "and how much of Lyle was steroids."
In 1975, the Broncos moved him to defensive tackle and he responded with 91 tackles and seven more sacks.
On the first play of 1976, Alzado injured his knee and was lost for the year.
Meanwhile, Denver finished the season 9-5, their best record in team history at that point.
Though he was injured, Alzado did make a different kind of contribution to the team that season.
He, along with several other Broncos, voiced their concerns to management that they didn't believe current coach, John Ralston, could lead them to the playoffs.
The Broncos listened and Ralston was replaced with Red Miller.
As it turns out, the move proved to work in Denver's favor. In 1977, the Broncos had their best season ever, finishing 12-2.
In their first playoff appearance in team history, Denver beat Pittsburgh 34-21.
The following week they defeated the Oakland Raiders 20-17 to reach Super Bowl XII.
Who wanted to mess with Lyle Alzado and the Orange Crush Defense? Nobody!! On January 1, 1978, our #Broncos beat the hated Raiders 20-17 thanks to that great defense to send our boys to the first Super Bowl in team history! #orangecrush #BroncosCountry pic.twitter.com/KBdYXnmHBJ

— Broncos Outsider (@BroncosOutside) May 2, 2019
During the game, Alzado and linemate Rubin Carter each had two sacks, becoming the first players in team history with more than one sack in a postseason game.
Unfortunately, even though Alzado played well, the Broncos lost to Dallas 27-10.
After the season, Alzado was voted to his first Pro Bowl, was named a consensus All-Pro and All-AFC, and was named the AFC Defensive Player of the Year by the UPI (United Press International).
In 1978, Alzado had another great year, finishing with 77 tackles, nine sacks, and a safety.
He was also named to his second Pro Bowl and was voted 2nd team All-Pro and was a consensus vote for All-AFC.
Denver returned to the playoffs but lost to the Steelers 33-10 in the Divisional Playoff game.
Alzado Angles for a New Contract and 'Fights' Ali
After eight years in Denver, Alzado believed he should be paid as one of the top defensive linemen in the NFL.
However, he and the Broncos had trouble working out the details of a new contract.
So, during the summer of 1979, Alzado decided to try his hand at professional boxing.
The sport was nothing new to him as he had competed in boxing during his time in Yankton.
In a highly publicized exhibition match in July, Alzado went toe-to-toe with heavyweight champion Muhammad Ali.
During the pre-fight press conference, Alzado and Ali had a little good natured ribbing, with Ali supplying the memorable lines.
"I'm not in shape to fight no Joe Frazier or Foreman," Ali said during the conference . "But I'm in shape for a football player. I've never heard of you before," he told Alzado. "After this fight, you're going to be known all over the world. I'm going to give you a worldwide whipping."
That one time Muhammad Ali fought Lyle Alzado at Mile High Stadium. pic.twitter.com/SO15DNw33n

— Super 70s Sports (@Super70sSports) May 14, 2017
After the exhibition, which media members believe was 'won' by Ali, the Champ gave Alzado a compliment saying Alzado was "…good enough, with some conditioning, to turn pro.
He's got the potential to be a great fighter."
"He's the first man to sack @RealJoeNamath and smack Ali."

Muhammad Ali vs. Lyle Alzado

🎥 https://t.co/hSduie27SO pic.twitter.com/jnZ1Gpz9vr

— The Checkdown (@thecheckdown) June 6, 2016
Weeks later, during Broncos training camp, Alzado decided he was through squabbling with Denver management for a new contract and walked out of camp.
The team responded by trading him to Cleveland for draft picks.

The Kardiac Kids
Alzado arrived in Cleveland with much fanfare.
He was joining a franchise that had recently fallen on difficult times (by team standards).
After appearing in numerous postseasons since their founding, Cleveland had not sniffed the playoffs in six years when Alzado arrived in 1979.
That would soon change, however.
Upon the completion of his first year as a Brown, where he had 80 tackles and seven sacks, Alzado was again named 2nd team All-AFC and the team went 9-7.
Alzado's character also surprised his new teammates in both positive and negative ways.
Soon after arriving in Cleveland, he volunteered to switch from left defensive end to the right side to fill a team need.
He also offered to be the team's go-to media source and frequently challenged his teammates to give their maximum effort all the time.
I know he had issues but Lyle Alzado absolutely contributed to my passion for the Browns…he was fury on the field! pic.twitter.com/YvYk7PjNoy

— Karen Ford (@Karen66Ford) May 14, 2014
On the flip side, just as he had done in Denver, Alzado's teammates witnessed his violent temper and quick mood swings.
While with the Browns, Alzado's wife called police on numerous occasions to report a domestic violence issue.
Then, there were reports of Alzado neglecting his son.
Those who knew Alzado's story of his father's lack of accountability and parenting skills could see the cycle repeating itself in the way he treated his own son.
This behavior actually ran counter to his frequent work with charities that involved youth.
Many Cleveland teammates later said they had no idea Alzado was a habitual steroid user.
Although, Alzado admitted after his career ended that he delivered performance enhancers to a few Browns teammates, who discretely took them at their homes.
Despite his inconsistent behavior, the team continued on.
In 1980, the Kardiac Kids, along with Alzado, put the Cleveland faithful through the wringer.
During the season, the team came back (or just held on) to win several games in the last few minutes.
The Browns wrapped up the year 11-5 and faced off against the Raiders in the Divisional Playoffs.
Agonizingly, Cleveland lost the game on the infamous "Red Right 88" play.
Browns Lyle Alzado vs #HOF OT Art Shell ("Red Right 88" 1980 AFC Divisional Playoff Game) pic.twitter.com/BbhHQZTfFU

— AFL GODFATHER (@NFLMAVERICK) January 4, 2017
For his part, Alzado did well in '80, picking up All-Pro and All-AFC honors to go with his team leading nine sacks.
In 1981, Alzado had 83 tackles and again led the team with 8.5 sacks.
That season, the Kardiac Kids magic ended and the team fell to 5-11.
After the season, in a move to cut high dollar contracts, Cleveland traded Alzado to the Raiders in exchange for a draft pick.
Alzado, Fittingly, Becomes a Raider
Given his personality, the move to Los Angeles and the Raiders proved to be a perfect marriage for Alzado.
The Raiders had long cultivated a renegade personality due to former owner Al Davis' own personality.
Alzado and his antics fit right in with the ragtag outfit.
Lyle Alzado walking off the field. I assume this is a pregame shot because his uniform doesn't look too dirty. #RaiderNation pic.twitter.com/JNZvdlBKG9

— Raiders History (@Oaklraiders1976) April 14, 2020
In 1982, he led the team with seven sacks and 30 tackles.
He was named NFL Comeback Player of the Year and was also selected as an All-AFC defender for the fourth time.
However, during a game that season against the Jets, Alzado became enraged during a play, ripped the helmet off New York tackle Chris Ward, and threw it across the field.
The NFL reacted by creating a rule against throwing helmets during game play. (A rule broken years later by the Browns Myles Garrett).
Lyle Alzado was a pioneer when it came to helmet related violence. He forced the league to outlaw (automatic ejection) using another players helmet as a weapon after a 1982 Divisional playoff game, where he ripped the helmet off of Jets, Chris Ward, and throwing it at him. pic.twitter.com/sRhqFHB5EO

— 𝙃𝙚𝙡𝙢𝙚𝙩 𝘼𝙙𝙙𝙞𝙘𝙩 (@HelmetAddict) November 15, 2019
During the strike shortened 1982 season, LA tore through the competition, ending the year at 8-1 and facing off against Cleveland in the playoffs.
Alzado's former team had made the playoffs despite a 4-5 record.
After a close first half saw the score tied 10-10 at halftime, the Raiders ran away in the second half, winning 27-10.
The following week their season ended with a 17-14 loss to the Jets.
In 1983, the Raiders were once again one of the NFL's best teams.
That year the franchise finished 12-4. Alzado had seven sacks and 50 tackles during the season.
In the Divisional Playoffs, the Raiders whipped the Steelers 38-10 and then took down Seattle 30-14 in the AFC Championship game.
The victory put Alzado in his second Super Bowl.
#Raiders Lyle Alzado with a middle finger salute at Super Bowl XVIII practice
(January 17, 1984) pic.twitter.com/iu6nHSixdB

— AFL GODFATHER (@NFLMAVERICK) January 17, 2020
This time, his team would prevail as LA completely dismantled the Redskins 38-9.
For the 1984 campaign, Alzado picked up 63 tackles and six sacks while the Raiders went 11-5 and lost in the Wild Card round to the Seahawks 13-7.
The following season, Alzado was injured during the year and could only muster 31 tackles and three sacks.
Sensing it was time, he decided to call it quits after 15 years in the league.
Film Roles
During his time in the NFL, Alzado had made a name for himself for his wild personality.
He was outspoken and violent on the field and, though he was considered kind and caring away from the game, he could still be intimidating in person.
Observing him from afar, Hollywood came calling shortly after Alzado retired.
Lyle Alzado (1949-92) the epitome of the 1980s. pic.twitter.com/VeC6oPtQAY

— RedditCFB (@RedditCFB) February 3, 2020
Typecasting him mainly as a thug, tough guy, and bully, Alzado appeared in at least 15 movies.
Most of the films were forgettable with such titles as "Ernest Goes to Camp" in 1987, "The Destroyer" in 1988, "Club Fed" in 1990, and "Neon City" in 1991.
His characters on film reminded many NFL fans of his playing style, which ESPN called "violent" and "combative."
Lyle Alzado is the DESTROYER! pic.twitter.com/rLZXXYM6Mg

— FLASHBACKDAILY (@FlashbackDaily) May 28, 2016
Alzado Openly Admits to Steroid Use
In 1990, after five years away from the game, Alzado tried to come back with the Raiders.
However, that was short-lived as he suffered a knee injury during training camp and was waived after playing in only one preseason game.
A year later, during the wedding to his fourth wife, onlookers noticed Alzado had trouble walking.
Not long after the wedding, he decided to tell the world about his long time steroid use and current health condition.
In a memorable July 1991 story with Sports Illustrated, the magazine displayed a picture on the cover showing Alzado.
In the picture, his face looks tired and worn under a black bandana with red skulls.
The title next to Alzado's face simply says, 'I Lied.'
The Lyle Alzado Sports Illustrated cover was a big flashpoint in the hysteria about steroids. Three decades later, there is zero evidence that steroids cause brain cancer and no epidemic of brain cancer among bodybuilders, NFL players, powerlifters, etc. https://t.co/x9RhXHah7i

— Michael David Smith (@MichaelDavSmith) April 10, 2019
In the story, which he wrote, Alzado explained to the world that he began taking steroids while playing for Yankton.
He continued to take the drug even after he was retired.
"It was addicting, mentally addicting," Alzado wrote of his steroid use. "I just didn't feel strong unless I was taking something."
The story continued with Alzado admitting that his steroid use wasn't worth it.
He had gained fame and fortune, but he was now frail and weak.
The drug made him prone to wild bouts of behavior and led to three failed marriages.
In the article, he also revealed he had an inoperable brain tumor.
Although he believed the tumor might have been a result of the steroids, medical professionals did not necessarily agree.
His doctor at the time, Dr. Thomas DeLoughery explained later that there were no known cases of steroids causing a brain tumor such as Alzado's.
However, he did say that steroids can lead to other cancer types.
"I can't say conclusively one way or the other," DeLoughery said. "But this should really cause people to look at other people who have used anabolics and see what strange effects do occur. People have not been as honest as Mr. Alzado and … there's a gap in our knowledge. I don't think anybody knows what those high doses and combinations do over a period of time," said Deloughery, referring to the amount of steroids the former Raider admitted taking. "It was a very unusual tumor."
Though the cancer briefly went into remission after aggressive chemotherapy and radiation treatments, Alzado eventually succumbed to cancer on May 14, 1992.
The contrast of his short life was stark.
Big and imposing during his career, the last year of his life left him small and fragile.
Alzado made great contributions to his Denver, Cleveland, and LA teams, but his greatest contribution came in his final months.
It was during this time that he became a forerunner for athletes advocating against performance-enhancing drugs, warning future athletes of their great cost.
"It wasn't worth it," Alzado wrote in the Sports Illustrated article. "If you're on steroids or human growth hormone, stop. I should have."