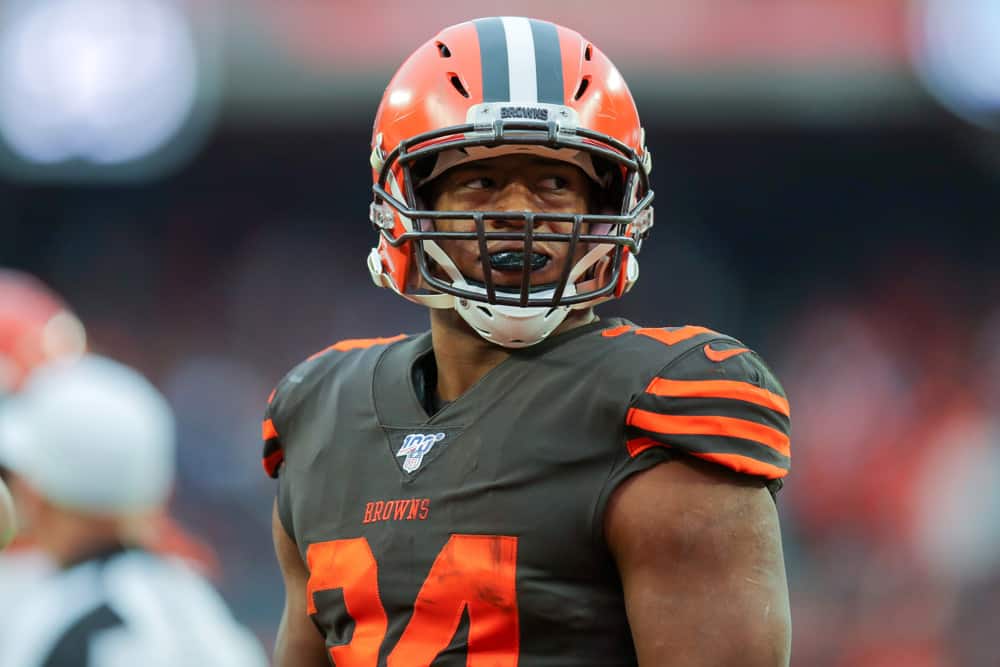 Cleveland Browns fans are not the only people appreciating RB Nick Chubb's talent and superb start to the 2020 season.
EA Sports, the developers of Madden 21, ranked Nick Chubb in a 2nd place tie prior to yesterday's Week 3 game against Washington.
At a rating of 93 points, he was tied with Tennessee's Derrick Henry for the second spot.
Carolina's Christian McCaffrey is tied for the top spot with 99 points.
Browns Madden 21 Rankings
Rankings range from as high as 99 points to a low of 23 points.
Browns, Besides Chubb, Ranked In the 90s
Prior to Week 3, Myles Garrett was the highest-ranked Brown with 94 points.
That is an increase of 1 point from the beginning of the season.
The only other Brown ranked in the 90s is WR Odell Beckham Jr. with 91 points.
Other Key Browns Rankings
Austin Hooper TE has 87 points.
Kareem Hunt RB also has 87 points.
Joel Bitonio LG has 86 points.
The top-graded #Browns on offense and defense in their big win over Washington on Sunday:

Joel Bitonio – 80.1
Myles Garrett – 90.1 pic.twitter.com/XbXB5TElWu

— PFF CLE Browns (@PFF_Browns) September 28, 2020
Jarvis Landry WR has 85 points.
Both Olivier Vernon DE and Sheldon Richardson DT have 82 points.
QB Baker Mayfield just missed the 80 point rankings with 78 points.
Week 3 Performances
As mentioned, Nick Chubb's ranking will likely increase after yesterday's stellar performance.
Nick Chubb is the best RB in the NFL! pic.twitter.com/W33d4CHhUJ

— Steven Hart (@shartdad) September 28, 2020
Myles Garrett created a turnover (fumble) so his may go up also.
Kareem Hunt and Baker Mayfield had solid days as well so their rankings are likely to increase.
Method Behind Madden Ranking Madness
Let's just say it is highly scientific.
There are master equations, linear models, and intercepts that interpret a player's stats and spit out rankings.
It's safe to say that if the player is performing well on Sunday in real games, he will see a ratings spike in Madden when the rankings are recalculated.