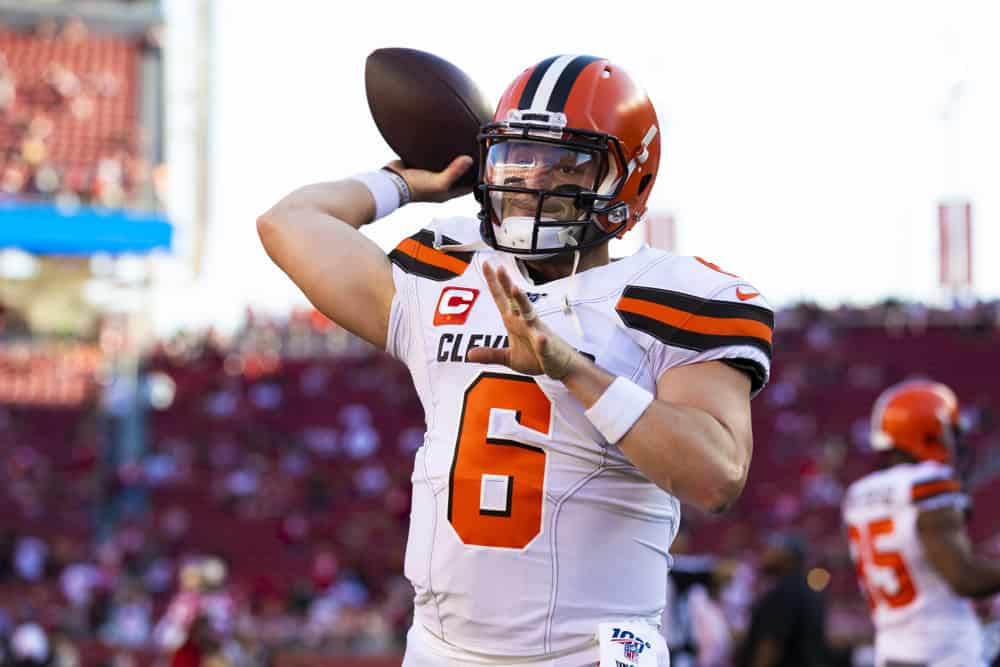 Cleveland Browns quarterback Baker Mayfield's first three seasons in the NFL resemble those of an NFL legend and Hall of Famer.
That legend is Dan Marino.
Before we go any further, this is a purely statistical analysis in three areas, but the numbers do not lie.
No one knows the trajectory of Mayfield's career will take and how it could compare to Marino's from the fourth year and beyond.
In their first 3 seasons, only two players in NFL history have at least 11k pass yds, 75 pass TD, and an 89 passer rating:

Baker Mayfield
Dan Marino

It's been a HISTORIC start to Baker's career. pic.twitter.com/yTlhEL6BgC

— CBS Sports HQ (@CBSSportsHQ) May 31, 2021
The Statistics
As the Tweet indicates, Marino and Mayfield share common statistics in the areas of passing touchdowns, passing yards, and passer rating.
Marino edges Mayfield in touchdown passes; he had 98 to Mayfield's 75.
In terms of passing yards, Marino had 11,431, and Mayfield was close behind with 11,115.
The biggest variance between the two is in passer rating.
While both are above 89, Marino's rating was 96.37 compared to Mayfield's 89.11.
What Does It Mean?
Being compared to Dan Marino when it comes to passing is a compliment for any NFL quarterback.
However, Marino goes down as one of the greatest quarterbacks of all time who never won a Super Bowl.
His sole opportunity was in his second season.
Marino would likely forfeit some of the individual accolades for a Super Bowl victory.
What Does Mayfield Need To Do?
Media "Baker Mayfield isn't clutch"

Baker Mayfield:pic.twitter.com/nZCOEOd4Lv

— TheyGotTheHomieSpongeBob (@camfromthe216) May 30, 2021
Mayfield needs to continue showing improvement.
He had a great 2020, threw a better ball (in most cases), and did not make as many bad decisions that translated into interceptions.
His footwork also seemed more fluid which could be attributed to offensive coordinator Alex Van Pelt's tutelage.
He needs to get even more accurate, including less overthrown passes, and get rid of the ball quicker.
There is no reason Mayfield's improvement will not continue.
He finally has the stability of a consistent coaching staff and playbook carrying over from last season.
That's never happened to him before during his NFL career, and the significance of that consistency cannot be overstated.
In the end, it will come down to wins and losses and how the Browns fare in their quest for the postseason.
Those will be the more measurable factors on Mayfield's record.