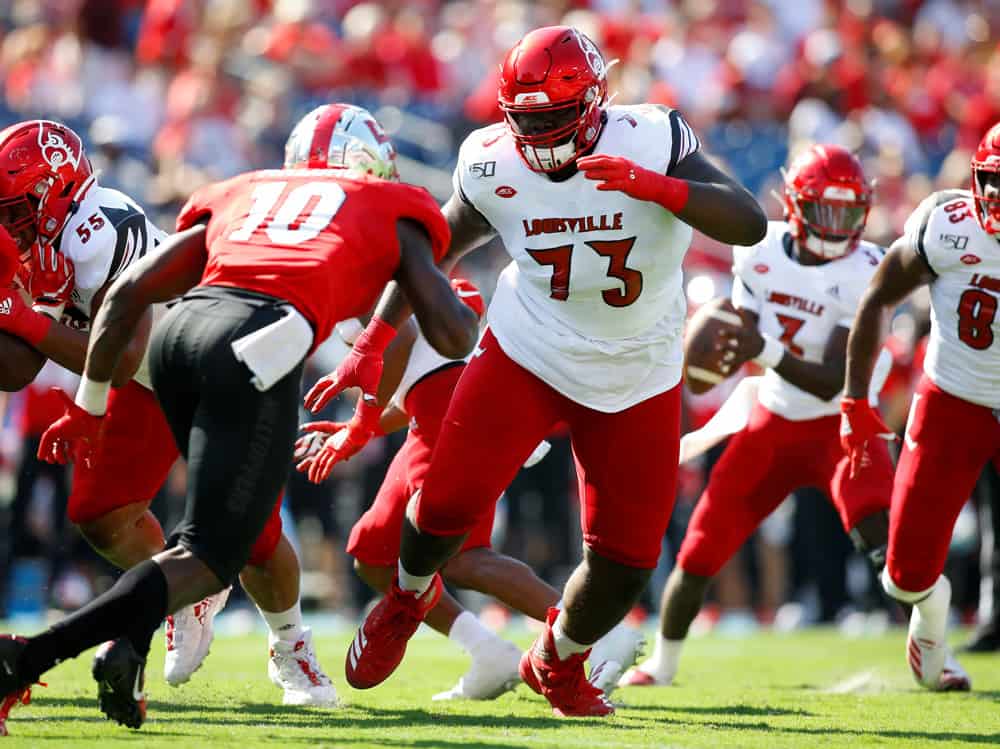 With the NFL Combine right around the corner, many analysts are already giving their thoughts and projections about draft prospects.
The Cleveland Browns hold the 10th pick in the draft and many have been speculating about what player or position should be drafted.
ESPN's draft analyst Mel Kiper Jr. recently released his updated mock draft projections for 2020.
His choice for the Browns?
He has them taking one of the top tackle prospects in Mekhi Becton from Louisville at pick 10.
Kiper also projected Becton to the Browns in his earlier mock draft.
Here's what he had to say about his projection:
This one is easy: I'm sticking with my pick, because the Browns' need at left tackle is so obvious. The 6-7, 370-pound Becton can be an immediate starter on Baker Mayfield's blind side, and he'll be a beast in the running game in front of Nick Chubb.
Becton would be a great choice in a draft that is loaded with talent on the offensive line.
Here's what our writer Ben Donahue had to say about Becton:
Mekhi Becton is absolutely huge! He takes up space with his wide body and arm reach.

Becton is currently listed at 6'7″and 369 pounds. Some pro scouts note he may have to lose weight in the NFL.

Becton started 12 games as a sophomore in 2018 and started 11 games this year. Becton was versatile during his time at Louisville, playing at both tackle spots.

NFL teams have said that Becton's draft stock could rise considerably during the draft process. Particularly, the combine and Becton's Louisville pro day could have a huge impact in his draft placement.

As of now, there are plenty that scouts love about Becton. For starters, when Becton gets a good jump off the ball,edge rushers struggle to get around him.

Scouts also rave about Becton's hand placement and initial punch. Becton's strength, along with his punch and reach keep defenders off balance.

Scouts do note that Becton has some consistency issues. For instance, watching film of Becton, one can see he struggles to recover if he is beat initially.

Also, if he mistimes his punch, he can get beat at the point of attack. Leading up to the draft, NFL teams will be watching closely to see if these shortcomings can be fixed.
One of the biggest risers on my latest 2020 #NFLDraft big board was Louisville OT Mekhi Becton (6-7, 360) – my 25th ranked player. Strength, size, and underrated athleticism for days.pic.twitter.com/6mc03wbWqi

— Jordan Reid (@JReidNFL) January 11, 2020