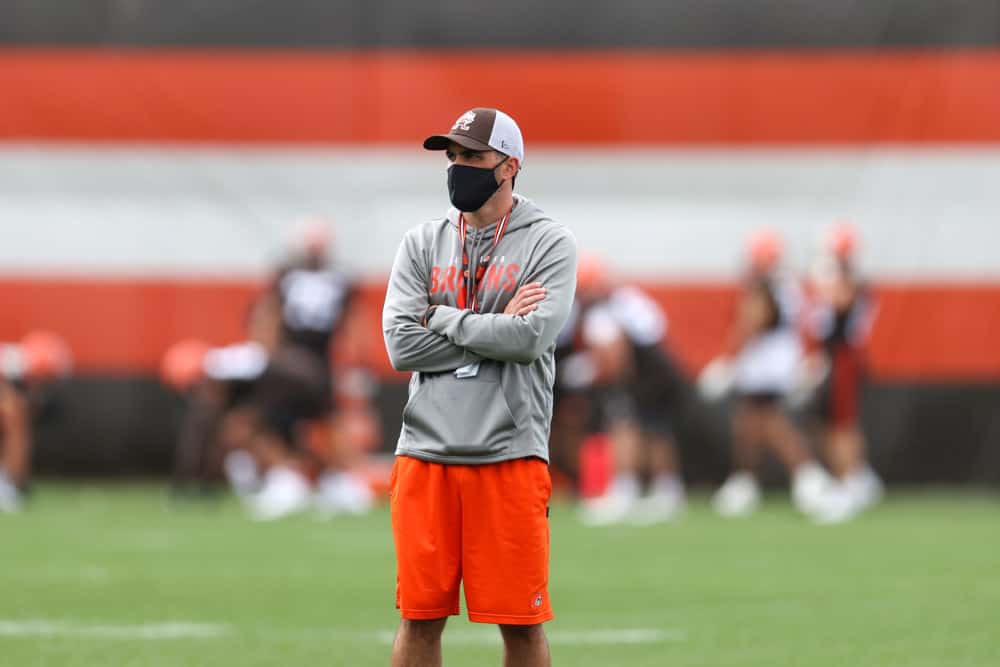 As the Cleveland Browns prepare to play their first playoff game in nearly two decades, much of the week's discussion has been about Kevin Stefanski.
Earlier this week, Stefanski tested positive for COVID-19, taking away the Browns' head coach and playcaller for Sunday's game.
Many have argued that Stefanski should be still be allowed to coach and call plays for the team electronically.
I don't understand why Kevin Stefanski can't get in his car by himself, drive 2 hours to Pittsburgh, go directly to an empty press box, wipe down his headset and equipment afterwards, and then drive home #Browns #NFL

— Doug Fox (@foxdr4) January 7, 2021
But, the NFL rules do not allow any type of remote electronic devices during a game.
ESPN analyst Mina Kimes has a message for the NFL in regards to Sunday's Browns and Steelers game.
She pointed out in a recent episode of 'Around the Horn,' that the NFL goal should be to have 'the best game while maintaining competitive fairness and safety.'
"I think they can accomplish all that, while letting Stefanski coach." she said.

"The NFL's rationale for not letting him do so is precedent," Kimes said. "They decided before the season they were going to maintain the rules. But with all due respect to the rules, it's 2021. Precedent is kind of a ridiculous concept."

"I'm looking at you through an IPad at my house, rules are meant to be broken right now."
Let common sense prevail: the NFL should allow Kevin Stefanski to call plays on Sunday. @AroundtheHorn pic.twitter.com/TWCPFqZ7JG

— Mina Kimes (@minakimes) January 7, 2021
Kimes goes on to say that she even thinks Steelers coach Mike Tomlin would agree to it, because it would give us the best game possible.
While I think many would agree with Kimes, the NFL likely will not alter it's rules, especially this late in the season.
The Browns are set to face the Steelers this Sunday night at 8:15 ET on NBC at Heinz Field.