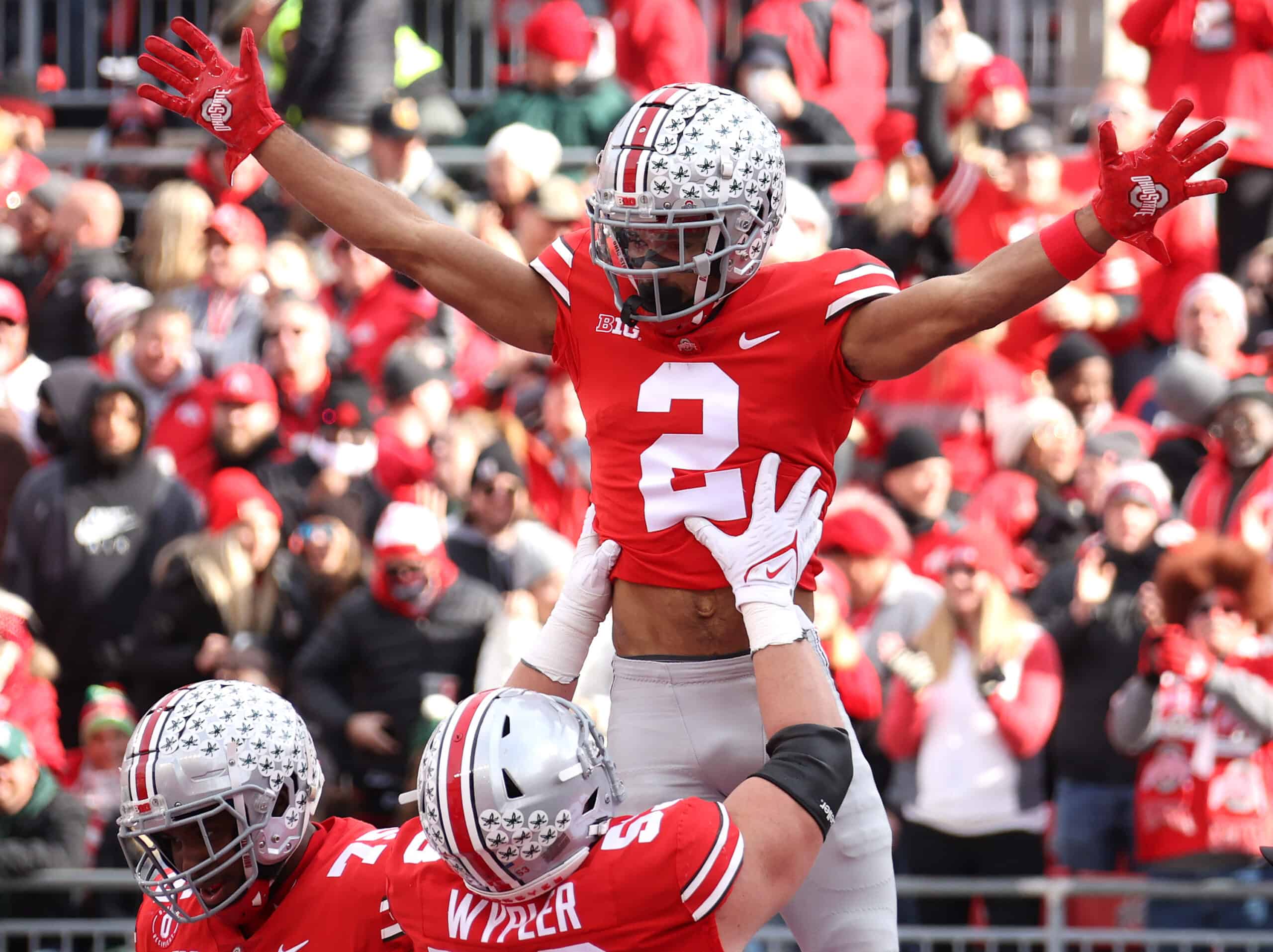 It's already that time of the year to begin thinking about the upcoming NFL Draft.
Currently, the Cleveland Browns have the 13th overall selection in the upcoming draft.
Last year, the organization decided to go heavy on the defensive side of the ball.
They selected defensive back Greg Newsome and linebacker Jeremiah Owusu-Koramoah with their first two selections.
Both players were able to immediately make an impact on the field for Cleveland.
This time around, the Browns might draft another instant impact player, but it'll be from the offensive side of the ball.
Bringing Him Home
Football fans should prepare themselves for mock drafts to begin popping up everywhere.
Recently, CBS Sports posted a mock draft and have the Browns taking Ohio State wide receiver Chris Olave with the 13th overall pick.
On paper, the Browns might have more serious holes elsewhere, but Olave is not a bad selection at all.
He is an elite route runner who could do some serious damage at the professional level.
Olave is certainly one of the best wideouts in the draft class and it shows when he's on the field.
IT'S TOO EASY FOR CHRIS OLAVE ⚡️

(via @CFBONFOX)pic.twitter.com/bFKtoePV73

— Bleacher Report (@BleacherReport) September 3, 2021
He spent four seasons at Ohio State, but saved his best for last.
In 2021, Olave finished with 65 receptions, 936 receiving yards, and 13 touchdowns in 11 games.
All of those stats were career highs for Olave during his time at Ohio State.
He has the athleticism and speed to be potentially a real threat at the professional level.
The Ohio State product wouldn't even have to leave the state and could quickly become a fan favorite.
A Good Move?
The Browns do lack talent at the wide receiver position heading into the offseason.
Obviously, Pro Bowl wideout Odell Beckham Jr. isn't on the team anymore.
There's a good chance that the Browns decide to part ways with receiver Jarvis Landry as well.
Next season, Landry has a cap hit of $16.5 million, which is a little too high considering his production this season.
Yes, Landry is a solid wide receiver, but might be too much money for the Browns to keep heading into 2022.
That being said, the Browns could be in the market for a receiver or two this offseason.
It'd be a smart idea by the front office to consider taking Olave to help ease their pain at the wideout spot.
He'd be a cheap replacement and under team control with an extremely high ceiling.
He's also someone who could immediately make an impact for the organization.
After drafting Olave, the Browns can focus on using cap space to sign one or two other wide receivers for this roster.
Bringing in Olave doesn't solve the Browns' issues, but it's certainly a strong starting point.