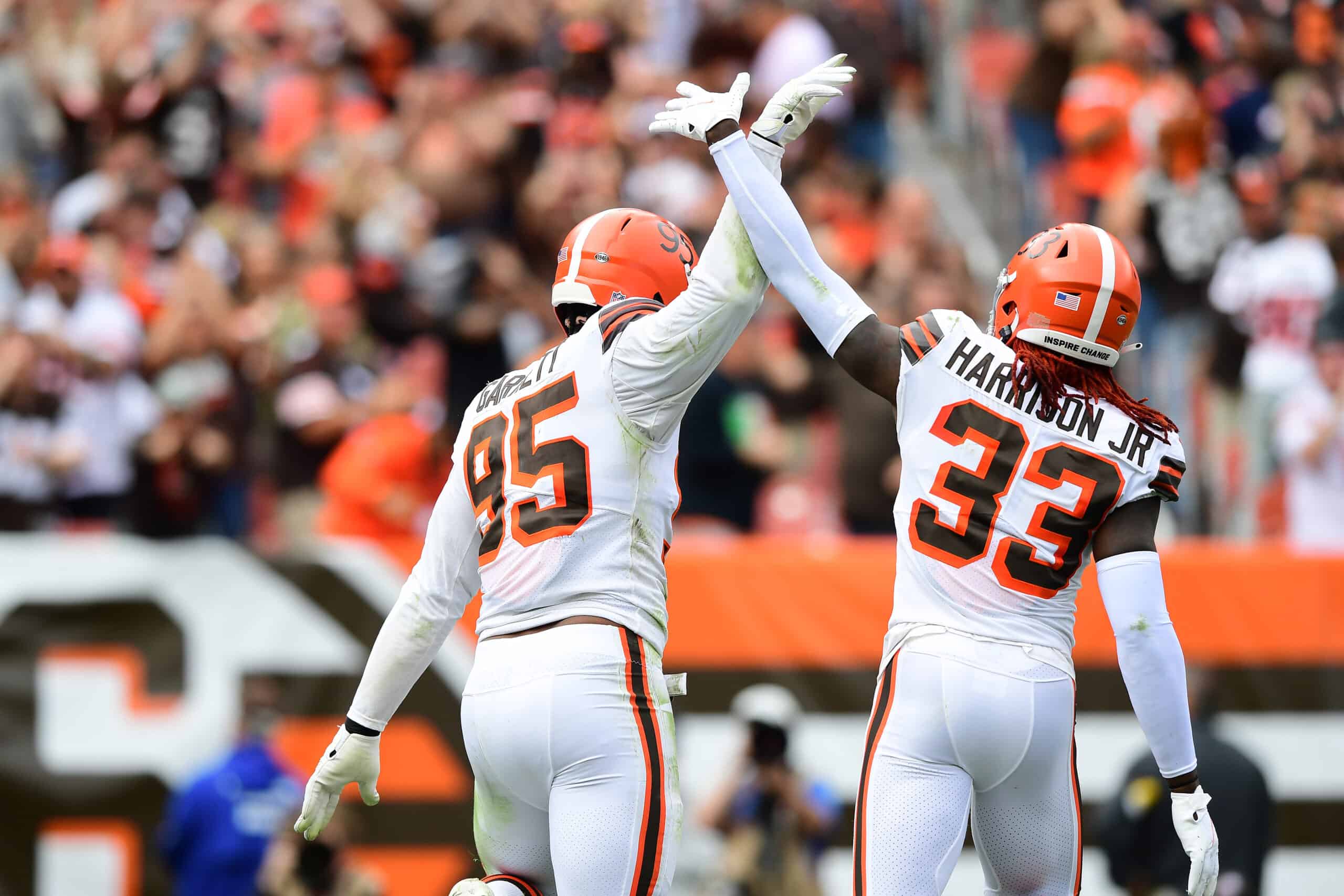 The Cleveland Browns had 8 glorious wins in 2021.
Plenty of arguments can be made that there should have been many more wins than that, but these 8 were fantastic.
It hasn't been that long ago when the Browns won no games or just 1 game per season.
Some of the 2021 wins were more memorable than others.
Here are the 3 best wins for the Browns in 2021.
1. Week 3 – Chicago Bears
This was Bears rookie quarterback (and Ohio State star) Justin Fields return to Ohio.
Myles Garrett made sure it was a memorable day recording 4.5 sacks in the game.
MYLES GARRETT. 4.5 SACKS.

📺: #CHIvsCLE on FOX
📱: NFL app pic.twitter.com/8iqoPoRiWa

— NFL (@NFL) September 26, 2021
Though the Browns were behind 3-0 at the end of the first quarter, they quickly slammed the door on this game in the second quarter by scoring 10 points.
The final score was 26-6.
This was one of the precious few games this season that Nick Chubb and Kareem Hunt both were in the backfield.
Kareem Hunt finds his way for SIX. #Browns

📺: #CHIvsCLE on FOX
📱: NFL app pic.twitter.com/W2MXBTbRZd

— NFL (@NFL) September 26, 2021
Chubb had 84 yards, and Hunt had a combined 155-yard day with a rushing touchdown.
2. Week 9 – Cincinnati Bengals
Coach Stefanski has owned the Cincinnati Bengals.
The 2020 Browns swept them and rolled into Week 9 looking for another victory on Joe Burrow and company's home turf.
Quite possibly this was the best game the Browns played the entire season.
There were highlights in the running and passing games on offense, and Denzel Ward had a huge interception in the red zone that he ran back for a 99-yard touchdown.
DENZEL WARD. 100-YARD PICK-6. #Browns

📺: #CLEvsCIN on CBS
📱: NFL app pic.twitter.com/6YCHI0bBH7

— NFL (@NFL) November 7, 2021
The Browns had all of the answers and ran away with this game with a lopsided score of 41-16.
Nick Chubb had 137 rushing yards with 2 touchdowns, and Donovan Peoples-Jones had 86 yards receiving including a 60-yard touchdown catch.
NICK CHUBB. 70 YARDS. GONE. #Browns

📺: #CLEvsCIN on CBS
📱: NFL app pic.twitter.com/O6OqTQfXvI

— NFL (@NFL) November 7, 2021
David Njoku added a touchdown catch also.
By virtue of the Week 17 win against the Bengals, this is the only AFC North team that the Browns swept in both 2020 and 2021.
3. Week 14 – Baltimore Ravens
The revenge game against the Ravens ended up with a victory.
This was the first victory against the Ravens in the Stefanski era.
Lamar Jackson injured his ankle in this game, but Tyler Huntley came in and did not miss a beat.
The Browns nearly gave us a lead but thankfully managed to hang on.
They were leading at the half by the score of 24-6.
The final score was 24-22.
This was the game that Myles Garrett broke the franchise single-season sack record in spectacular fashion; with a strip sack, fumble recovery, and a touchdown run.
With this sack, Myles Garrett breaks the Browns' franchise season record with 15 sacks this season.

Cleveland still has 4 games left to play 🤯
(via @NFL)pic.twitter.com/45mQM59ger

— Bleacher Report (@BleacherReport) December 12, 2021
There were still question marks about the Browns offense as it was not able to score any second-half points.
The Ravens were beginning to unravel at this point; their last win of the 2021 season was against the Browns in Week 12.
Conclusion
As mentioned above, arguments could be made for other wins.
Most notably, the Week 7 win over Denver.
This was the Thursday night game with Case Keenum and D'Ernest Johnson carrying the load on offense because of Mayfield, Chubb, and Hunt's injuries.
We will never know how many wins the Browns could have collected this season had Keenum relieved an injured Mayfield more than two times.