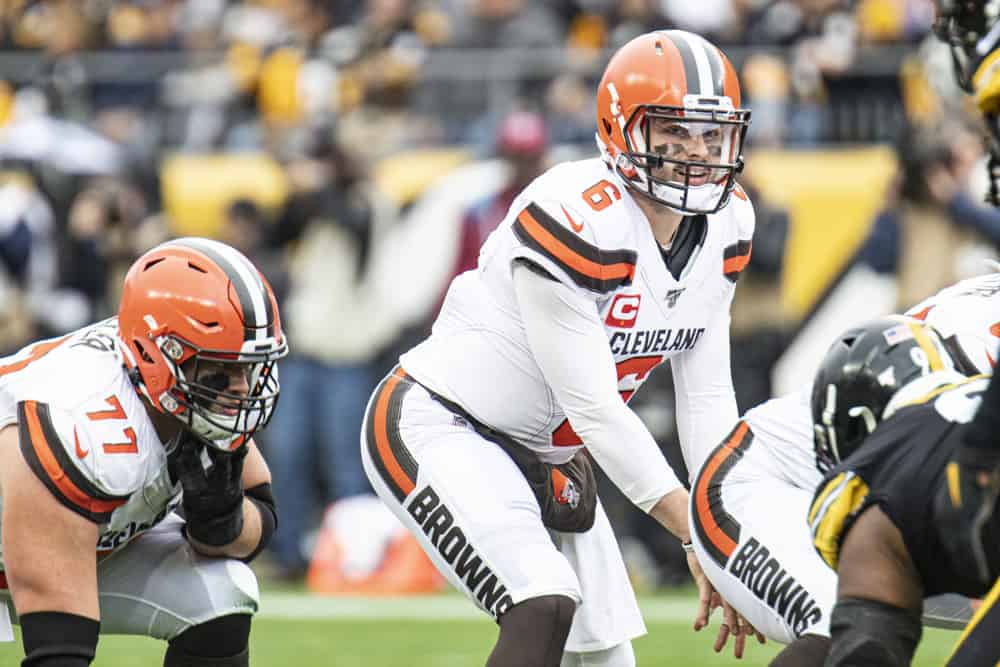 The Cleveland Browns and Pittsburgh Steelers meet Sunday night in the AFC Wild card playoff game.
The Browns will be without Kevin Stefanski, Joel Bitonio, Ronnie Harrison, and KhaDarel Hodge after testing positive for COVID-19.
However, Browns quarterback Baker Mayfield warns everyone to not count out the Browns in the matchup.
"All we wanted was a chance, and we got it," Mayfield said on Zoom. "It wasn't ideal of us having to win the Week 17 game to get in, but we're in. Once you're in the dance, anything can happen. However or whatever it takes to get a 'W' on Sunday night, that's what our team is going to be ready to do.
Let's take a look at our writer's bold predictions for this Sunday's matchup.
Writer: Pat Opperman

Everything is working against the Browns this week.
Covid knocked out our head coach.
Then it knocked out a couple of more players.
When we finally got some key players off the Covid list, it took another to make sure we remained antsy.
To add insult to injury, not a single Steeler was added to the list.
That was despite Kevin Stefanski giving a man-hug to Mike Tomlin.
And Joel Bitonio and Khadarel Hodge must have breathed on somebody during the last game.
No practices had been held as of Thursday evening.
But I figured Baker and the boys figured something out to keep sharp.
Then Mayfield told a reporter he hasn't thrown a ball all week.
There is absolutely nothing that indicates the Browns will be ready to face Pittsburgh by Sunday.
And that is exactly why they will win.
Wilder things have happened on Wild Card Weekend.
Home teams (all favorites) are 4-8 since 2017 and the Steelers only won 3 of their last 8 playoff games.
More significantly, Baker Mayfield and Jarvis Landry said they are determined to win it for Joel.
Why would they lie to me?
Nick Chubb, Kareem Hunt, Myles Garrett, and Denzel Ward will have some say in things, too.
For absolutely no logical reason…
My Prediction: Browns 37, Steelers 31 
Writer: Wendi Oliveros

Way back in Week 1, I can honestly say I didn't think the NFL would make it to Wildcard Weekend.
So the fact that we're here, and the Browns are in it to win it are both surprising facts to me.
Truth be told, the Browns are limping into this game between COVID-19 and injuries.
The #Browns haven't practiced all week. Their head coach has COVID. Their building remains closed. Their QB hasn't thrown a pass since Sunday. And they have a half-dozen starters on the virus list. Otherwise…

— Jake Trotter (@Jake_Trotter) January 7, 2021
But the Jets showed us a few weeks ago that the best team on paper doesn't always win the game.
WR Jarvis Landry doesn't care if this week's COVID restrictions lowers external expectations for the #Browns: "Nobody expected us to make the playoffs, nobody expected us to win 11 games, nobody expected things to be turned around in Cleveland."

— Aditi Kinkhabwala (@AKinkhabwala) January 7, 2021
Yes, the Steelers are still the best team on paper in this game, but the Browns have intangibles.
This team has overcome so much only to lose their head coach before the franchise's first playoff game in 18 years.
The Browns will throw the kitchen sink at the Steelers on Sunday.
I am looking for trick plays, special teams big plays, and some Jarvis Landry throws in this game.
Hopefully some defensive touchdowns will come their way too.
In the end, they will play inspired and win this game for Coach Stefanski and Joel Bitonio.
My Prediction: Browns 31, Steelers 28 
Writer: Jake Luppino

The Cleveland Browns are back in the playoffs for the first time since 2002.
They enter the weekend with the cards stacked against them.
Head coach Kevin Stefanski will not be on the sideline due to testing positive for COVID-19.
Cleveland will also be without offensive linemen Joel Bitonio, who has been a crucial part of the offensive success.
But, what matters is, the Browns are back in the playoffs and will face a team they are quite familiar with.
As Baker said, "once you're in the dance, anything is possible."
Browns Need To Be Aggressive
With or without Stefanski, this is a tough matchup for the Browns.
The Pittsburgh Steelers have one of the best defenses in the league.
They finished the regular season allowing the 3rd fewest yards per game and lead the league in sacks (56).
On top that, Steelers QB Ben Roethlisberger has found profound success against the Browns.
He is 24-2-1 in his career against Cleveland.
Despite all of that, the good news for the Browns is that the pressure is no longer on them.
They are coming into this matchup handicapped with not many expecting them to win.
That means Baker and the rest of this team can play more freely.
An important element of this game will be how aggressive the Browns decide to be.
Going up against one of the better defenses in the league, they will need to score touchdowns in order to win this game.
Meaning, on 4th and short, they cannot be afraid to take risks and go for it.
With all that said, I think the Steelers outlast the Browns in the Wild Card round.
My Prediction: Steelers 27, Browns 17 
Writer: Rocco Nuosci

What a roller coaster this week has been for the Cleveland Browns.
After knocking off the Pittsburgh Steelers in week 17 to earn a Wild Card matchup, things went south. Kevin Stefanski, Joel Bitonio, and others will miss the playoff opener after receiving positive COVID-19 tests.
Browns have placed 17 players on their COVID-19 Reserve list over the last two weeks; ten of those players still remain on the list, including Joel Bitonio and Khadarel Hodge, who were added today. pic.twitter.com/dJ3UzuriV7

— Adam Schefter (@AdamSchefter) January 5, 2021
B.J. Goodson has since been activated off the list, but it's clear the Browns are shorthanded headed into Sunday.
Against All Odds
The Steelers seem to be heavier favorites as the week goes on.
Cleveland knows this game, on the surface, is an uphill battle.
But don't tell the players that.
Adam "The Bull" from 92.3 "The Fan" in Cleveland had an excellent rant this week about how fans should not take a "woe is me mentality".
In case you needed to get psyched up for Sunday, check out what @AdamtheBullFAN had to say. pic.twitter.com/DqcNdKH6ei

— 92.3 The Fan (@923TheFan) January 7, 2021
This team has proven its hunger over the second half of this season.
Even without some of their leaders, they'll be ready to go in Pittsburgh.
Inexperience
Ben Roethlisberger and Mike Tomlin lead a team with postseason experience littered across the roster.
That experience isn't completely absent from Cleveland's sideline, but it's not exactly close to Pittsburgh's.
A crowd-less Heinz Field should help Baker Mayfield and the Browns offense get comfortable as they contend with Cam Heyward and T.J. Watt.
Still, the bright lights may prove too much for some of those experiencing January football for the first time.
My Prediction: Steelers 24, Browns 13
Writer: Ben Donahue
Congratulations to the Cleveland Browns on your first trip to the postseason since 2002 and your first 11 win season since the Bill Belichick era!
Cleveland's 24-22 win over division rival Pittsburgh on Sunday was a belated Christmas gift every long-suffering Browns fan needed.
Next up, the team travels to…Pittsburgh to face the Steelers again.
When you get to write "Browns Playoffs Game 1" in your weekly planner… @Browns pic.twitter.com/4VDl4nJ8PW

— Erika Lauren (@erikalaurenluvs) January 4, 2021
By now, every Browns fan in the world knows that history has repeated itself this year.
When Cleveland last made the playoffs in '02, they faced the Steelers in the Wild Card round.
This weekend will be the same round, same opponent.  Will the game have a similar ending (a 36-33 Cleveland loss)?  Let's examine that.
In Week 6 this season, Cleveland went to Pittsburgh and had their backsides handed to them 38-7.
Without Nick Chubb, who was out with an injury, the Browns offense was picked apart, literally.
The Steelers Minkah Fitzpatrick took a Baker Mayfield pass to the house for a pick six.
Ben Roethlisberger sliced the Browns secondary for two touchdown throws and running backs James Conner and Benny Snell Jr. both had a rushing touchdown.
This past Sunday, the result was much more balanced for Cleveland.
Chubb was back and contributed a huge 47 yard touchdown run and broke the 1,000 yard barrier during the game.
Austin Hooper and Jarvis Landry got in the act with a touchdown each.
Even Cody Parkey did his part and made all his extra points and field goal attempts.
The Browns defense did just enough to keep the Steelers offense in check and the result was a happy day for all in Cleveland.
However, let's address the elephant in the room.  The Week 6 game was against the Steelers 'varsity.'
Sunday's game was against the 'JV' version, mixed in with some starters.
While the Browns prevailed, it was only by two points.
That does not exactly inspire confidence for the playoffs.
Of course, it didn't help that Cleveland had corner Denzel Ward and linebacker Malcolm Smith out due to Covid concerns.
If the team has those two back this weekend, it will certainly help matters.
In fact, having said that, maybe the team should do more team meetings through Zoom than risk any more absences to Covid.
They already have head coach Kevin Stefanski out for the game.
Why risk any more unnecessary absences for such a monumental game?
.@danorlovsky7 tells @BullandFox #Browns have to come out firing, ultra-aggressive to start the game; don't tell me there's not something (NFL) can do to minimize the impact of losing Kevin Stefanskihttps://t.co/lO5lQTqadv pic.twitter.com/ViLpNFY6LT

— 92.3 The Fan (@923TheFan) January 7, 2021
The Steelers began the year with 11 straight wins and then dropped four of their final five games.
What was glaring during this losing streak was Pittsburgh's inability to develop a solid run game and Roethlisberger's age showing.
Big Ben tossed four picks during this stretch and even he admitted he was playing "like poo."
So, what can we expect on Sunday?  Well, the game is in Pittsburgh, where they are 7-1 at home this year.
The Steelers will trot out Roethlisberger, Maurkice Pouncey, David DeCastro, TJ Watt, and Cameron Heyward-all were kept out of Sunday's loss to the Browns.
Cleveland struggled to keep Pittsburgh's D-line in check during the game even though they were facing some backups.
Mayfield was held to 196 yards passing and was sacked four times.
As much as I would love to see Cleveland steal this game from Pittsburgh and tear their hearts out on their own turf, I don't think it will happen.
In order for the Browns to have a chance, they need all their starters to play, open running lanes for Chubb and Kareem Hunt, limit Mayfield's mistakes, and play lights out defense.
Against a full complement of healthy Steelers, I believe Cleveland's season will end on Sunday.
My Prediction: Steelers 28, Browns 21 
Writer: Mark Bergin

Toward the end of the Week 17 game between the Browns and Steelers, Pittsburgh had two defensive starters on the field: Safety Minkah Fitzpatrick and defensive lineman Stephon Tuitt.
Steelers head coach Mike Tomlin decided to sit many of his starters ahead of the game.
It includes quarterback Ben Roethlisberger, center Maurkice Pouncey, outside linebacker T.J. Watt, defensive tackle Cameron Heyward, safety Terrell Edmunds, kicker Chris Boswell, cornerback Joe Haden, tight end Eric Ebron and linebacker Robert Spillane didn't play in Week 17.
Other than Haden, all of those players are due back for the Steelers for the AFC Wild Card matchup against the Browns.
The Browns only won by two points in Week 17 despite being about a 10-point favorite.
If not for a Mason Rudolph overthrow on a two-point conversion, maybe the Steelers would have gone on to win.
The Steelers opened as a four-point favorite before news that Browns head coach Kevin Stefanski tested positive for COVID-19.
The Browns will also be without left guard Joel Bitonio, wide receiver KhaDarel Hodge, safety Ronnie Harrison, tight ends coach Drew Petzig and defensive backs coach Jeff Howard.
Bitonio's absence might impact the Browns most considering the challenges Heyward and Tuitt present opposing offenses.
Plus, the Browns have not held an in-person practice this week through Thursday.
The Steelers are now a six-point favorite, and have one of the NFL's best front sevens even with all of their injuries.
In 2020, the Steelers led the league in sacks (56).
Jan. 5, 2003, marked the last time the Browns played in a playoff game, losing to the Steelers in a 36-33 thriller.
If Sunday night's game comes down to the field goal kickers, Boswell is historically accurate while Browns kicker Cody Parkey has struggled late in the season.
Buckle up if the Browns' season comes down to whether Parkey can make a kick, but I don't think it will be close enough for that to even be a possibility.
My Prediction: Steelers 31, Browns 20