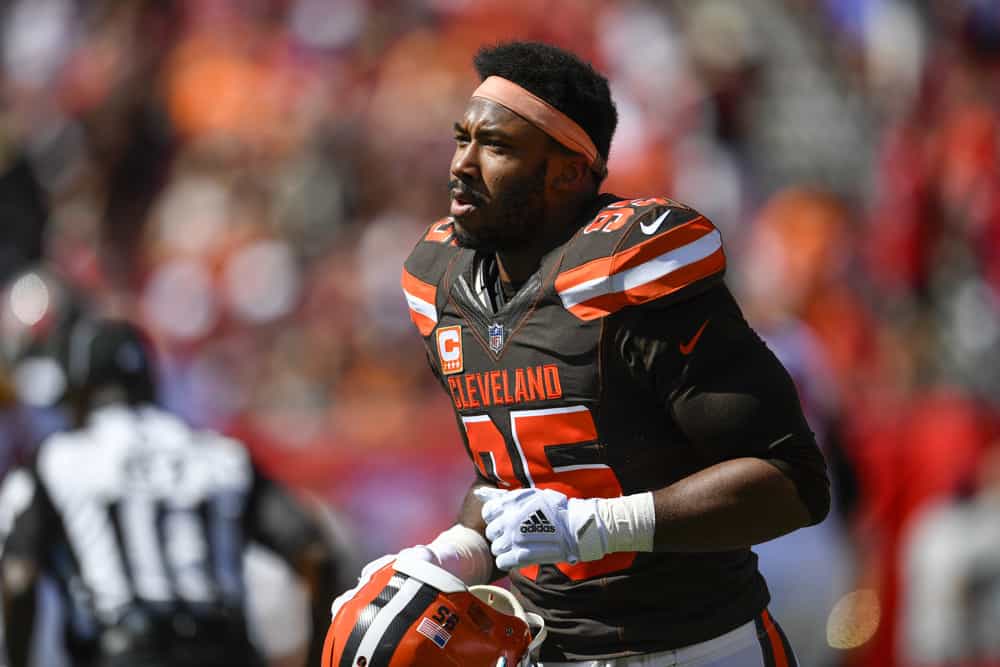 Cleveland Browns DE Myles Garrett was one of many big-named athletes who participated in Von Miller's 4th Annual Pass Rush Summit on Thursday, June 25, 2020.
Garrett has long admired fellow Aggie Von Miller's game and was honored to attend.
As with the 2020 NFL Draft, the NFL figured out a way to make this event happen virtually and even gave it a charitable twist.
This time, the NFL Network lent its technological hand to assist.
Pre-COVID19, Miller hosted the event in a different city each year since 2017.
Retired Falcon and Panthers pass rush specialist Chuck Smith (aka #DrRush) coordinates the event each year.
Last year, it was in Sin City, and on-the-field work happened on UNLV's campus.
Big Cedar Lodge in Missouri was the location in 2018, and the inaugural year's event was at Stanford University.
Besides Garrett, Calais Campbell (Ravens), Cam Jordan (Saints), DeForest Buckner (Colts), and Shaq Barrett (Bucs) were among the attendees.
Awesome learning during the @VonMiller pass rush summit. Thanks @chucksmithnfl and all the other panelist! pic.twitter.com/vHV3GHDdD4

— Defensive Linemen (@DLineclub) June 26, 2020
2020 Virtual Pass Rush Summit Highlights
This year's event was a Zoom meeting that was scheduled to be 1 1/2 hours long.
It ended up running over by 20 minutes.
The event was an intense film study session where peers ask each other questions to understand their on-the-field decision making.
It is not a competitive event; the focus is on each player improving his own skills.
NFL legends who were not pass rushers are sometimes invited to offer perspective from their positions.
This year, Nate Burleson, retired WR and NFL Network anchor, participated.
Because Von Miller tested positive for COVID-19 in April, he used the event as a fundraiser for his charity Von Miller Sacks COVID which seeks to provide 580,000 meals to children facing hunger because of COVID-19's devastating effect on the economy in Miller's home states of Texas and Colorado.
His charity auctions off experiences; one of which allowed people from the general public to watch the event.
700 people, including high school athletes, not only got a chance to see the event, but they also could ask the NFL players questions.
Previous Years' Highlights
This summit adds a great brotherhood & evolution of the Pass Rusher in Football @JimTrotter_NFL it was special, the guys felt it, me too🙏🏽

— Coach Chuck Smith (@chucksmithnfl) June 30, 2017
On-the-field work was a key part of previous years' summits.
Von Miller and Chuck Smith also recruit legends of the game to spill their knowledge.
Doug Flutie attended last year and offered perspective on how to deal with a mobile QB.
Bruce Smith participated in 2018.
DeMarcus Ware lent his expertise in the 2017 event.
A social event usually occurs in conjunction with the traditional day-long event.
In 2018, Miller's dad and brother also participated in the fly fishing segment of the summit.
The Virtual Pass Rush Summit occurred on the same day the NFL cancelled its early August Hall of Fame ceremonies.
2020 candidates will be enshrined with the 2021 class, and the 2020 Hall of Fame game between the Dallas Cowboys and Pittsburgh Steelers is rescheduled for August 5, 2021.
So far, the NFL has averted the delays and shutdowns of other professional sports with the Virtual Draft and to a lesser degree this Virtual Pass Rush Summit.
This is the first blip on the radar that the schedule may not proceed as everyone hopes.