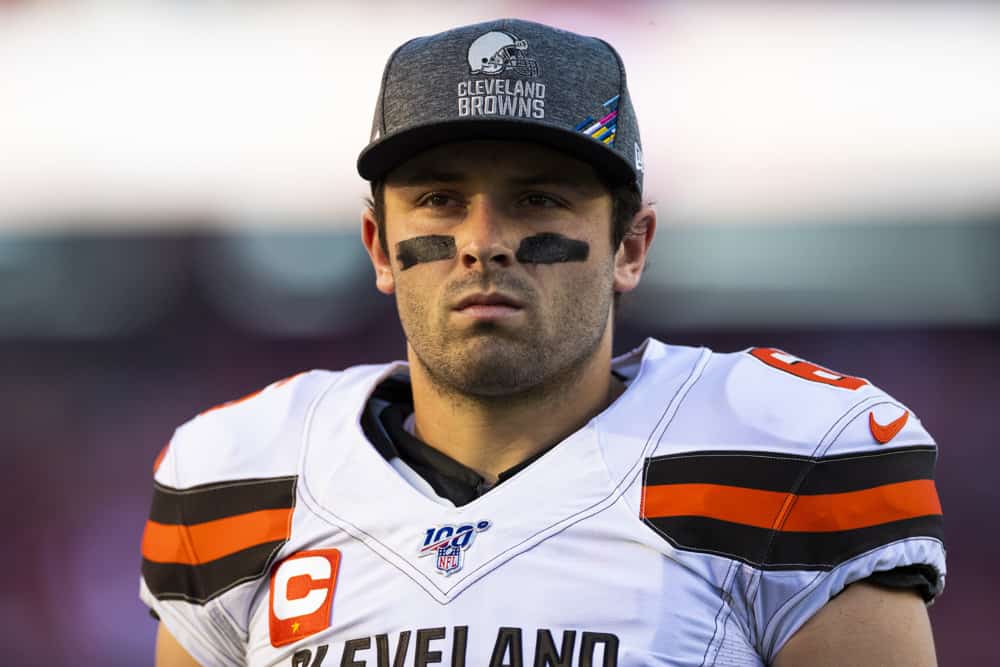 The Cleveland Browns fans have suffered through decades without having a reliable franchise quarterback.
The organization does not exactly have much patience especially over the last decade over so.
ESPN analyst Mike Tannenbaum believes the Browns are going to have quarterback Baker Mayfield on a very short leash in 2020.
"As soon as those picks start, he will be on the sidelines," says Tannenbaum.
.@RealTannenbaum says that Baker Mayfield will be on a "very short leash" this season.

"As soon as those picks start, he will be on the sidelines." pic.twitter.com/6XIPHczsoC

— Get Up (@GetUpESPN) June 26, 2020
The 25-year-old quarterback is coming into an important do-or-die season with Cleveland.
Mayfield will be the starting quarterback to begin the season, but it doesn't sound like Tannenbaum has much faith in the former No. 1 overall pick.
Mayfield's NFL Career
Mayfield kicked off his NFL career with a bang during his rookie season in 2018.
He threw for 3,725 passing yards, 27 touchdowns, and 14 interceptions through 14 games.
It was not a perfect season, but it gave Browns fans hope that Mayfield might actually be a franchise quarterback they could trust.
However, things fell apart for Mayfield and the Browns when former head coach Freddie Kitchens took over in 2019.
Mayfield threw for 3,827 passing yards with 22 touchdowns, but his interceptions rose to 21.
That was the second-most interceptions in the NFL behind Tampa Bay Buccaneers quarterback Jameis Winston who threw 30 picks.
There is still plenty of hope that Mayfield will be able to bounce back under a new head coach and a different scheme.
Kevin Stefanski & Mayfield
The 2020 season will be Kevin Stefanski's first year as an NFL head coach.
He's taking over a team that has a history of bad quarterbacks and has not made the playoffs in 17 years.
The Browns are hopeful that Stefanski's new system and scheme will be able to help turn around the Browns.
That being said, Stefanski also has a tough job of deciding when to pull the plug on Mayfield if he is not able to improve after last season.
"He will have zero compunction to bench Baker Mayfield. Baker won't throw 21 interceptions because when he's on track to do that he'll be standing next to Kevin on the sidelines," says Tannenbaum.
Stefanski mentioned earlier this offseason that he believes Mayfield will be able to bounce back in 2020.
The talent is clearly there for Mayfield, but it is about helping him with his technique and honing his accuracy.
Could Stefanski Really Bench Mayfield?
The Browns did sign veteran quarterback Case Keenum to a three-year deal this offseason.
The 32-year-old quarterback is not a franchise-type quarterback and has already played on six teams during his career.
However, Keenum does have playoff experience and can be a trustworthy quarterback at times when there is enough talent around him.
The Browns are stacked on offense with Odell Beckham and Jarvis Landry both hopefully coming back at full health in 2020.
They've added talent throughout the offseason, so Keenum might be able to be an effective quarterback in this offense if Mayfield fails to improve.
Cleveland wants Mayfield to be their franchise quarterback and it is going to take some time to get familiar with a brand new scheme.
Mayfield would really have to dig himself into a big hole next season in order to find himself on the bench.
Stefanski and Mayfield already seem to be getting along, but we'll see what happens during the season.