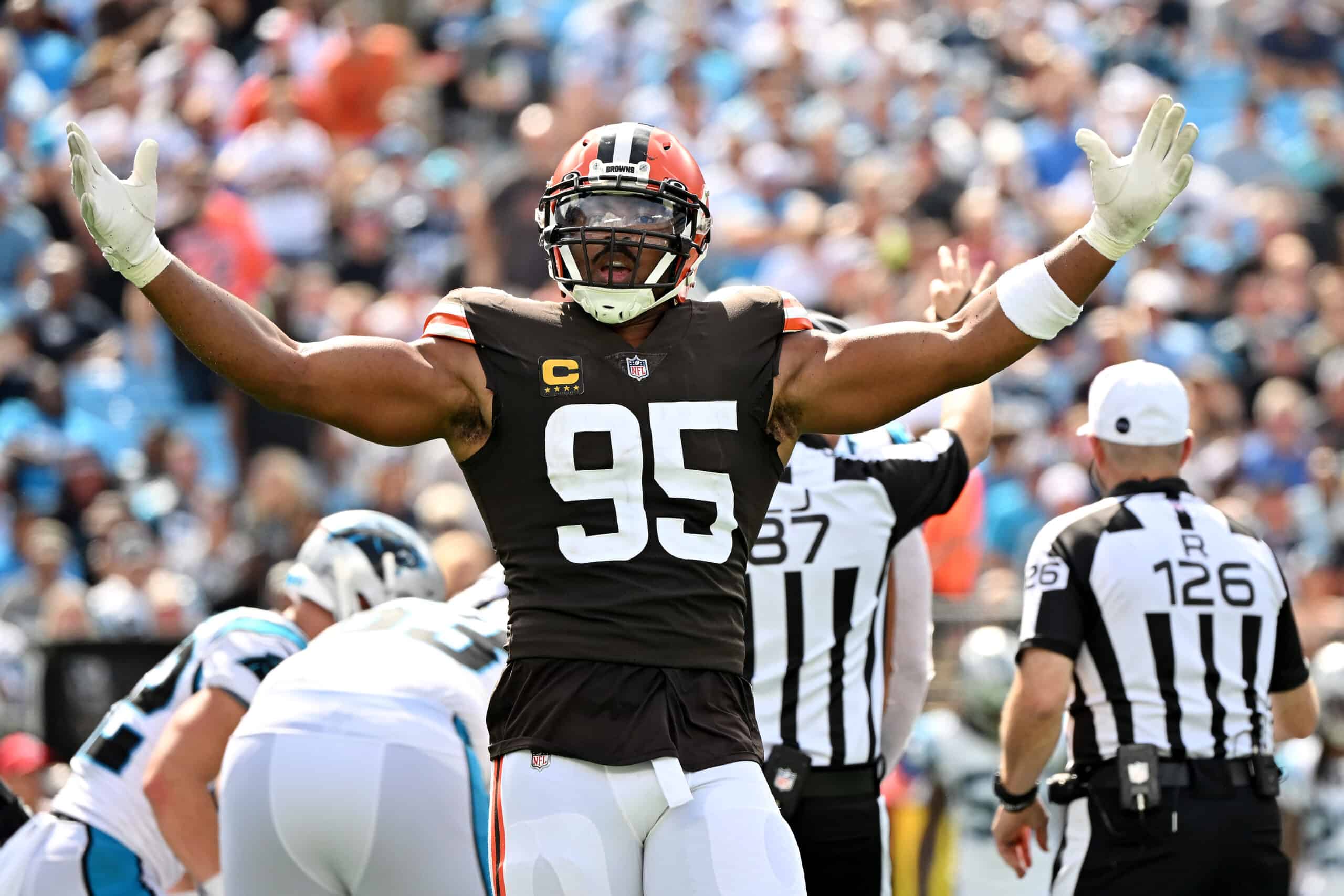 NFL training camp is all about making yourself better as a team in preparation for the season.
Cleveland Browns defensive end Myles Garrett is confident his team is doing just that.
In the below interview on "Inside Training Camp Live" with NFL analysts Andrew Siciliano and Maurice Jones-Drew, Garrett expands on some of the team activity he's seen so far this summer.
"One man sharpens another. You know, we got some primetime matchups all across the board… making each other better, and trying to get them looks that they'll see throughout the season," he said.
Iron Sharpens Iron
There's plenty of talent on both sides of the ball in Cleveland.
That creates some high-level competition between the two sides at training camp.
Elijah Moore vs Denzel Ward…iron sharpens iron 👀.@e_moore03 x @denzelward

🎥 @Browns pic.twitter.com/yOTrKm60Au

— Faithful Dawgs Podcast (@FDPodcastCLE) July 29, 2023
That's exactly what Garrett says has been taking place so far in Berea.
"With the guys that we have (on offense), they're going to get the very best looks that we can offer on defense. They're throwing a whole lot back at us with the versatility they have in the backfield and with the skill players that they have."
The follow up question to him was: "Who's blocked you?"
Myles' answer was a simple one: multiple people.
That's a true in-game feel for Garrett who is sure to see an absurd number of double-teams again this season.
Of course, his athleticism and strength are being thrown right back at those offensive linemen.
Garrett is correct with the skill players as well.
#Brown LB Sione Takitaki, who is back to team drills after rehabbing a torn ACL, gets an end zone interception. pic.twitter.com/SOEMxYPvgr

— Camryn Justice (@camijustice) August 7, 2023
Going up against Deshaun Watson, Nick Chubb, or Amari Cooper will make any defensive player better.
Likewise, grinding against Denzel Ward or Garrett is sure to sharpen the offense.
We've seen some outstanding plays made on both sides so far this summer.
All of it is a great sight for the Browns coaches who want to see their team do one thing: get better.